February 22, 2023 – EONMETALL Group Bhd, which manufactures steel storage and racking systems, metalwork and industrial process machinery and equipment, is a beneficiary of the US-China trade war that has led to an increase in demand for its products over the last couple of years, and it expects the trend to continue in the next two to three years.
"We went into the US market only two years ago and it's already the main revenue contributor to the company. The US market will be one of our focuses moving forward," says Eonmetall's managing director and CEO Yeoh Cheng Chye, adding that its main client in the US is home improvement retailer Lowe's.
Eonmetall derives almost half of its revenue from the US market for its steel shelving products.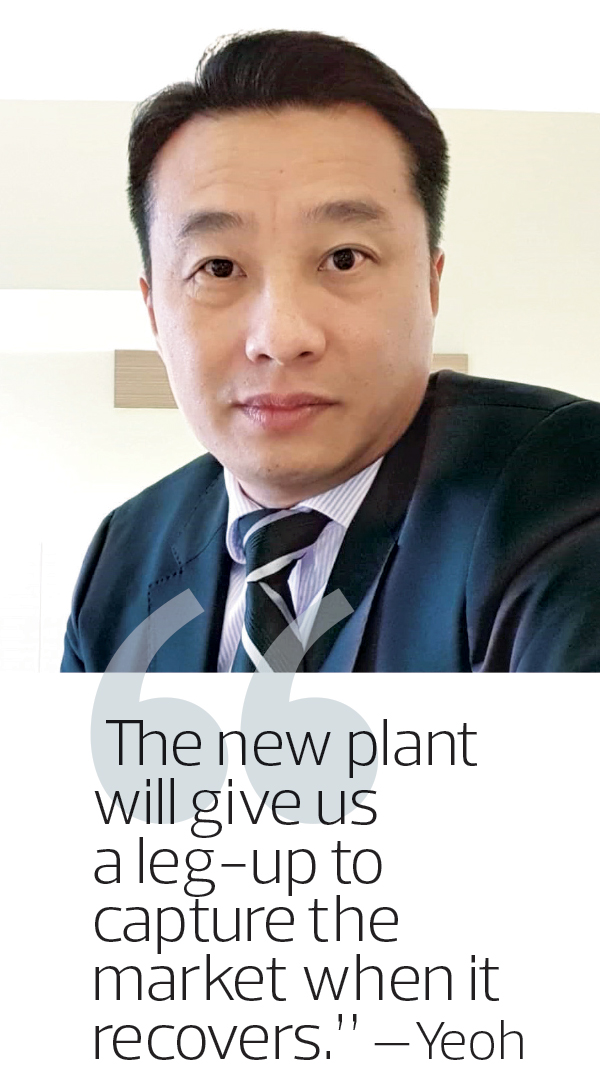 Despite concerns of a slowing US economy this year, Eonmetall is doubling down on its investment to build a new manufacturing plant in Kapar, Selangor, at an estimated cost of RM100 million.
In an interview with The Edge, Yeoh explains that the plant will be built in two phases. The first phase, measuring 40,000 sq m, is expected to be completed by early 2024.
Once it is completed, Eonmetall will see its manufacturing capacity almost double from 60,000 sq m at its existing plant in Batu Kawan, Penang.
"The new plant will give us a leg-up to capture the market when it recovers. Our current capacity will not be enough to capture any new opportunities," Yeoh says.
Aside from the US, the group also exports its products to various countries in Asia, Asean, Asia-Pacific, the Middle East, North Africa and Europe.
Eonmetall will finance the new plant expansion through internal funds and bank borrowings.
As at Sept 30, it was in a net debt position of RM175.7 million, resulting in a net gearing of 0.5 times.
Eonmetall has three operating segments: steel product and trading activity; machinery and equipment; and property, investment holding and others. Steel product and trading contributed 83.2% to the group's profit before tax in the financial year ended Dec 31, 2021 (FY2021).
Earnings in the company have been on an upward trajectory despite the spike in global steel prices over the last two years.
For FY2021, Eonmetall reported a 59.7% growth in revenue to RM216.9 million, from RM135.8 milion in FY2020. Its profit before tax rose in tandem, surging to RM23.3 million (excluding a gain on disposal of RM6.5 million from the disposal of a property), from RM5.7 million in FY2020.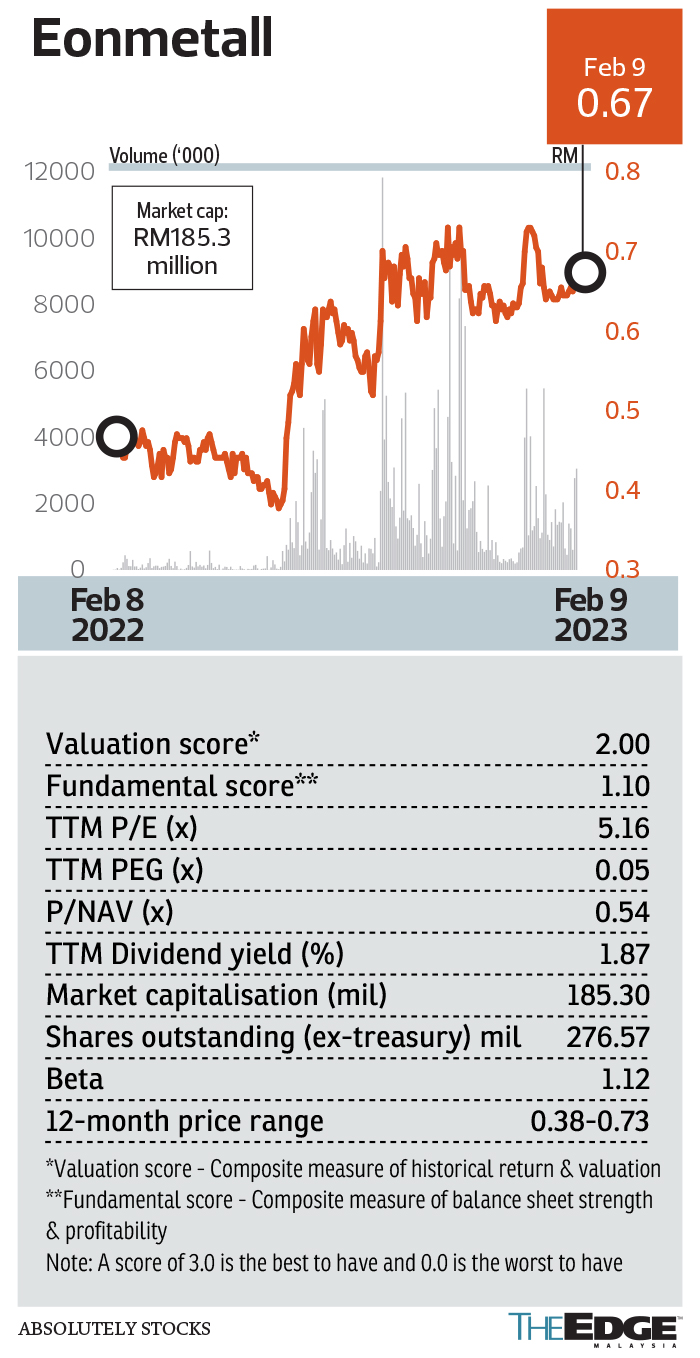 According to its FY2021 annual report, inventories rose 53% to RM186.2 million as at Dec 31, 2021, owing partly to "the urgent need to support growing business volume and hedge against material supply constraints and raw material price increases".
The group continues to see improvements in its earnings, posting a 65% jump to RM30.13 million in the first nine months of FY2022 from RM18.28 million a year earlier.
Now, with at least an economic slowdown in the US, in the light of the aggressive monetary policy tightening by the US Federal Reserve since early last year, Yeoh says Eonmetall is unperturbed and will focus on long-term opportunities.
"We have already been seeing a slowdown in the economy since last July, which led to a decline in our plant's utilisation rate to 60% for the period between October and December last year, from 80%.
"We expect this trend to continue in the first half of this year, before it recovers in the second half," he says, adding that the group can break even at 40% of utilisation rate.
Nevertheless, Yeoh warns that the group may see lower earnings in 4QFY2022 because of lower demand for its steel products, especially from the US and impairments from its earlier plan to venture into glove manufacturing last year.
Last August, Eonmetall announced that it was disposing of a 51% stake in glove manufacturing company Lienteh Technology Bhd for RM35.7 million, following declining demand for gloves and price pressure caused by newcomers.
Yeoh adds that the group may also need to write down some of its inventories, owing to the spike in steel prices during that period.
"Eonmetall will be focusing on its core businesses, which are steel products and palm oil-related activities," he says.
Diversifying into palm oil-related business

Eonmetall is looking to boost its efforts to diversify itself from its steel-related business so it can weather any uncertainties arising from the sector and to strengthen its bottom line.
Since 2005, Eonmetall has been working with palm oil plantation companies to build palm fibre oil extraction (PFOE) plants. The plant is essentially a machine used to extract oil from palm mesocarp fibres of fresh fruit bunches (FFB).
So far, the company, which owns the patented technology, has installed 25 PFOE plants in Malaysia and Indonesia.
Yeoh explains that the group had in the past built the plant for plantation companies as a turnkey contractor. Now, however, it is in the midst of tweaking its business model, which will see the company taking part in the plant operation and sharing the risk and benefits with plantation companies. He says this will in turn create recurring income for Eonmetall.
"We are working to form a joint venture (JV) with some plantation companies, where we will also operate the PFOE plants with them. We will jointly take the construction cost and have a profit-sharing agreement with them," he says.
Yeoh expects that the potential JV will add RM2 million to RM4 million in annual profits per plant for the group.
According to Yeoh, the PFOE plant can increase the country's average oil extraction rate (OER) by an additional 0.5% annually. OER measures the amount of oil obtained from FFB, which currently stand at 20.3%.
In 2018, Eonmetall secured the exclusive rights from a unit of FGV Holdings Bhd to build PFOE plants at six selected mill locations, then own and operate them for a concession period of 10 years before transferring their ownership to the FGV unit.
"For this year, we are looking to build at least two of the PFOE plants for FGV and will also be considering spinning off this division in the near future," Yeoh says.
In addition, last August, Eonmetall signed a contract with Kulim (M) Bhd to build a PFOE plant for the group. According to Kulim, the plant can produce red palm oil that can be sold at 85% of the price of crude palm oil and add a profit of RM8 million annually to the group.
New shareholders
Shares in Eonmetall have been gaining momentum since mid-2022, adding almost 47% year on year to close at 67 sen each last Thursday. At 67 sen, Eonmetall has a market capitalisation of RM185.3 million and historical price-earnings ratio of 4.04 times.
Last November, the group saw the emergence of Mitraland Holdings Bhd founder and CEO Chuah Theong Yee as a new substantial shareholder, with 20.18 million shares, or a 7.3% stake, in Eonmetall.
Asked whether Eonmetall would also be looking into working with Mitraland in the property development sector, Yeoh says there is no discussion about it yet but the group is open to it.
Source: The Edge Markets