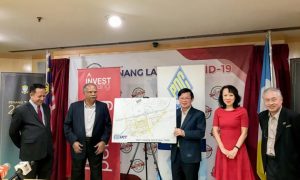 Penang, July 30, 2020 – Ultra Clean Holdings, Inc. (NASDAQ: UCTT) today announced its expansion into Malaysia and will be setting up a manufacturing facility in the Batu Kawan Industrial Park, Pulau Pinang.
In welcoming UCT's announcement, the Right Honourable Chief Minister of Penang, Chow Kon Yeow said, "The State government would like to express our deepest appreciation for UCT in choosing Penang for this latest expansion. This is a milestone in Penang's industry transformation journey and evidence of how major strategic investments translate into technology and economic growth opportunities."
Leasehold improvements to UCT's 300,000 square foot facility should begin late in the third quarter this year. The new facility will likely employ more than 650 personnel over the next five years, including roles in manufacturing, engineering, research and development as well as quality management.
"We are proud to partner with the Government of Malaysia and the state of Penang to expand our global footprint as part of our strategic growth plan," said Vijay Chinnasami, COO. "This state-of-the-art facility will ensure business continuity, enable us to better serve and bring value to our local and global customer base, and allow us to capitalize on longer-term growth opportunities."
About Ultra Clean Holdings, Inc.
Ultra Clean Holdings, Inc. is a leading developer and supplier of critical subsystems, ultra-high purity cleaning and analytical services primarily for the semiconductor industry. Ultra Clean offers its customers an integrated outsourced solution for major subassemblies, improved design-to-delivery cycle times, design for manufacturability, prototyping and component manufacturing, and tool chamber parts cleaning and coating, as well as micro-contamination analytical services. Ultra Clean is headquartered in Hayward, California. Additional information is available at www.uct.com.
About InvestPenang
InvestPenang is the Penang State Government's principal agency for promotion of investment. Its objectives are to develop and sustain Penang's economy by enhancing and continuously injecting business activities in the State through foreign and local investments, including the spawning of viable new growth centres. To support the realization of its objectives, InvestPenang also runs initiatives like SMART Centre (to assist SMEs), Penang CAT Centre (to assist talents) and @CAT Penang (to assist start-ups).
For more information, please contact:
Rhonda Bennetto, Vice President Investor Relations
rbennetto@uct.com
For media enquiries, please contact:
Yeoh Bit Kun / Lee Siu Ming
InvestPenang
bitkun@investpenang.gov.my / siuming@investpenang.gov.my