December 15, 2022 – THE tech rout that began in the beginning of the year, as the flip from chip shortage to glut intensified, has shaved 40% off the share price of US-based memory chip giant Micron Technology Inc year to date.
One of the world's largest semiconductor vendors, the Nasdaq-listed company, which has a market capitalisation of US$62.68 billion (RM276 billion), is closely watched by many semiconductor and semiconductor-related firms around the world as it is seen as the bellwether of the sector.
It is certainly not an exaggeration to suggest that Micron president and CEO Sanjay Mehrotra — among the earlier ones to warn of slowing chip demand — is one of the world's most influential CEOs.
In a rare exclusive interview with The Edge during his recent visit to Penang, the 64-year-old Indian American business executive spoke on the current semiconductor downcycle and Micron's expansion plans in Malaysia.
He reveals that Micron's customers are now adjusting their inventory levels downwards, as consumer demand for smartphones and personal computers (PCs) has weakened. At the same time, high inflationary and macroeconomic headwinds have pushed Micron's customers in other segments into cautionary buying patterns.
"We are seeing a big inventory adjustment, resulting in the weakness in demand to suppliers like Micron. Basically, our customers' inventories have to come down to normal levels and, therefore, the suppliers' inventories would also have to come down to normal levels, before we can see improvements in the industry's revenue and profitability," he says.
Mehrotra points out that Micron has taken decisive action to cut down its supply growth in the coming years, through capital expenditure (capex) reduction as well as reducing utilisation action in its factories.

"The purpose of these two actions is to reduce our supply growth, so that we can get demand and supply back in balance. One important thing to understand is that this is a near-term challenge due to inventory adjustments by our customers.
"Over the course of the next few quarters, this situation will improve. I can't tell you exactly when. It all depends on the macro­economic environment. But as the customers' inventories adjust to normal, the demand will increase. While the supply reduces, we will also see a balance between supply and demand, and the pricing might improve," says Mehrotra, who acknowledges that 2023 is likely to be a challenging year, not just for Micron but for the whole industry.
"But I cannot predict for you, how many quarters it (the downcycle) will last. It is important to note that each cycle is different. There is no way to predict the next cycle. Today, the global economic environment is uncertain because of high inflation, the Russia-Ukraine war, China's Covid-19 lockdowns, as well as other macroeconomic headwinds and weaknesses."
Despite the setbacks, he believes future business opportunities are tremendous, and that it is Micron's job to capture these opportunities and, more importantly, to manage the cycles of its businesses.
"Micron is well-positioned to emerge stronger from the current downturn. We will continue to enjoy the growth opportunities brought about by the data economy as we look ahead through the rest of this decade, once we are past this current downcycle.
"We need to position our company to get stronger and stronger through these cycles, and really be a leader in the memory and storage market."
Mehrotra joined Micron in May 2017 after a long and distinguished career at flash-memory pioneer SanDisk, which he led from start-up in 1988 to its eventual sale in 2016.
In addition to being a SanDisk co-founder, he also served as its president and CEO from 2011 to 2016, overseeing its growth to an industry-leading Fortune 500 company. Prior to SanDisk, he held design engineering positions at Integrated Device Technology, Seeq Technology and Intel.
Mehrotra holds both bachelor's and master's degrees in electrical engineering and computer science from the University of California, Berkeley, and is a graduate of Stanford's Executive Business Programme. He also owns more than 70 patents in flash memory design and systems.
Even though the memory industry is cyclical, Mehrotra insists that through the cycles, and across the cycles, the memory industry continues to grow, because data is more important than ever in all applications today.
"Data is really the backbone of our economic activities, national security and all aspects of our society. The longer-term trends of artificial intelligence (AI), fifth-generation (5G) connectivity, autonomous vehicles, Internet of Things (IoT) and cloud are very much intact. These are all trends that require more data," he says.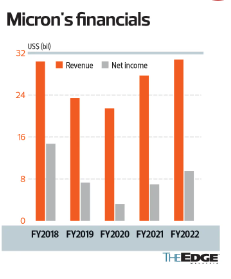 He is of the view that AI needs deeper insights to deliver greater values to businesses, to help them to become more efficient and productive, as well as to create new business models as AI also enables smart experiences on consumer devices through data insights.
"AI is really still in a very early annex. AI relies on more and more data. Cloud, intelligent edge and smart devices make a virtual cycle of increasing data creation and data use. Ultimately, these trends drive greater demand for data, memory and storage products," he adds.
Additional US$1 bil investment in Batu Kawan
In Malaysia, Micron has two business entities, namely Micron Semiconductor Sdn Bhd, which has operations in Muar, Johor, and Micron Memory Malaysia Sdn Bhd that operates in Batu Kawan and Prai in Penang.
With a total workforce of nearly 5,000 employees here, Mehrotra describes the Malaysian operations as "extremely important" to the Micron group. "Micron had already invested US$1 billion for our first factory at our Batu Kawan site. We built a large 600,000 sq ft factory in Batu Kawan. Quite impressively, the construction was completed during the Covid-19 times, and we have ramped up fully into production since January 2021."
Today, Malaysia is the Centre of Excellence (CoE) for Micron's solid-state drive (SSD) assembly and test. It is also the group's production centre for its dynamic random-access memory (DRAM) modules and other semiconductor memory components.
"For us, Malaysia is really a large CoE for assembly and test operations, where we see silicon wafers in, SSDs out, not to mention research and development (R&D) related to our memory products, our human resources, finance and IT resources."
Mehrotra says Micron is "extremely pleased" with its investments and strong team in Penang, in particular Batu Kawan, which is why the group is now expanding its production capacity by putting up a second building on the Batu Kawan site.
"The timing of Micron's investments here is excellent. In 2020, we started building our first factory in Batu Kawan. Now, we are in the midst of building our second factory, which has an even bigger cleanroom and larger factory space," he remarks.
Combining the first and second factories, Micron's Batu Kawan site will total some 1.5 million sq ft, and by the time the second factory is ready in 2023, its total investments in that site alone will amount to US$2 billion.
Globally, Micron intends to invest more than US$150 billion over the next decade in leading-edge memory manufacturing and R&D, in a move to address the rising demand for memory.
"Of course, near-term adjustments [on capex] can be made from time to time. But just look at how fast Micron has grown here in Penang. We just started here in 2019, and today we employ nearly 4,000 people in Penang," says Mehrotra, who reiterates that the company's investment trajectory in Malaysia will remain strong.
"We had invested US$1 billion for our first building in Batu Kawan. We will be investing another US$1 billion in the next few years for our second building in Batu Kawan. Beyond that, we won't be able to share with you the exact amount of our future investments in Malaysia, but all we can say is that our investments will not stop at US$2 billion."
Source: The Edge Markets