January 16, 2023 – AT a time when most semi­conductor equipment players are experiencing the effects of an industry-wide down-cycle, the sun continues to shine for factory automation solutions provider Greatech Technology Bhd, given its exposure to the growing solar renewable energy segment.
Its exposure to the solar photovoltaic industry has shielded it from a cyclical downturn in the chip industry as Arizona-headquartered First Solar Inc, which makes solar energy systems, is one of its biggest clients.
Greatech's executive director and CEO Datuk Tan Eng Kee says the solar renewable energy segment will continue to drive growth for the company, aided in part by the energy shortage in Europe.
"Greatech will continue to grow. The energy segment definitely will carry us [to achieve positive growth] for the next three years. [The prospect for] energy is very hot as there is a shortage … especially in Europe. So I will say Greatech is in the right area at least for the next two to three years," Tan tells The Edge in a recent interview.
His optimism also stems from the positive spillover effect of increasing demand for solar energy, especially in the US market, after the Inflation Reduction Act was signed into law by US President Joe Biden last year. The act provides government subsidies to support clean energy, power generation facilities production and investment.
The international markets, primarily the US, provide 87% of Greatech's business, and its marquee clients, apart from First Solar, include Lordstown Motors Corp, a manufacturer of electric pickup trucks in Ohio.
In terms of geographical breakdown, the US market contributed 72% to Greatech's revenue for the financial year ended Dec 31, 2021 (FY2021) of RM402.22 million, followed by Vietnam (14.7%) and Malaysia (12.7%). Net profit for the year amounted to RM141.68 million, which translates into a profit margin of 35.2%.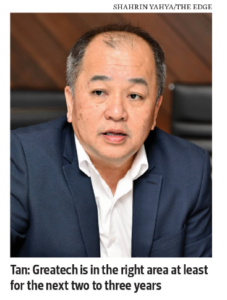 In the past, concerns had been raised over Greatech's single-client exposure to First Solar in the solar renewable energy segment.
Tan explains: "For solar energy, we just focused on First Solar. Even with First Solar, we are quite busy already, hence, I don't think we can serve a new one [client]."
Greatech's outstanding order book stood at RM887.84 million as at Nov 17, 2022, which provides earnings visibility until the first half of 2024.
Some six months before that, in May, its order book was only RM467 million. The whopping 90% increase to RM887.84 million marks Greatech's highest order book on record since it listed on Bursa Malaysia in June 2019.
Expansion plan continues
Tan confirms that the group is aiming for a more diversified revenue base among the industries it serves. It is targeting a breakdown of solar 30%, electric vehicle 30%, medical 30% and semiconductor 10%, and to achieve this goal by 2025.
To cater to the expansion in the solar renewable energy and electric vehicle segments, Greatech has approved a RM120 million investment to build a 500,000 sq ft facility on an 11.58 acre site in Batu Kawan Industrial Park in Penang. The commencement date of operations for Batu Kawan Plant 4 (BK IV) is targeted for end-2023.
Greatech has three other production facilities in Batu Kawan Industrial Park with a combined area of 625,000 sq ft.
Tan anticipates that Malaysian companies will continue to benefit from the US and China standoff as the trade war between the two largest economies in the world will see investment diversify away from China.
"The narrative has not changed. The ongoing tension between the US and China, I think, benefits Malaysians, especially businessmen. But you need to know how to position yourself in this region. European and American companies still accept Malaysians [companies], so there are opportunities," he says.
Tan, 53, is the group's largest shareholder, with a 61.29% indirect stake via his private vehicle Gtech Holdings Sdn Bhd and a direct interest of 0.386%.
Ranked 25th in Forbes Malaysia's 50 Richest list in 2022, he has an estimated net worth of US$715 million (RM3.14 billion).
School of hard knocks
The tycoon has come a long way. Tan grew up in Penang as the only son among four children. His father, a taxi driver, died when Tan was 13 years old. At 16, he worked part-time at a bakery after school hours to supplement his family's income.
After graduating with a certificate in mechanical engineering in 1991, he went on to work as a production planner for a precision tool company. Two years later, he borrowed RM10,000 from his mother to set up Greatech (M) Sdn Bhd to make components for engineering equipment.
In 1997, he started a new company — Greatech Integration — to produce semi-automated and automated equipment for consumer electronics. Five years later, it expanded into the semiconductor industry and in 2010, into the solar sector, according to the Forbes article.
Exploring new product segment in semiconductor space
Once pandemic darlings, semiconductor stocks started to lose ground last year as the sector braced for a downward cycle flagged by a handful of chip makers, including Micron Technology Inc, which have signalled waning demand as red-hot inflation squeezes spending on consumer electronics.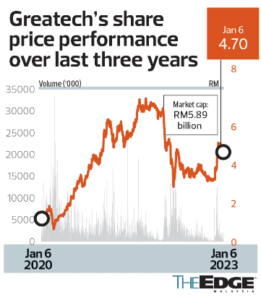 Greatech, widely perceived as a semiconductor stock, was not spared the selldown. The stock has lost 36.3% from a peak of RM7.50 on Sept 24, 2021. It was last traded at RM4.78 last Thursday (Jan 5).
Tan is hopeful that investors will come to understand that Greatech is not a pure semiconductor player as the group's long-term goal is to have a diversified revenue base.
He says the group plans to explore a new product segment in the semiconductor space but is tight-lipped on the details.
"We know what we want and we have positioned ourselves in very new good products in the future. It is all about the product and I don't want to focus on [back-end] packaging and assembly, which a lot of Malaysian companies are doing.
"In future, the margin is a concern because a lot of Chinese and Taiwanese players can do the same, and they will sell at much cheaper prices. You will be under pressure on the margin.
"Hence, I am trying to go into different segments in semiconductors. We will try to find a blue ocean area. It is always our philosophy as I don't like to fight in the red ocean," he says.
Greatech's semiconductor product involves the integration of high-precision modules such as vision, cylindrical precision and robotic arms into automation to provide high precision on handling semiconductor units, the group's website shows.
On the tech rally during the Covid-19 pandemic, Tan agrees that investors' unrealistic expectations of technology stocks had pushed valuations sky-high.
"Investors need to look at the long term, not the short term, especially since Greatech's [share] base is quite big … The most important thing that a company needs to [be able to] demonstrate is the future plan," he says of the stock price correction.
Based on Bloomberg data, Greatech is currently trading at a trailing 12-month PER of 48.78 times, while its forward 12-month PER stands at 46.41 times.
Nonetheless, five of the nine analysts who track Greatech have "buy" calls on the stock with four calling a "hold". There were no "sell" calls. The average 12-month target price for the stock is RM4.78, with UOB KayHian's target price of RM6.30 being the highest and HSBC, which has a "hold" call, having the lowest target price of RM3.50.
Greatech's financial report for the cumulative nine months ended Sept 30, 2022 shows net profit declined 16.6% year on year to RM95.1 million from RM114 million, despite revenue growing 15.4% to RM377.1 million from RM326.8 million.
The group said gross profit dropped on higher administrative and marketing expenses attributable to the increase in local employee headcount, share grant expenses of RM5.13 million and other expansion-related expenses of RM2.3 million.
The increase in revenue was mainly driven by the large-scale new capital investment plans of a major customer in the solar industry at the end of 2021.
Source: The Edge Markets