At a Glance
Principal Activities:
Malaysia's IC company providing cutting-edge silicon IPs and ASIC products for artificial intelligence and high-performance computing
Location(s):
Suntech @ Penang CyberCity, Bayan Lepas, Penang, Malaysia
Number of employees:
200 – 300
Core Competencies:
·       High speed interface IP solutions (memory interfaces, chip-to-chip)
·       Mobile IP Solutions (MIPI M-Phy, C-Phy, D-Phy)
·       Network on chip solutions
·       Custom Application-Specific Integrated Circuit (ASIC) solutions
Website:
https://skyechip.com/
Contact Person:
SK Fong
Email: sk.fong@skyechip.com
SkyeChip: Elevating Excellence in Silicon Design for Global Markets, Catalysing Malaysia's Thrust in Techno-Entrepreneurship
In the dynamic landscape of technology, one name has rapidly risen to prominence since its inception in 2020 – SkyeChip Sdn. Bhd., a visionary startup from Penang. SkyeChip has rapidly ascended the ranks, emerging as a fast-developing high-end design company specialising in crafting its own silicon Intellectual Property (IP).
At the heart of SkyeChip's meteoric rise lies within its founding team – a conglomerate of thirty exceptional IC designers, each representing a wealth of knowledge and expertise acquired from years of active involvement in cutting-edge IC projects in world-renowned multinational corporations (MNCs). SkyeChip's journey is an emblem of innovation at its zenith, aligning perfectly with the surge in AI and big data technologies and the growing Chinese market.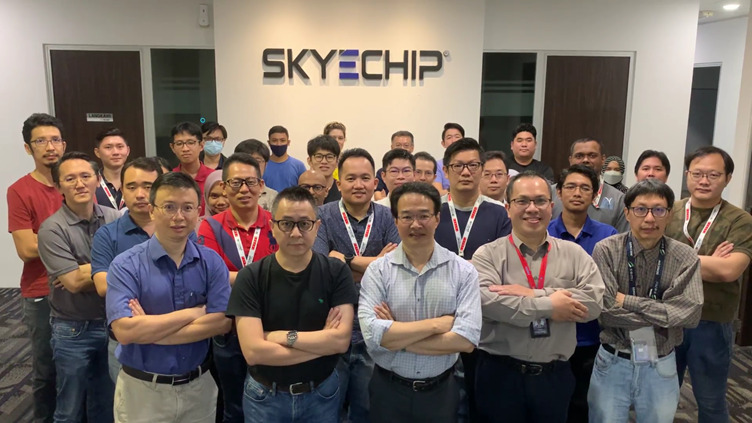 SkyeChip Founding Team – Turning MNCS Trained Talents into Malaysian Asset
Founded at a pivotal juncture, SkyeChip's inception synchronised harmoniously with the burgeoning AI and big data revolution. As these technological frontiers expand, the need for cutting-edge silicon solutions has become paramount. In this landscape, SkyeChip's commitment to excellence positioned itself as a promising new player, pushing the envelope of innovation to meet the demands for advanced silicon solutions.
Blossoming from a 30-strong startup into a formidable workforce of 250 talented individuals solidifies SkyeChip's commitment to progress. In addition to its overwhelming numbers, SkyeChip's rapid expansion also includes the depth and breadth of its offerings. Equipped with its world-class silicon IP, SkyeChip has firmly entrenched itself on the global stage, delivering transformative solutions that resonate with a diverse array of industries and regions.
SkyeChip in Malaysia's Semiconductor Ecosystem
SkyeChip's impact is manifold, extending beyond its immediate accomplishments. By constructing its own silicon IPs, the company not only nurtures self-reliance but also play a pivotal role in increasing Malaysia's footprints within the semiconductor ecosystem. The company's success to date is a promising paramount expansion for Malaysia semiconductor industry, ranging from its traditional role in assembly and test manufacturing to commanding a presence in the highest echelons of the semiconductor value chain – IC design. This expansion is bolstering Malaysia's status as a hub of semiconductor technological excellence.
Speaking of this transformation, SK Fong, the CEO of SkyeChip, stated, "SkyeChip is not just a company; it is a role model for techno-entrepreneurship. We are converting MNC-trained talent into a national asset, driving Malaysia's ascent in the global tech arena. We hope that SkyeChip will pave the way for more IC design startups in Malaysia."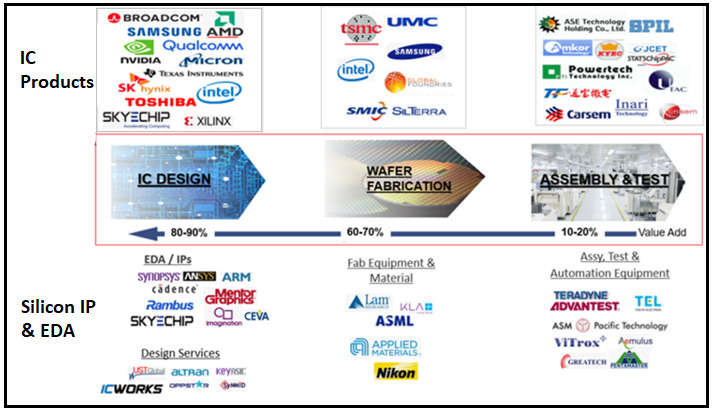 Expanding Malaysia's Semiconductor's Footprint Into IC Design
Products & Services
A distinctive aspect of SkyeChip's contribution lies in its cutting-edge IP portfolio, including cutting-edge Memory Interface technologies like High Bandwidth Memory 3 (HBM3), DDR5, LPDDR5 and Network on Chip (NoC). These innovative IPs have found their niche in the realms of AI deep learning, Advanced Driver Assistance Systems (ADAS), and high-performance computing. By providing these crucial building blocks, SkyeChip is directly participating in the advancement of these transformative technologies.
HBM3 – The Memory Solution for Computing Intensive Applications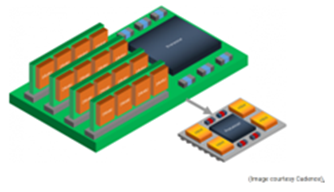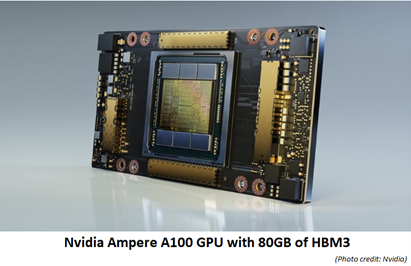 Future Plan
Looking ahead, SkyeChip's aspirations match the scale of its current accomplishments. Guided by a strategic vision, the company is set to forge a path marked by innovation. This includes the continuous expansion of SkyeChip's IP portfolio, coupled with a bold venture into crafting custom Application-Specific Integrated Circuit (ASIC) solutions designed to enhance software acceleration and compute offloading capabilities. Leveraging on its state-of-the-art IP portfolio and advanced design flow, the company is poised to carve out a unique niche and secure a competitive edge. With this dynamic stance, SkyeChip strives to attain the goal beyond retaining the position as one of leaders in silicon IPs, delivering innovative custom ASIC solutions to system companies to accelerate computing.
Written in September 2023
 
Disclaimer:
 
Every effort is made to provide accurate and complete information in this article. However, InvestPenang makes no claims, promises or guarantees about the accuracy, completeness, or adequacy of the contents and expressly disclaims liability for errors and omissions of this article.