At a Glance
Principal Activity (ies):
Scheduled & non-scheduled waste management protecting intellectual property rights and promote close loop, focusing primarily in Platinum Group Metals (PGM) recovery & refining, manufacturer of secondary aluminium alloy ingot, copper recovery & refining and hazardous liquid waste recovery
Location(s):
Integrated Waste Management plants in Penang (HQ), Selangor, Johor, Sarawak
Number of Employees:
650
Manufacturing Floorspace:
250,750 sqft
Revenue (2021):
RM384,600,000
Certificate(s):
·        ISO 45001:2018 (Occupational Health and Safety Management System)

·        Penang Green Office Certification

·        ISO 9001:2015 (Quality Management System)

·        ISO 14001:2015 (Environmental Management System)

·        R2:2013 (Responsible Recycling (R2) Rev. 7/2013)

·        TAPA FSR 2020 Level A

·        TAPA TSR 2020 Level 1

·        Responsible Business Alliance

Core Competency (ies):
·        PGM recovery & refining

·        Manufacturer of secondary aluminium alloy ingot

·        Copper recovery & refining

·        Hazardous liquid waste recovery

·        Information Technology Asset Disposition (ITAD)

Website:
www.shanpoornammetals.com
Contact Person:
Rose Kuan
Email: rose_kuan@ensspm.com ; enquiry@ensspm.com
Introduction
Shan Poornam Metals (SPM), Malaysian homegrown waste recovery and refining company, is the pioneer and leader in hazardous waste management. Incorporated in 1960, it started as a waste collection centre and has evolved into a regional leader in industrial waste management companies with Environmentally Sound Management (ESM) facility, promoting closed-loop recycling.
Equipped with eco-green technology, backed by an innovative R&D team, the plant can process industrial solid and liquid waste into precious metals such as gold, silver, platinum, palladium, secondary aluminium alloy ingots and copper cathode. Adopting the 5R's Green Concept of Reduce, Reuse, Recycle, Recover and Refining, this plant produces eco-green products under SPM's eco label "ENS" (Environment, Nature, and Society).
Positioning itself as the link between industries, consumers and environment, with strong commitment to protecting intellectual property rights – from converting e-waste to raw materials to IT asset management and disposition, SPM is the first prescribed premise licensed by the Department of Environment, Malaysia to manage metal chips and articles contaminated with spent coolant.
SPM's business objectives are strongly aligned to the United Nation's Sustainable Developmental Goals and it plays a pivotal role in its drive and focus on environmental stewardship. SPM's customers range across industries, including semiconductor, Electrical & Electronics, Technology Hardware, Computer Storage, Automotive, Telecommunication, Banking, Automation, Oil & Gas, Healthcare & Medical Equipment, Consumers
Products & Services
Scheduled & Non-Scheduled Waste Management
SPM specialises in transforming solid and liquid waste into eco-green products which can be ploughed back into the raw material supply chain pool, and subsequently manufacture into a new product. The company protects intellectual property rights and promotes close loop supply chain in line with Sustainable Development Goal #12, focusing primarily in Platinum Group Metals (PGM) recovery & refining, manufacturer of secondary aluminium alloy ingot, copper recovery & refining and hazardous liquid waste recovery meeting international standards.
Secondary Aluminium Alloy Ingots (JIS, British and US standards)
SPM's management strategy, driven by urban mining, processes rejected resources, produces raw material for manufacturing. The company is the 1st prescribed premise licensed by DOE to manage metal chips and articles contaminated with spent coolant under Schedule Waste Code 422. The patented furnaces are designed to conserve energy while using natural gas. It manufactures high-grade secondary Aluminium Alloy ingots which meet international standards.
Copper Cathode
SPM's Copper Smelting furnace is designed to extract optimally copper and precious metals from electronic scrap and e-waste. The company's smelting technology runs on renewable energy known as waste-to-energy with Clean Gas System. Its customised equipment is designed to optimise yield and produce high purity of Copper Cathode and precious metals such as gold, platinum, palladium and silver. The by-product of this process is called slag which is used as an aggregate in the construction industry.
Surface Cleaning
SPM offers surface cleaning adhering to stringent cleaning standards under heavily regulated environmental conditions. The optimised combination of physical, mechanical and chemical mechanisms using customised chemicals allows the company to effectively remove the sputtered materials on the components and support 24/7 process-kits recycling management. Its wide range of equipment and tools allows the company to define a flexible process flow for customers. Through SPM's R&D team, the company continuously strives for the next generation of sputtered materials removal and optimal recovery of precious metals while extends the life span of the process kits and ensures zero contamination.
Information Technology Asset Disposition (ITAD)
SPM offers IT Asset Disposition service with secure asset audit, functionality test, data sanitisation and refurbishing where it can either be returned to the customer for deployment or remarket purposes. The full range of data sanitisation are:
Data erasure: A software-based method of securely wiping data from any data storage device using zeros and ones onto all sectors of the device.
Physical destruction: A process of degaussing, shredding and crushing for those data storage devices which are not allowed for reuse.
SPM offers decommissioning and relocation services on servers, server rack and configuration. The company maximises customers' options and return on re-marketable assets compliant with electronic waste disposal environmental policy, secures data with auditable chain-of-custody.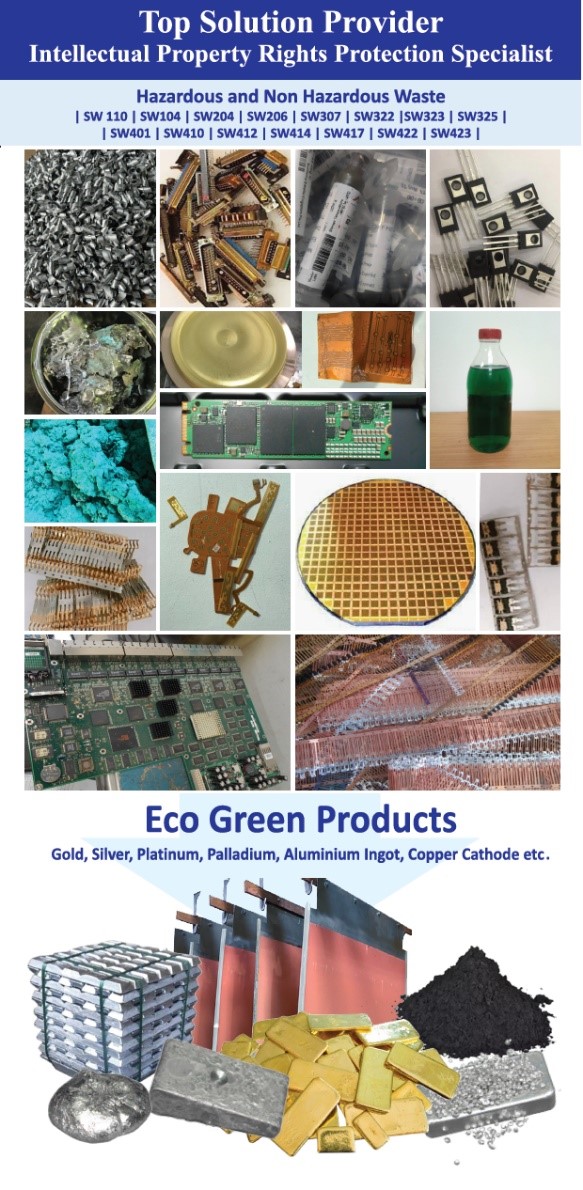 Achievements & Awards
No
NAME OF RECOGNITION
NAME OF AWARDING BODY
YEAR
1
Industry Excellence Awards 2010
Ministry of International Trade and Industry (MITI)
2010
2a
Prime Minister's Hibiscus Award 2010/2011 – Notable Achievement in Environmental Performance
Ministry of Natural Resources and Environment
2010/2011
2b
Prime Minister's Hibiscus Award 2010/2011 – Special Project Award
Ministry of Natural Resources and Environment
2010/2011
3
Recognized Articles
ISRI "Sept/Oct 2011" & Media "New Straits Times"
2011
4
GreenTech Manufacturer Award 2012 – Gold
Ministry of Energy, Green Technology and Water (KeTTHA)
2012
5
Corporate Social Responsibility Leadership Awards 2012
GMB Malaysia / Young Entrepreneur Organization Malaysia
2012
6
Global Leadership Awards 2013 – Renewable Energy Sector
The Leaders International
2013
7
4

th

Middle East Business Leaders Awards 2013 – Leadership in Renewable Energy & Technology
Federation of GCC Chambers and The Leaders International
2013
8
Penang Green Office
Penang Green Council
2013-2015
9
Global Leadership Awards 2014 – Excellence in Environmental Sustainability
The Leaders International
2014
10
International Award for Excellence and Leadership (Madrid, Spain)
Global Trade Leaders' Club
2015
11
Star Outstanding Business Awards 2015
Best Green Initiative – Gold Award
Star Media Group
2015
12
Star Outstanding Business Awards 2015
Best Innovation – Platinum Award
Star Media Group
2015
13
SMEs Best Brands™ Award
Corporate Branding – Green Renewable Energy
The Brand Laureate™
2015-2016
14
Highest Volume E-waste Collection Award (Recovery & Refining Facility Category)
Department of Environment (DOE) Malaysia
2021
15
Industry Excellence Awards
PIKOM
WCIT 2022 / TechFest 2022
2022

Written in Oct 2022
Disclaimer:
Every effort is made to provide accurate and complete information in this article. However, InvestPenang makes no claims, promises or guarantees about the accuracy, completeness, or adequacy of the contents and expressly disclaims liability for errors and omissions of this article.