December 13, 2022 – UNFAZED by a slowdown in global semiconductor demand that could continue into next year amid the risk of a recession, QES Group Bhd is doubling down on its investment and commitment to expand its manufacturing capacity.
The ACE Market-listed company, which distributes and manufactures automated test equipment (ATE), has earmarked between RM20 million and RM25 million for the planned expansion of its plant in Batu Kawan, Penang.
It is targeting construction of a new plant, measuring 100,000 sq ft, as early as next year, which will double its capacity from 81,000 sq ft at its existing plant in Glenmarie, Shah Alam, Selangor, says founder, managing director and president Chew Ne Weng. The Selangor plant is currently running at 90% utilisation.
"With the new plant and our current order book of RM107 million, we are targeting revenue growth of at least a 15% compound annual growth rate (CAGR) over the next five years," he tells The Edge in an interview.
He says QES will finance the capital expenditure through internal funds and bank borrowings. As at Sept 30, the company's net cash position stood at RM29.41 million.
The plant is part of the company's plan to ramp up the contribution of its manufacturing division from 15% to 35% of its revenue. Currently, 85% of its revenue is derived from the distribution of inspection, test and automated handling equipment, mainly to Southeast Asian markets.
Chew does not rule out any potential mergers and acquisitions (M&A) to realise the target. "We are looking at both organic and inorganic growth. But when it comes to expansion, the main issue is manpower. That is why we also need to consider M&A as part of our growth plan," he says.
RHB Research analyst Lee Meng Horng expects QES' manufacturing arm to be the next growth driver for the company as it fetches higher margins amid increasing demand, especially from the automotive industry.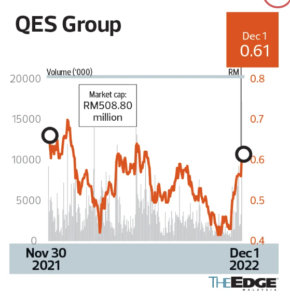 "This includes vision inspection equipment, wafer measuring systems and automated handling equipment. Also, its recent joint venture with US-based Applied Engineering should allow the group to expand into high-technology semiconductor equipment making in Penang," he says in a report.
"The ongoing capacity expansion should enable QES to further improve its operating efficiency and expand its solution offerings to include smart manufacturing."
Lee expects QES to chart a new record high in earnings for the financial year ending Dec 31, 2022 (FY2022), supported by a healthy book-to-bill ratio, sustainable recurring income, a growing manufacturing portfolio, improved orders and delivery.
Eyeing Main Market transfer by year end
Chew founded QES as a distributor of test, inspection and measuring equipment in 1991. It was only 10 years later that the company started to manufacture equipment. It was listed on Bursa Malaysia in 2018.
The group has already submitted its proposal to transfer from the ACE Market to the Main Market, says Chew.
"We are targeting to move to the Main Market by the end of this year. The aim is to increase our exposure to institutional investors." he adds.
Chew is the largest shareholder of QES with a 30.12% stake, of which 26.13% is held through his private vehicle WA Capital Sdn Bhd. Executive director Liew Soo Keang, with a direct stake of 22.87%, is the second-largest shareholder. The other major shareholders are Hong Leong Asia-Pacific Dividend Fund, Public Strategic Smallcap Fund and TA Islamic Fund.
The share price of QES is down 9.56% year to date. The stock closed at 61.5 sen last Friday, giving the group a market capitalisation of RM531 million.
QES' net profit has been growing at a three-year CAGR of 79%, from RM3.31 million in FY2019 to RM8.66 million in FY2020 and RM18.99 million in FY2021. For 9MFY2022, the company posted a net profit of RM20.96 million — surpassing its full-year FY2021 net profit of RM18.99 million by 10%.
According to Mercury Securities Sdn Bhd analyst Ronnie Tan, QES' 9MFY2022 revenue and net profit constituted 78.6% and 98.8% of his full-year estimates. This prompted the research firm to revise upwards its revenue and earnings estimates for FY2022 and FY2023 by 3.7%-4.1% and 3%-18.6% owing to higher contributions from the distribution and manufacturing business.
"We like the stock for its attractive growth prospects, [as it is] well positioned to leverage the growing semiconductor industry, which is forecast to grow at a five-year CAGR of 4.93% from 2021 to 2026 by International Data Corp (IDC)," he says in a report.
In addition, Tan says QES has a consistent annual recurring income of about RM40 million through maintenance and service, which contributes around 25% to group revenue.
Riding the long-term growth of semiconductor
Chew remains optimistic about QES riding the long-term growth of the global semiconductor industry.
"We expect a slowdown in the semiconductor industry in 2023 due to recession concerns. But we expect the sector to remain robust in the long term, especially with demand from China and electric vehicle (EV) adoption globally," he says.
Chew points out that the company's expansion is timely for it to capture the next phase of growth in the semiconductor industry, driven by the automotive integrated circuit (IC) sector.
"While the automotive IC sector is relatively small compared with the overall semiconductor industry, the growth is higher, as automotive requires more testing equipment than other electronic products due to safety reasons. Many would think automotive ICs will only be driven by EV adoption, but normal petrol engine cars will also have many semiconductor ICs inside the vehicles," he adds.
Last year, QES teamed up with US-based Applied Engineering to provide high-tech electromechanical contract manufacturing services at Batu Kawan Industrial Park in Penang. The 20,000 sq ft manufacturing plant has been up and running since early this year.
Chew says that under the joint venture (JV), QES owns 30% of the JV company, Applied Engineering Technology (M) Sdn Bhd, while AE has the other 70%.
The upcoming plant in Batu Kawan will manufacture the company's current products as well as those of its JV with AE, he adds. "The plants will provide additional capacity for us to expand our current manufacturing activities, as well as smart manufacturing solutions and medical technology-related products.
"The smart manufacturing solution includes sensors and software such as an automated storage and retrieval warehouse management system and smart locker management system, where items are tagged with RFID (radio-frequency identification) chips, as an example."