At a Glance
Principal Activity(ies):

Circuit design and prototype
Flexible Printed Circuits (FPC & FPCA)
Semiconductor substrates ( FCCSP, FCBGA, SiP, TAB, WBBGA & QFN)

Location(s):
Manufacturing facility:

Bayan Lepas Industrial Estate, Penang, Malaysia
Batu Kawan Industrial Park, Penang, Malaysia
Xiamen, China

Number of Employees:
1300
Revenue (2020):
~RM290 million
Certification(s):

ISO 9001
ISO 14001
TS 16949
Canon Green Procurement

Core Competency(ies):

Cadence-based circuit design
Laser direct imaging
Electrolytic copper pillar plating
Electroless plating (ENIG, ENEPIG, Desmear & Eless Copper)
Electrolytic NiAu and NiPdAu plating
Blind-via & through-via drilling (UV laser, CO2 laser, CNC)
Anisotropic SAP etching
ABF vacuum lamination
Circuit board failure analysis (XRF, SEM-EDX, AAS, XPS, FTIR)
FPC-based assembly

Website:
www.qdos.com.my
Contact Person:
Ann Kam
Email: ann.kam@qdos.com.my
Introduction
Established in 1994, Qdos is a pioneer manufacturer of Flexible Printed Circuits (FPC) and Semiconductor Substrates in Malaysia. Equipped with highly automated state-of-the-art facilities, Qdos provides a comprehensive solution, covering circuit design, prototype fabrication, mass production and assembly.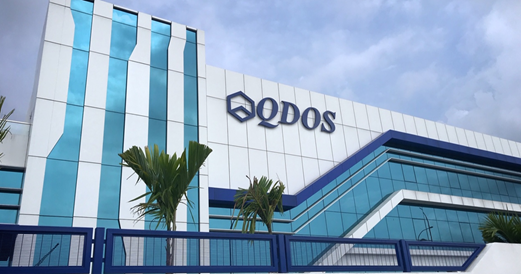 Qdos Batu Kawan Plant operational since 2018 focuses on semiconductor substrates such as FCBGA, SiP, FCCSP, TAB and QFN.
Key Products and Services
From operating mobile phones, powering medical machinery to enabling automotive electronics in vehicles, flexible printed circuit boards (FPCBs) function behind the scenes, connecting electrical components to activate a plethora of simple and complex appliances. Topping the technological sector in designing and manufacturing FPCBs and IC substrates, Qdos surges ahead as a one-stop solutions provider in this region.
An acclaimed pioneer in the FPCB industry, Qdos has substantially expanded operations since its establishment 27 years ago. Attaining considerable success after its diversification into the semiconductor substrate field, Qdos acknowledges its operational excellence, versatility and innovation as the propellers to progress.
Keen on modernising operations management systems to create more cutting-edge products, Qdos focuses its latest research and development efforts on its state-of-the-art factory located at Batu Kawan Industrial Park, Penang. The Industry 4.0-compliant factory is equipped with an automated chemical dispensing centre and is based on the semi-additive process, producing circuit board five times smaller than the average for better gadget mobility.

Deriving principles from its company initials, Qdos promises quality, delivery and outstanding services to its clients. Qdos will continue to drive for operational excellence, uphold quality expectations and performance alongside its customers, in the numerous critical in-house process technologies like photolithography imaging, SAP etching, electro-plating, ABF lamination, laser micro-via drilling, ENEPIG and automated visual inspection. Qdos stays open to new ideas, welcoming long-term partnerships and collaborations with experienced technology partners.
 Strength & Presence
Approximately 1300 full time employees
3 manufacturing plants – Bayan Lepas & Batu Kawan (Malaysia) and Xiamen (China)
Covering up to 380,000 ft2 of production floor area
Equipped with 8 in-house SMT lines for FPCA
Multi-lingual sales team – English, Mandarin, Japanese, Bahasa, Hindi and Cantonese
Products ensure signal integrity of mission-critical communications in over 30 countries
Half of the top 10 smartphone OEMs rely on Qdos' touch panel FPCs
Find Qdos product in one out of three DSLR cameras
Over 10 car models are assembled with 'Qdos-inside' (Eg Ferrari F149, Bentley BY621 etc.)
Written in June 2021
Disclaimer:
Every effort is made to provide accurate and complete information in this article. However, InvestPenang makes no claims, promises or guarantees about the accuracy, completeness, or adequacy of the contents and expressly disclaims liability for errors and omissions of this article.