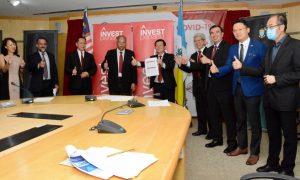 For Immediate Release
PRESS RELEASE
Driven by the foreign direct investments (FDI), Penang recorded a promising RM7.1 billion approved manufacturing investments in 1Q2020. There are still opportunities in targeted industries for Penang to seize, amidst the dim global FDI outlook.
Penang, July 22, 2020 – Penang recorded a promising RM7.1 billion of approved manufacturing investments in the first quarter of 2020 (1Q2020), amidst the challenging global macroeconomic environment.  Driven predominantly by foreign direct investments (FDI), the RM7.1 billion performance in 1Q2020 (QoQ: +97.2%, YoY: -19.3%) represents 42% of 2019's full year approved manufacturing investments.
According to Malaysian Investment Development Authority (MIDA), Penang successfully garnered 32 manufacturing projects in 1Q2020, which is estimated to create 4,035 new job opportunities in the State.
FDI accounted for RM6.8 billion or 96% of Penang's manufacturing investment inflows in 1Q20, while the remaining RM321 million or 4% were domestic direct investments (DDI). In 1Q20, Penang contributed a majority of 64% share of Malaysia's total FDI, signifying that Penang plays a critical role in driving Malaysia's participation in the global supply chain and multinational corporations' strong confidence in the State as a conducive and sustainable investment location.
Top manufacturing FDI in 1Q2020 were from Switzerland, the United States and Singapore. Remarkable new investments in Penang included projects from DexCom Inc. and LEM Holding SA.
Penang continued to excel in its key promoted industries with Machinery & Equipment, Scientific & Measuring Equipment (which includes medical devices) and Electronics & Electrical industries collectively constituted 95% of Penang's total approved manufacturing investments in 1Q2020.
In a press conference today, Right Honorable Chow Kon Yeow, the Chief Minister of Penang, said: "The encouraging investment performance in the first quarter of 2020, which exceeded our expectations, was underpinned by both new investments and re-investments. Being a business-friendly state that emphasises sustainability, the Penang State Government strongly believes that fostering long-term relationships with industries are crucial in the economic development of the State.  The existing companies' technical capabilities and capacity expansion in Penang translate into talent upskilling, better job prospects and prosperity for local residents. The State's ability to attract new investors is made possible by its resilient ecosystem and comprehensive supply chain, in which every stakeholder in the industry plays a role."
Chow added: "The State government would like to express our deepest appreciation to all the investors for their confidence in Penang as well as MIDA for working hand-in-hand with InvestPenang in attracting high quality investments into the State."
Cautiously Optimistic in the second half of 2020
Despite the satisfactory performance in the first quarter and the pipeline of potential strategic investments that MIDA and InvestPenang are working on to secure, the State estimates that 2020's investment inflow to Penang will be lower than 2019's all-time-high of RM16.9 billion. The State government is mindful that the global FDI outlook is on a downtrend until at least 2021 and public health challenges will persist in the near future. Having said that, there are still opportunities for Penang, particularly arising from global supply chain reconfiguration and the emerging industries that will continue to play important roles in the post COVID-19 era. The State government will stay vigilant and continue with its efforts in attracting investments from the targeted industries.
Commitment to Ensure Successful Implementation on the Ground
For the approved manufacturing investments, the State government, through InvestPenang, Penang Development Corporation and other relevant agencies, is committed to assist investors and to facilitate project implementations on the ground. Successful implementation of these projects will bring ripple effects on the local economy in terms of supply chain localisation opportunities, uplifting the skillset of the local technical workforce, as well as having significant economic spill-over and multiplier effects.
END 
About InvestPenang
InvestPenang is the Penang State Government's principal agency for promotion of investment. Its objectives are to develop and sustain Penang's economy by enhancing and continuously injecting business activities in the State through foreign and local investments, including the spawning of viable new growth centres. To support the realization of its objectives, InvestPenang also runs initiatives like SMART Centre (to assist SMEs), Penang CAT Centre (to assist talents) and @CAT Penang (to assist start-ups).
Learn more about InvestPenang at our website: www.investpenang.gov.my
For media enquiries, please contact:
Yeoh Bit Kun / Lee Siu Ming
bitkun@investpenang.gov.my / siuming@investpenang.gov.my
InvestPenang