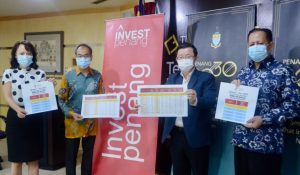 Penang's approved manufacturing investments performed steadily in the first half of 2020, recorded an inflow of RM9.12 billion. For 2Q20, the State captured RM2.02 billion inflows, up 452% year-on-year, marked a resilient industrial ecosystem even under challenging times. However, second half's performance can hardly be on par due to challenges from COVID-19 outbreak.
Penang, October 1, 2020 – In the second quarter of 2020 (2Q20), Penang has recorded an investment inflow of RM2.02 billion in manufacturing, up 452% year-on-year. This brings the total approved manufacturing investment for the first half of 2020 (1H20) to RM9.12 billion, representing 54% of 2019's full year approved manufacturing investments. According to Malaysian Investment Development Authority (MIDA), Penang successfully garnered 29 projects in 2Q20. These projects, together with the approved projects in 1Q20, are expected to generate 6,971 new job opportunities in the State.
In 2Q20, foreign direct investments (FDI) accounted for RM1.65 billion or 82% of the State's manufacturing investment inflows while domestic direct investments (DDI) contributes the remaining RM373 million or 18%. On a year-on-year basis, Penang's approved manufacturing FDI inflows rose 600% while DDI up 186% in 2Q20.
With the approved manufacturing FDI inflows amounted to RM8.42 billion in 1H20 (year-on-year: -3%), Penang has exemplified its leading role as the top manufacturing FDI contributor for the nation, capturing a 47% share of the nation's manufacturing FDI for the period. In 1H20, countries with top manufacturing FDI in Penang were Singapore, Switzerland and the United States. A notable new project approved during the period is Ultra Clean Holdings, one of the world's biggest suppliers of critical subsystems for the semiconductor and related manufacturing industries. Meanwhile, Penang recorded RM694 million of approved manufacturing DDI inflows in 1H20, representing a 37% year-on-year growth.
Electronics & Electrical, alongside Machinery & Equipment and Scientific & Measuring Equipment remain the State's main push, collectively contributing 93% of Penang's total approved manufacturing investments in 1H20.
The outbreak of the COVID-19 pandemic, coupled with the imposition of Movement Control Order (MCO) by the Malaysian government, though challenging, however did not shun investors away from making investment decisions. Penang's sustainable environment, vigorous industrial ecosystem and supportive infrastructure are the State's appealing aspects that continue to attract investors.
In a press conference today, the Chief Minister of Penang, Right Honorable Chow Kon Yeow, said: "I am truly delighted that Penang has managed to achieve such an encouraging investment figure in manufacturing despite the ambiguity of circumstances surrounding the global arena. This outcome would not be possible had it not for the countless efforts from both State and Federal. From the beginning of 2020, we are at an indefinite situation in regards to the tension between US and China, aside from the imposition of controls and policies to tackle the pandemic outbreak, in particular, the travel restriction policy. With all these unintended circumstances, the State opines that the performance for the 2020 will not be on par with 2019's all-time-high of RM16.86 billion. Nonetheless, Penang State's strong track record, coupled with the positive outlook for selected manufacturing subsectors and the reconfiguration of the global supply chain, Penang is still undeniably well positioned to remain a preferred destination for high quality, high value-added investments."
"To all our investors, the State welcomes your presence. It's apt to also express our deepest appreciation to MIDA as well as InvestPenang for their strong collaboration in securing and facilitating these investments." Chow added.
Though the near-term global outlook is less promising due to repercussions of the pandemic, our State agencies, InvestPenang and Penang Development Corporation (PDC) will help cushion the effects by providing close assistance to smoothen the on-the-ground project implementations. The State government will stay vigilant in enhancing a sustainable environment and liveability stature of Penang, all of which would set our State in the right direction to attract high-quality investors in our key promoted industries.
About InvestPenang
InvestPenang is the Penang State Government's principal agency for promotion of investment. Its objectives are to develop and sustain Penang's economy by enhancing and continuously injecting business activities in the State through foreign and local investments, including the spawning of viable new growth centres. To support the realization of its objectives, InvestPenang also runs initiatives like SMART Centre (to assist SMEs), Penang CAT Centre (to assist talents) and @CAT Penang (to assist start-ups).
For media enquiries, please contact:
Yeoh Bit Kun/ Ooi Phei Wen
bitkun@investpenang.gov.my/ pheiwen@investpenang.gov.my
InvestPenang