A global supplier of wafer fabrication equipment and services, the company's investment would have far-reaching impacts on Penang, especially on enhancing the E&E ecosystem and supply chain localization opportunities, uplifting the workforce' skillsets and economic spill-over effect.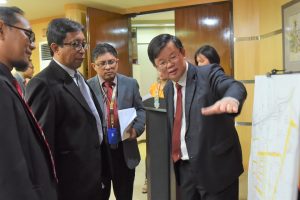 PENANG, Feb. 5, 2020 – The Penang state government is pleased to announce that Lam Research Corporation, a global supplier of wafer fabrication equipment and services to the semiconductor industry, has selected Batu Kawan Industrial Park in Penang, Malaysia, to expand its production capacity. The new Penang site will be complementing Lam Research's existing production sites in the United States, Austria and South Korea.
In a press conference today, the Right Honourable Chief Minister of Penang, Chow Kon Yeow, announced that Lam Research will be investing on a new 34-acre site with 700,000 sqft of office, manufacturing facilities and warehouse. An estimated of 350 high value jobs will be created over the next three years.
Being one of the leaders in semiconductor capital equipment, Lam Research's presence will complement Penang's established regional hub position in the back-end high technology machinery and equipment and semiconductor assembly and testing. The addition of Lam Research will enable Penang to further expand its capability and enhancing its relevancy in the global semiconductor industry.
Chow said: "Penang is proud to be the new site for Lam Research. This strategic investment is a significant boost to Penang's electronics and electrical (E&E) ecosystem and elevating its status in the world map of the semiconductor industry. Lam Research's investment is expected to have far-reaching impacts, especially on supply chain localization opportunities, uplifting the skillset of technical workforce and local SMEs as well as high economic spill-over and multiplier effects." Chow added that Lam Research's footprint in Penang will attract more relevant vendors to invest here and enable Penang to create a more robust E&E ecosystem than ever.
Kevin Jennings, Senior Vice President, Global Operations of Lam Research said that: "We are excited to partner with Penang and the government of Malaysia as we add to our global footprint. This facility is additive to Lam's global operations and enables us to provide additional capacity, ensure business continuity for critical activities, and most importantly, improve our speed to solutions by being closer to customers and suppliers in the region."
Construction of the new facility is expected to begin early 2020, with the first shipment expected by 2021.
Chow also expressed his deepest gratitude to Lam Research for choosing Penang as its new site. He also thanked the Federal Government, particularly the Ministry of Finance (MOF), Ministry of International Trade and Industry (MITI), Malaysian Investment Development Authority (MIDA) and the National Committee on Investment (NCI) for the synergistic efforts in bringing in strategic investments.
END
About InvestPenang
InvestPenang is the Penang State Government's principal agency for promotion of investment. Its objectives are to develop and sustain Penang's economy by enhancing and continuously injecting business activities in the State through foreign and local investments, including the spawning of viable new growth centres. To support the realization of its objectives, InvestPenang also runs initiatives like SMART Centre (to assist SMEs), Penang CAT Centre (to assist talents) and @CAT Penang (to assist start-ups).
For media enquiries, please contact:
Yeoh Bit Kun / Lee Siu Ming
bitkun@investpenang.gov.my/ siuming@investpenang.gov.my
InvestPenang