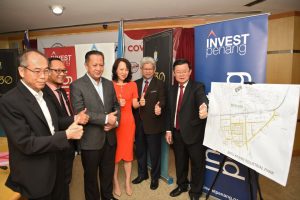 Press Conference – Dexcom's investment announcement (24 Jun 2020): https://www.facebook.com/buletinmutiara/videos/289335712258255/
Click HERE for CM's speech.
PENANG, June 24, 2020 – The Penang state government is pleased to announce that DexCom, Inc., a global leader in Continuous Glucose Monitoring (CGM) systems, has selected Penang, Malaysia, to expand its production capacity. The S&P 500 constituent, which generated US$1.5billion in 2019, is a CGM pioneer that is reshaping the industry landscape, bringing a profound positive impact to people living with diabetes.
Dexcom strategically selected a 28-acre site in Batu Kawan Industrial Park, Penang, for its first facility outside of the U.S. Construction on the facility is expected to begin in the second half of 2020. The facility will be dedicated to manufacturing sensors and applicators for Dexcom CGM systems, and for the next ten years, it is expected to create high-value jobs in manufacturing, facilities management, as well as manufacturing-related research and development.
"In support of Dexcom's continued growth, we recently made the decision to develop a third manufacturing site in the Batu Kawan Industrial Park in Pulau Pinang, Malaysia," said Quentin Blackford, Executive Vice President, Chief Financial Officer and Chief Operating Officer at Dexcom. "After vetting numerous potential locations, we determined this site in Malaysia a great fit for our future manufacturing needs. The growing awareness of Dexcom CGM and our belief in the significant growth opportunity for our technology are driving the need for expanded manufacturing. This new site is supplemental to our existing manufacturing facilities and will help Dexcom meet the needs of global demand for CGM for years to come."
"Penang is proud to be the new site for Dexcom. The introduction of the Dexcom facility marks the State's meaningful participation in the CGM field," said Right Honourable Mr. Chow Kon Yew, Chief Minister of Penang. "With half a century of industrial experience, Penang has built a strong industrial ecosystem, which complements the needs of medtech players. With over 50 medical device companies present in the State, Penang's medical devices cluster is among the highest concentration in Southeast Asia. Dexcom CGM systems require expertise and support in electronics engineering and manufacturing and related ancillary services, which are already well-established in Penang." The continuous investment inflows from leading global medtech players is testament to the ability of the State's industrial ecosystem to meet the stringent quality standards required of the medtech supply chain.
In 2019, Penang recorded RM16.9 billion in total approved manufacturing investments, up 192% year-on-year and more than double its 10-year average of RM8.0 billion. Out of the RM16.9 billion investments, RM15 billion was FDI inflow, accounting for 28% of the country's total FDI, making the State as the country's top FDI destination. Medical device industry is the second highest FDI contributor in Penang for the year.
"The State government will continue to entrench Penang's position in the medical technology industry, and I assure Dexcom of the State's commitment in facilitating and driving the project success." he concluded.
-End-
About Dexcom, Inc.
Dexcom, Inc. empowers people to take control of diabetes through innovative continuous glucose monitoring (CGM) systems. Headquartered in San Diego, California, Dexcom has emerged as a leader of diabetes care technology. By listening to the needs of users, caregivers, and providers, Dexcom simplifies and improves diabetes management around the world. For more information about Dexcom CGM, visit www.dexcom.com.
© 2020 Dexcom, Inc. Dexcom, Dexcom G6 and Dexcom Follow are registered trademarks of Dexcom, Inc. in the U.S., and may be registered in other countries. All rights reserved.
Dexcom Investor Contact:
Steven R. Pacelli, (858) 200-0200
Executive Vice President, Strategy and Corporate Development
Dexcom Media Contact:
James McIntosh, (619) 884-2118
Senior Manager, Public Relations
james.mcintosh@dexcom.com
About InvestPenang
InvestPenang is the Penang State Government's principal agency for promotion of investment. Its objectives are to develop and sustain Penang's economy by enhancing and continuously injecting business activities in the State through foreign and local investments, including the spawning of viable new growth centres. To support the realization of its objectives, InvestPenang also runs initiatives like SMART Centre (to assist SMEs), Penang CAT Centre (to assist talents) and @CAT Penang (to assist start-ups).
For media enquiries, please contact:
Yeoh Bit Kun / Lee Siu Ming
InvestPenang
bitkun@investpenang.gov.my / siuming@investpenang.gov.my