PENANG, MALAYSIA (14 Nov 2022) Boston Scientific Corporation (NYSE: BSX), a global leader in medical device technology, today unveiled a new expansion of its operations in Batu Kawan, Penang. The expansion is expected to enable approximately 300 jobs in the coming years and includes a 110,000 square foot global distribution center.
In support of the company's commitment to achieve carbon neutrality in all manufacturing and key distribution sites by 2030, the new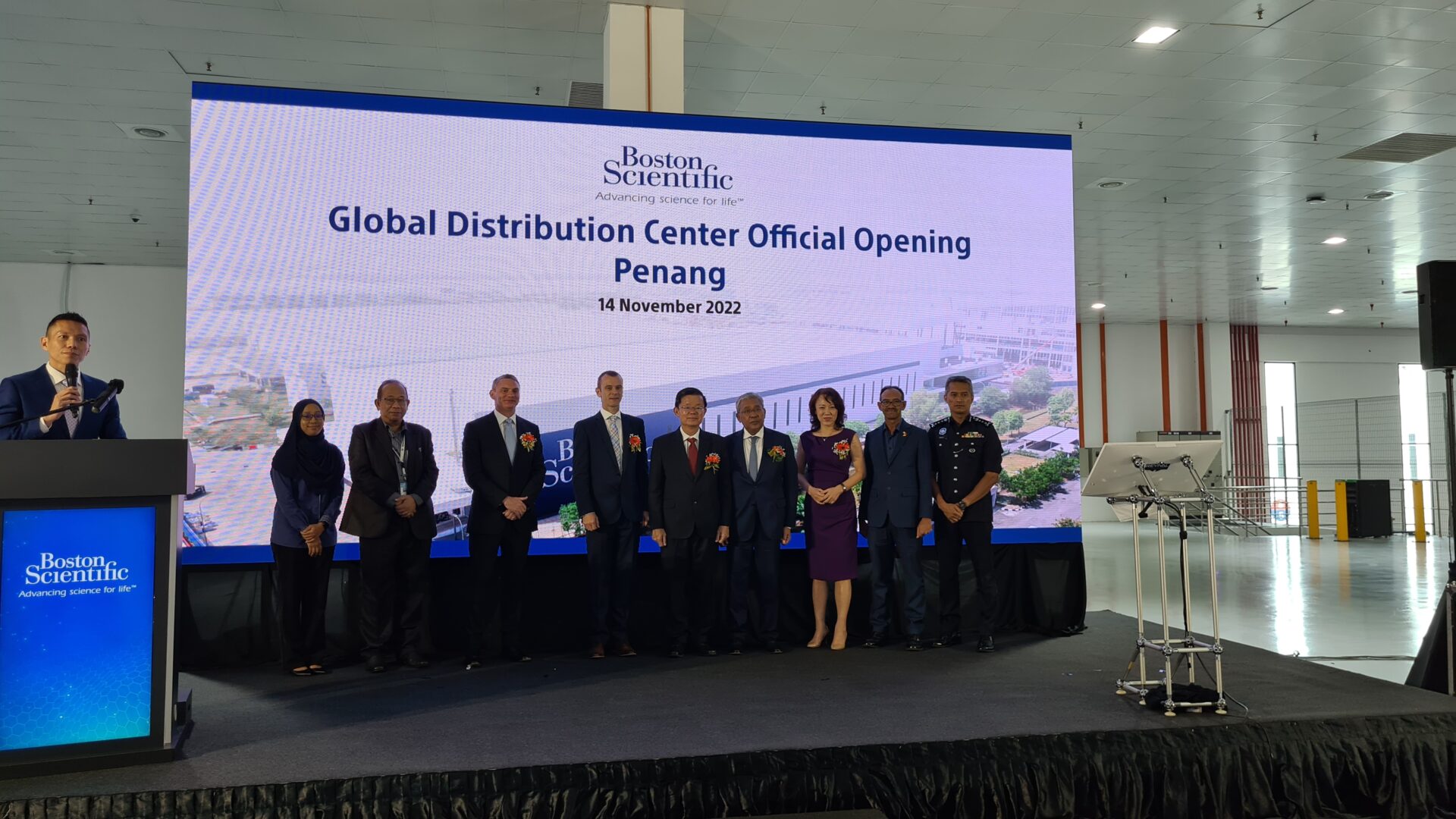 facility will be partially powered by solar panels and use a power monitoring system for energy efficiency. Additionally, the new facility includes a rainwater harvesting system for indoor and outdoor use. Combined, these initiatives form part of a strategy for the facility to achieve Leadership in Energy and Environmental Design (LEED) Gold certification in the near future.
The global distribution center was ceremonially opened by Penang Chief Minister, the Right Honourable Mr. Chow Kon Yeow. Joining him at the event was the Malaysian Investment Development Authority (MIDA) Chief Executive Officer, Datuk Wira Arham Abdul Rahman, as well as Special Investment Advisor to the Chief Minister of Penang, Dato Seri Lee Kah Choon, and InvestPenang Chief Executive Officer, Dato Loo Lee Lian.
"In 2017, the first Boston Scientific manufacturing facility in Asia was opened in Penang," said the Right Honourable Mr. Chow Kon Yeow. "Today, the state is proud to be selected as the location for the company's first global distribution center in the region. This expansion has greatly demonstrated the dynamic and supportive ecosystem the state holds, which enables companies to deepen roots and widen portfolios in Penang and across Asia. The state, via InvestPenang and other agencies, strives to uphold our competitive edge, which is buoyed by 50 years of excellence, towards greater potential going forward."
The new facility is the third global distribution center for the company and the first located in Asia, shipping medical devices within Malaysia and around the world. In addition to manufacturing roles, the site will employ professionals in knowledge-intensive regional supply chain roles such as planning, logistics, customer care and equipment service repair. As such, Penang will be key to the company's global supply chain network, serving as a hub for Asia Pacific markets and supporting ongoing global business continuity and resilience.
"The unveiling of the new Boston Scientific distribution facility will strengthen the company's position as a global services hub in this region," said Datuk Wira Arham Abdul Rahman. "This reaffirms Malaysia as a strategic location to support the company's end-to-end supply chain operations, from managing procurement and sales to the worldwide distribution of highly regulated medical devices. Malaysia is an ideal location for multinational corporations such as Boston Scientific to better manage and serve their customers and global supply chain networks due to its well-developed infrastructure and availability of a dynamic and skilled workforce."
Boston Scientific has had a strong manufacturing presence in Penang for over five years. More than 7 million medical devices have been produced at the site this year, including diagnostic and therapeutic technologies such as biopsy forceps, balloon angioplasty products and laser fibers.
"This expansion builds on our end-to-end supply chain expertise in Penang and reflects our commitment to supply life-changing technology to customers in Asia Pacific and across the globe," said Paudie O'Connor, senior vice president, Supply Chain at Boston Scientific. "In addition to the investment in this new global distribution center, we continue to invest in fostering a workplace in Penang where all employees can find opportunities to grow in their careers."
– END –
About MIDA
MIDA is the government's principal promotion agency under the Ministry of International Trade and Industry (MITI) to oversee and drive investments into the manufacturing and services sectors in Malaysia. Headquartered in Kuala Lumpur Sentral, MIDA has 12 regional and 21 overseas offices. MIDA continues to be the strategic partner to businesses in seizing the opportunities arising from the technology revolution of this era. For more information, please visit www.mida.gov.my and follow us on Twitter, Instagram, Facebook, LinkedIn, TikTok and YouTube channel.
About InvestPenang
InvestPenang is the Penang State Government's principal agency for promotion of investment. Its objectives are to develop and sustain Penang's economy by enhancing and continuously supporting business activities in the State through foreign and local investments, including spawning viable new growth centers. To realize its objectives, InvestPenang also runs initiatives like the SMART Penang Center (providing assistance to SMEs), Penang CAT Center (for talent attraction and retention) and i4.0 seed fund (a catalyst for the startup ecosystem). For more information, please visit https://investpenang.gov.my/ and follow InvestPenang's social media channels: Facebook ; LinkedIn.
About Boston Scientific
Boston Scientific transforms lives through innovative medical solutions that improve the health of patients around the world. As a global medical technology leader for more than 40 years, we advance science for life by providing a broad range of high performance solutions that address unmet patient needs and reduce the cost of healthcare. For more information, visit www.bostonscientific.com and connect on Twitter and Facebook.
Media Contact
MIDA
Rosedalina Ramlan
Director, Business Services and Regional Operations Division
Email: rosedalina@mida.gov.my
Tel.: +603 – 2267 3515
InvestPenang
Yeoh Bit Kun ; Ooi Phei Wen
bitkun@investpenang.gov.my ; pheiwen@investpenang.gov.my
Boston Scientific
Ong Yee Ting ; Helen Wailes
YeeTing.Ong@bsci.com ; Helen.Wailes@bsci.com