For Immediate Release
PRESS RELEASE
50 Years of Excellence and Beyond
Steering Penang towards high income economy, driven by digitalization, manufacturing excellence and innovation.
 Penang, Jan 17, 2022 – The year-long celebration on the 50th anniversary of Penang's industrialisation officially kick-started with the hybrid launching ceremony by the Right Honourable Mr. Chow Kon Yeow, Chief Minister of Penang.
"2022 is a year of celebration for Penang as it signifies the success of our transformation journey over the last five decades. This has laid the groundwork for Penang to unlock limitless potential. The tagline for this celebration "50 Years of Excellence and Beyond" aptly describes the State's ambition to capitalise on this springboard and forge ahead with all stakeholders. Together, we can propel Penang to greater heights for the next 50 years and beyond," said Chow.
Dato' Seri Lee Kah Choon, the Chairperson of the Organizing Committee for this celebration, said: "Penang's solid reputation is built on decades of manufacturing excellence and industrial experience. This has translated into far-reaching effects, in terms of moving up the value chain and uplifting the skillset of the local workforce. All these have placed the State on the right trajectory to achieve a high-income economy. Specifically, we are seeing digitalization, manufacturing excellence and innovation as the key drivers and talent pool expansion as the factor underpinning the drivers' success."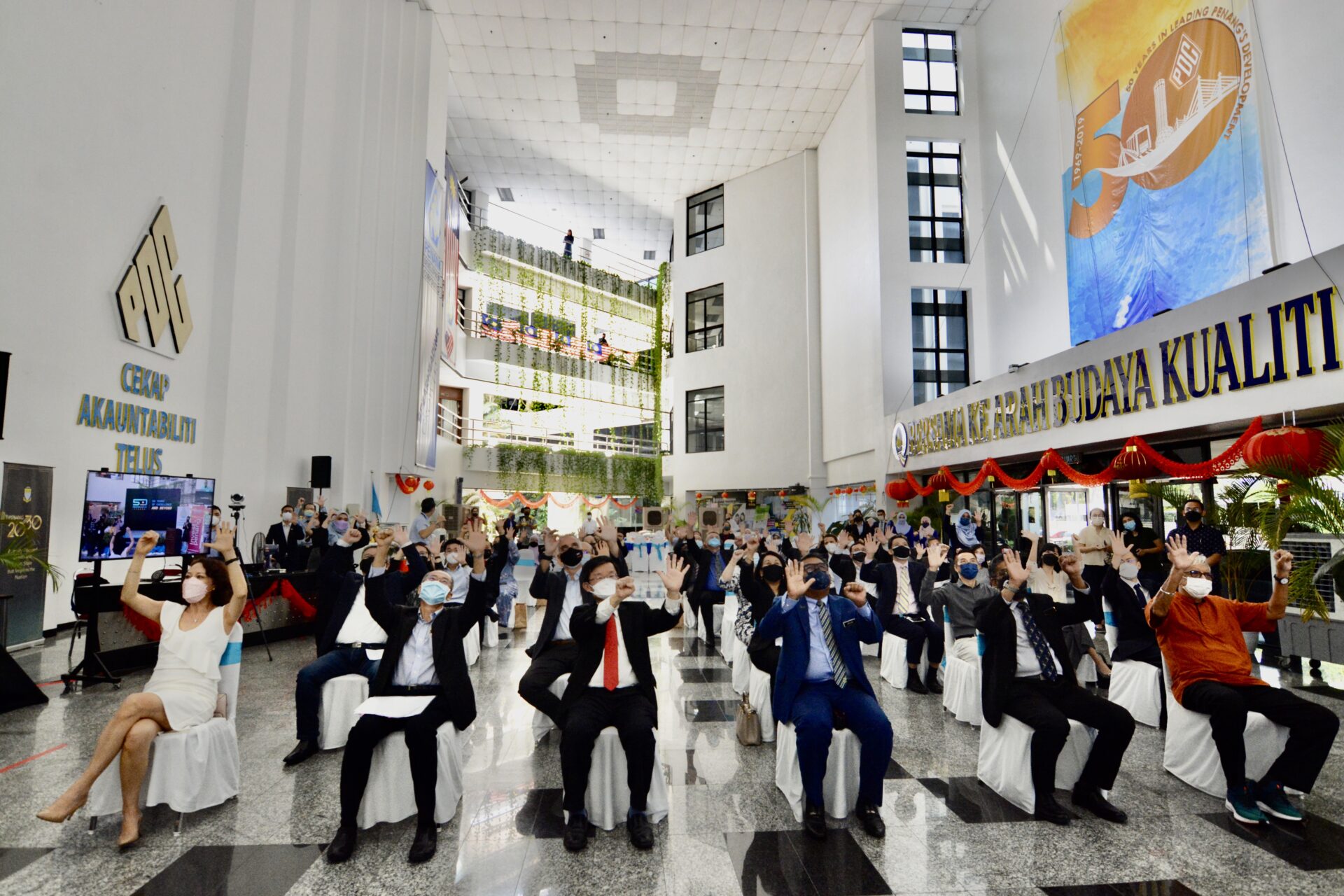 An emblem of the future
During the launching ceremony, Chow also shared that the logo applies a blue and gold combination to portray modernity and grandeur, which is inspired by the Penang flag. In particular, a blue gradient is often associated with technology, digitalization and intelligence, which ties with Penang's aspirations towards a new era of industrialisation. On the other hand, gold highlights the Golden Jubilee of Penang's industrialisation. The logo also incorporates element of binary codes to create a distinct futuristic icon that commensurate with the State's digitalization objective.
Well-curated themes to seize opportunities ahead
The State has established a public-private partnership with industry leaders to outline and coordinate a year-long event with 12 focused themes to demonstrate Penang's successful transformation and forward-looking plans.
Aside from shining a spotlight on Penang's 50 years of manufacturing excellence which houses top-notched industry players, the curated themes also focus on industries with countless possibilities, including Electrical & Electronics (E&E), Medical Technology, Digital Economy & Global Business Service (GBS), Food Technology and Space Technology.
Apart from these, local technopreneurship and startup are among the themes that are apt to be showcased, featuring the capabilities and breakthroughs of homegrown companies.
With the uptake of fourth Industrial Revolution (4IR) technologies that drive productivity and growth, innovation and talent are imperatives that formed the core of Penang's digitalization journey. Innovation-related programs, alongside plans on talent attraction and development will be carried out this year.
In addition, Penang pledged to hold sustainability as one of our top priorities. As such, Environmental, Social & Governance (ESG) is firmly on the agenda.
"All the themes coincide with my Penang2030 vision of 'A Family-Focused Green and Smart State to Inspire the Nation'. Going forward, the State is cognizant of the emerging trends and strive to uphold our competitive edge by penetrating into high value-added activities while strengthening the existing industry clusters," Chow elaborated.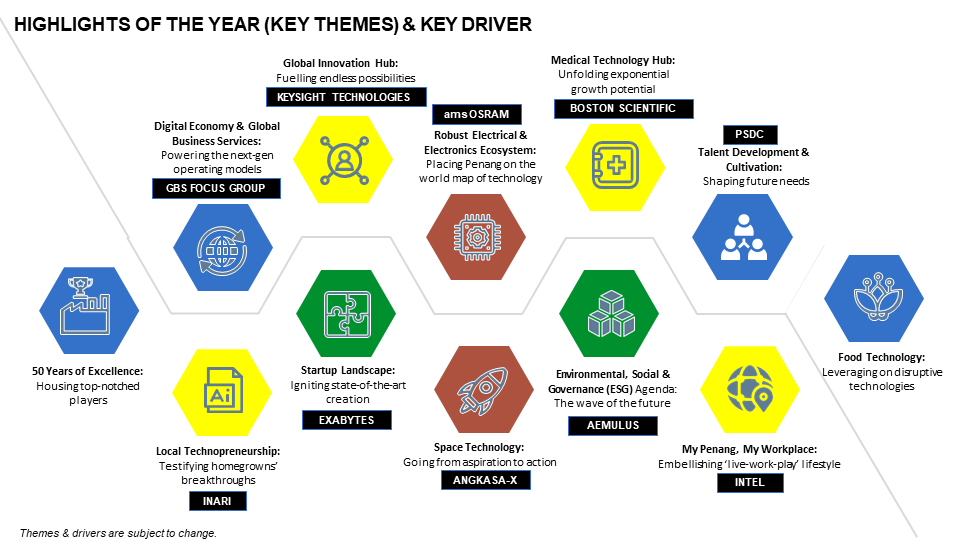 Chow also expressed his gratitude to all the theme drivers on-board, "The State is delighted to have industry leaders like Aemulus, ams-OSRAM, Angkasa-X, Boston Scientific, Exabytes, Inari Amertron, Intel, Keysight, Penang GBS Focus Group and Penang Skills Development Centre (PSDC), joining us as the theme drivers for this meaningful celebration. We welcome all other companies and associations to collaborate with us for this year-long event."
END
About Penang Development Corporation
The Penang Development Corporation (PDC) was established in 1969 as the leading development agency for the Penang State Government. PDC has been tasked to spearhead the socio-economic growth, create employment opportunities and improve the quality of life in Penang. PDC's main activities include the development of industrial parks, townships and affordable housing. Since its inception, PDC's strategies in industrial and housing development have enabled Penang to position itself as a leading industrial, tourism and services hub in the region.
 About InvestPenang
InvestPenang is the Penang State Government's principal agency for promotion of investment. Its objectives are to develop and sustain Penang's economy by enhancing and continuously supporting business activities in the State through foreign and local investments, including spawning viable new growth centres. To realize its objectives, InvestPenang also runs initiatives like the SMART Penang Centre (providing assistance to SMEs), Penang CAT Centre (for talent attraction and retention) and i4.0 seed fund (a catalyst for the start-up ecosystem).
For media enquiries, please contact:
Yeoh Bit Kun/ Ooi Phei Wen
bitkun@investpenang.gov.my/ pheiwen@investpenang.gov.my
InvestPenang