At a Glance
Principal Activity(ies):

Manufacturer of high precision cutting tools
Total tool solutions provider

Location(s):

Perai, Penang, Malaysia (HQ)
Puchong, Selangor, Malaysia (KL branch)
Johor Bahru, Johor, Malaysia (JB branch)
Malacca, Malaysia (Malacca branch)

Number of Employees:
50
Certificate(s):

ISO 9001 : 2015
ISO 13485 : 2016

Core Competency(ies):

High precision tools maker
Specialist in micro tools
Expertise in cutting tools for medical industry (orthopaedic implants and surgical instruments) & aerospace industry
Control tolerance as low as 0.5 micron

Website:
www.precisetech.com.my
Contact Person:
Ms. Chuah Lee Fong
Email: lfchuah@precisetech.com.my ; info@precisetech.com.my
Introduction
Established in 1996, Precisetech is a manufacturer of precision cutting tools with markets in Malaysia, Thailand, Indonesia, Italy, Turkey, Philippines and others. The company's mission is to provide excellent quality cutting tools in demand today, as well as customised requirement.
Precisetech is backed by the hardware in grinding technology from Switzerland and Germany, which is supported by sophisticated software and integrated PC-based programming. Being a "Total Tool Solutions Provider", Precisetech is committed in driving product and service excellence as well as ensuring the continual improvement of its Quality Management System to meet the stringent demands of today's machine tools market.
Products and Services
Precisetech's key products and services include the manufacturing of precision cutting tools and "Total Tool Solution Provider." The company is able to provide standard tools namely "KRIS brand" and customised tools such as step drills, concave radius cutter, lollipop cutter, single lip cutter and others based on customers' requirements. The company specialises in identifying and providing unique end mills and cutting tool products to meet specific processing needs from various industries.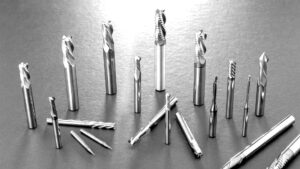 Precisetech has three main product series that are in great demand:
Vision Series – High performance tools with Premium Grade Carbide for machining workpiece up to 65 HRc hardness.
Precision Series – Widest range of precision cutting tools for general machining of work piece up to 52 HRc hardness.
Eco-Plus Series – Designed for economical and multi-purpose use for workpiece up to 45 HRc hardness for most general machining use.
In additional, among other products offered by Precisetech are SPIRAL 40 series, EVO series, ALU-CUT series, Graphite series, DLC series, Router series and Drill series. These products are designed to cater the different needs among the customers.
As a "Total Tool Solutions Provider" company, Precisetech assists the customers in reviewing their operations, current tooling and working environment, on top of aiding the project personnel with process optimisation. The company also provides comprehensive advices on the choice and proper usage of carbide grades and tooling.
Precisetech's close working relationships with some of the world's most renowned companies in coating technology has also enabled the company to supply suitable coating for all modern-day applications.
The team of experts, including highly-experienced engineers, are able to fulfil requirements in Solid Tungsten Carbide and High-Speed Steel Materials Grade Cutting Tools. Besides that, holding on delivery and after-sales services are an integral part of the company's corporate culture, Precisetech strives to ensure on-time delivery and provide commendable after-sales services for the customers.
Achievements and Awards
Winner of Malaysia 100 Excellent Enterprises 2018
Future Plan
Going forward, Precisetech will continue to develop high-efficiency tools in automotive, aerospace, medical, electronics, jewellery and mold industries. The company constantly invests in world class grinding machinery from Europe to keep abreast with the latest advancement in cutting tool technology and focuses on developing its talent in this area. Above that, the company's R&D department collaborates closely with a group of engineers and skilled workers to consistently improve the quality level of its products in order to fulfil every customer's unique requirement.
Written in Jan 2023
Disclaimer:
Every effort is made to provide accurate and complete information in this article. However, InvestPenang makes no claims, promises or guarantees about the accuracy, completeness, or adequacy of the contents and expressly disclaims liability for errors and omissions of this article.