Penang State Government Lauds Western Digital Batu Kawan
for Its Prestigious Lighthouse Network Award by the World Economic Forum
Sets the Benchmark for IR4.0 for Manufacturing Peers in Penang & Country
Batu Kawan, Penang, 8 October 2021 – With nearly half a century of industrial experience, Penang has successfully cultivated a strong industrial ecosystem and has been recognized as an advanced manufacturing hub in the region. Serving as one of the key pillars in Malaysian economy, Penang pledged to hold a catalytic role in the 4IR transformation process, on top of its continuous efforts in attracting strategic investments into the State.
During the joint press conference at Western Digital Batu Kawan facility, the Right Honorable Mr. Chow Kon Yeow, Chief Minister of Penang congratulated Western Digital for its impressive achievement in being admitted into the prestigious Global Lighthouse Network (GLN) by The World Economic Forum (WEF). "The significant advancements in technology have enabled businesses to be placed at new heights with solutions that not only boost productivity but also ensure sustainability. The recognition of Western Digital as one of the Lighthouses is a great testament that serves as a yardstick for future-proof strategies."
"We are on our journey to a new age of manufacturing where Internet of Things (IoT), artificial intelligence (AI) and big data analytics are becoming the key components in the production chain. Western Digital's principle and practice are also in tandem with my Penang2030 vision of Family-Friendly Green and Smart State to Inspire the Nation," added Chow.
The World Economic Forum Global Lighthouse Network recognises production sites and value chains that are world leaders in the adoption and integration of the cutting-edge technologies of the 4IR. Western Digital Batu Kawan is one of the 90 sites globally to be recognized by the World Economic Forum as a global leading Industry 4.0 smart manufacturing facility.
"The 'lights out' automation process in our Batu Kawan factory was a leading factor which conferred us admission into the prestigious Global Lighthouse Network.
"Our team sought to automate operation with the use of advanced analytics and application of proprietary artificial intelligent solutions to enable a lights-out manufacturing operation. We partnered with some of our strategic partners within our Tech Ecosystem to deliver the solutions.
"We were successful with the automation of production and logistics to deliver 32 percent factory cost improvement, reducing product inventory and order lead time by 50 per cent as well as 360 percent increase in labour productivity," said Mr Viswanath Ramaswamy, Vice President of Global Flash Back-End Operations & SDSM Site General Manager, Western Digital.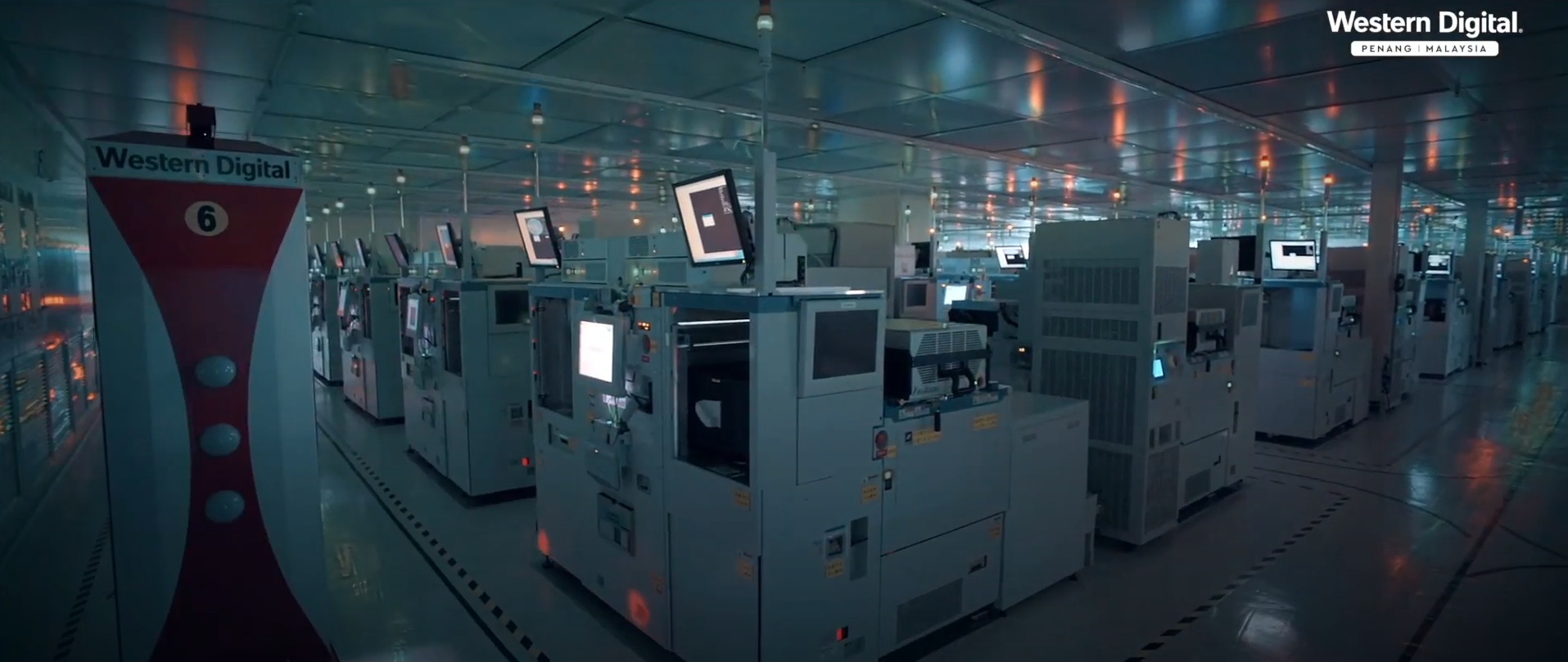 "Lights-out" operations in the Western Digital Batu Kawan, Penang facility
"We are happy to work with other manufacturing firms to raise awareness of the application of 4IR technological innovations to transform the manufacturing industry in Penang and throughout the country," said Mr KL Bock, Senior Vice President of Global Flash Back-End Operations Western Digital.
Dato' Seri Lee Kah Choon, Special Investment Advisor to the Chief Minister of Penang, shared that the State has embarked on holistic approaches in attracting future-ready talent.
"People are always our greatest asset. We consistently place huge emphasis on raising Penang's competitiveness to attract talent from all over the country. In 2019 – 2020, Penang has garnered RM31 billion of approved manufacturing investments, of which 88% were contributed by Electrical & Electronics (E&E), Machinery & Equipment (M&E) and Medtech industries. Penang's growing significance in these areas is poised to further enhance local workforce that can be empowered to support 4IR transformation. Toward this end, we look forward to working closely with the industry players like Western Digital who have their own high calibre Industrial IoT Academy program, to further shape and hone talent development in the state," he further added.
Also present at the joint press conference was Dato' Loo Lee Lian, Chief Executive Officer of Invest Penang, who commended Western Digital Batu Kawan for its recognition into the Global Lighthouse Network. 
About Global Lighthouse Network
The Global Lighthouse Network is a community of production sites and other facilities that are world leaders in the adoption and integration of the cutting-edge technologies of the Fourth Industrial Revolution (4IR). Lighthouses apply 4IR technologies such as artificial intelligence, 3D-printing and big data analytics to maximize efficiency and competitiveness at scale, transform business models and drive economic growth, while augmenting the workforce, protecting the environment, and contributing to a learning journey for all-sized manufacturers across all geographies and industries. The Global Lighthouse Network is a World Economic Forum project in collaboration with McKinsey & Co, factories and value chains that join the Network are designated by an independent panel of experts.
About Western Digital
Western Digital creates environments for data to thrive. As a leader in data infrastructure, the company is driving the innovation needed to help customers capture, preserve, access and transform an ever-increasing diversity of data. Everywhere data lives, from advanced data centers to mobile sensors to personal devices, our industry-leading solutions deliver the possibilities of data. Western Digital data-centric solutions consist of the Western Digital®, G-Technology™, SanDisk® and WD® brands. 
About InvestPenang
InvestPenang is the Penang State Government's principal agency for promotion of investment. Its objectives are to develop and sustain Penang's economy by enhancing and continuously supporting business activities in the State through foreign and local investments, including spawning viable new growth centres. To realize its objectives, InvestPenang also runs initiatives like the SMART Penang Centre (providing assistance to SMEs), Penang CAT Centre (for talent attraction and retention) and i4.0 seed fund (a catalyst for the start-up ecosystem). For further information, please visit https://investpenang.gov.my/
Distributed by Mustard Tree Communications PLT, for more info please contact:
Ray Chin / Kelly Lee / Shanty Dass / Jade Wong
6018 203 1004 / 6016 237 0681 / 6012 747 2814 / 6012 219 5289
ray@mustardtree.com.my/ kelly@mustardtree.com.my/
shanty@mustardtree.com.my/ jade@mustardtree.com.my
##