Main Market-listed GUH Holdings Bhd may be more diversified these days, but its bread and butter is still substantially printed circuit board (PCB) manufacturing.
GUH has businesses in property development, water and wastewater solutions, plantations, education and electrical appliances, and recently ventured into Taiwan's solar power industry with Leader Energy Group through a joint-venture vehicle.
Group CEO and managing director Datuk Seri Kenneth H'ng Bak Tee is well aware that PCB manufacturing contributes the lion's share of revenue at 83%, compared with 9% for the property division, and 8% for utilities.
"PCB is still our key division and we are trying to grow the business by way of capacity expansion and new product development … It will continue to be the main division for us over the next five to 10 years," he tells The Edge in a phone interview.
"We have been trying to balance the contribution between PCB and the other divisions. The PCB division has been contributing well to the group, and the other two will be picking up soon. We are still quite satisfied with the current proportion as long as all three divisions continue making profit."
H'ng reveals GUH has been working to divest non-core businesses in recent years so that more resources can be allocated to grow other core businesses, particularly utilities, as well as other infrastructure projects and investments in solar power.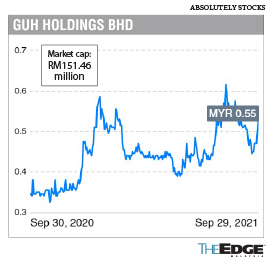 Appointed to the board in 2004, 61-year-old H'ng says revenue and profit from the PCB business is expected to continue to "grow healthily", and that many of GUH's solar power projects in Taiwan are also expected to contribute to group income.
H'ng is the brother of GUH executive chairman Tan Sri H'ng Bok San and non-executive director Datuk Harry H'ng Bak Seah. His niece, Datin Seri Jessica H'ng Hsieh Ling, also sits on the board as non-executive director.
One of the oldest listed companies on Bursa Malaysia, GUH was incorporated in 1961 as Textile Corp of Malaya Ltd, before it was listed on the Kuala Lumpur Stock Exchange and the Stock Exchange of Singapore (SES) in 1968.
But following the stock market crash resulting from the Pan-Electric Industries Ltd crisis in 1985, GUH — then known as Grand United Holdings Bhd, which was an indirect substantial shareholder of Pan-Electric Industries — was delisted from the SES in 1990 in compliance with the Malaysian government's policy.
In 1994, via a reverse takeover, the H'ng family acquired Grand United Holdings, which was then controlled by former MCA president Tan Sri Tan Koon Swan.
Following the emergence of the H'ng family, Grand United Holdings implemented a restructuring scheme and acquired MC Industry Sdn Bhd — now known as GUH Electronic Holdings Sdn Bhd — and its subsidiaries involved in the manufacturing of PCBs.
In 2005, the company's name was changed to GUH, and the rest is history. Today, it is estimated that the H'ng family members collectively own about 20% of GUH. Other prominent shareholders include Gold Connection Assets Ltd (17.19%), DBS Securities and Fiduciary Services (2.75%), and low-profile investor Chee Sai Mun (0.66%).
It is worth noting that GUH is in the midst of negotiations with the Chinese government to shut down its PCB plant in Suzhou, China, as part of the city's urban development. The group expects compensation from the government once all terms are agreed upon and agreements are signed.
"We are talking about loss of profits, compensation to the workers, machinery, land, buildings and many other expenses. Although there is no conclusion yet, I think we are getting closer to an agreement on the compensation amount. We hope that we can complete the deal by the end of this year or first quarter of next year," says H'ng.
Once this chapter is closed, GUH will be planning its next move.
"With tighter environmental control in China, we might exit the China operations if we cannot find a new area there for relocation. Apart from China, we are also considering Thailand and Vietnam for a possible site relocation," he adds.
GUH is expanding its PCB operations in Penang and spending about RM10 million a year to increase its production capacity.
"We are currently running at full capacity and we can't even fulfil some orders. Customers are knocking on our doors almost every day. Frankly, our expansion is not catching up with the demand. Overall, for our PCB business, we expect to see at least a 15% revenue growth for FY2021, to be followed by 8% in the subsequent years," H'ng explains.
GUH's PCB customers are mainly multinational corporations from Japan and South Korea, involved in the automobile, audio and video, home appliances, musical instruments and telecommunications sectors.
"Despite the pandemic, the semiconductors and electrical and electronics sectors remain strong. Thanks to the semiconductor boom, our PCB sales in Malaysia are still performing well as usual," says H'ng.
Are GUH shares undervalued?
GUH slipped into the red with a net loss of RM45 million in the financial year ended Dec 31 (FY2020), on RM239.87 million in revenue. The weaker financial performance was partly attributed to the negative repercussions of a workers' strike at its PCB operations in China.
The group, however, returned to the black in the first half ended June 30 (1HFY2021) with a net profit of RM4.8 million, on turnover of RM127.93 million. The improved bottom line was mainly due to higher contribution from its Malaysian operations amid the surge in demand for PCBs and a favourable sales mix.
According to AbsolutelyStocks data, GUH was in a net cash position of RM33.6 million as at June 30.
Although the Covid-19 pandemic has impacted the various industries that GUH serves in different ways, H'ng points out that PCB sales in Malaysia remain healthy.
He says operations at a factory owned by GUH Circuit Industry (PG) Sdn Bhd (GUH PG) were temporarily suspended between Aug 13 and 21, after Covid-19 cases were detected among production workers on Aug 12.
The factory resumed operations in stages starting from Aug 22, with the required standard operating procedures put in place at the premises and hostels.
"The temporary cessation of manufacturing operations did not result in a delay of deliveries for several orders to GUH PG's customers, with the rescheduling of delivery dates. There was no adverse impact to the group," says H'ng.
GUH increased production with extended shifts as manufacturing activities restarted. Although there was a temporary reduction in employee numbers during the quarantine and recovery of affected staff, there was no material impact on production levels because of the extended shifts.
"Overall, we expect no material adverse impact on revenue or earnings of the group for FY2021 as GUH PG had sufficient finished goods in reserve as part of the group's business continuity plan for production output to fulfil customer orders," H'ng says.
Year to date, shares of GUH have gained 21% to close at 54 sen last Wednesday, for a market capitalisation of RM151.46 million. The counter is trading at a price-to-book value ratio of 0.3 times, against its net assets per share of RM1.72 as at June 30 this year.
H'ng believes the stock has been underappreciated by investors, as the market tends to apply a discount to multi-industry, diversified companies.
"Our share price has been quite stable in recent years. Although it is not performing very well, I would say it is quite healthy. Compared to our current NTA of around RM1.72 per share, the current share price is obviously undervalued, mainly because we are quite diversified. We understand that analysts or investors prefer to invest in companies with one core business instead of companies with diversified portfolios," he observes.
Source: Edge Weekly