At a Glance
Principal Activity(ies):
Precision fluid dispensing systems
Location(s):
Batu Maung, Bayan Lepas, Penang
Number of Employees:
80
Revenue (2021):
RM27 million
Certificate(s):

ISO14001:2015
SO 9001:2015

Core Competency(ies):
Volumetric micro-dispensing technology
Website:
https://nswautomation.com/NSW/
Contact Person:
Nicole Yap

Email: cpyap@nswautomation.com
Introduction
NSW Automation (NSW) is a Malaysia-based company specializes in precision fluid dispensing systems in the microelectronics and semiconductor industries.
Headquartered in Penang, the company provides solder paste micro-dispensing solution to achieve tiny dispensed dots or lines sizes from as small as 80μm. This solution has huge demand in today's microelectronics packaging industry, including Electric Vehicle (EV) components, 5G devices, MEMS, SiP or PoP packages as well as active and passive components like 01005, 008004 assemblies in Hybrid SMT assembly process. Aside from solder paste, NSW's micro-dispensing solution is also applicable for various materials such as conductive silver epoxies, UV adhesives, silicone gel, epoxies, etc.
NSW has expanded its business footprints around the world with professional sales and technical service authorities in the USA, China, Taiwan, South Korea, SEA countries, Germany and Russia, among others.
With over 18 years of experience in the advanced dispensing industry, the company remains committed on delivering precision liquid dispensing solutions to support the customers' automated dispensing needs, serving industries such as EVs, semiconductor miniaturization, green energy, aerospace, consumer and wearable devices as well as 5G photonics.
Products & Services
SD1-X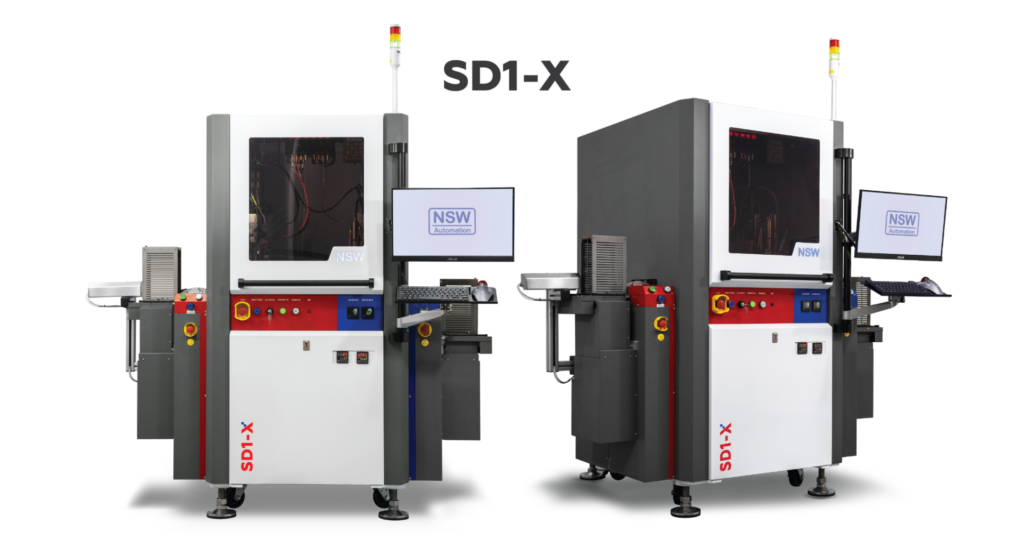 SD1-X is an automated intelligent micro-dispenser aimed for solder paste application where it is used for MEMS, 3D-SiP and other miniaturized electronic mass manufacturing processes. This equipment is mainly used to solder or connect electronics components to printed circuit boards (PCB) at microscopic volume.
SD1-X can dispense dots and lines at as tiny as 80 microns with T6 Solder paste. It can also dispense other conductive or non-conductive materials, enabling users to dispense onto tight microscopic spaces and complex areas with superior consistency.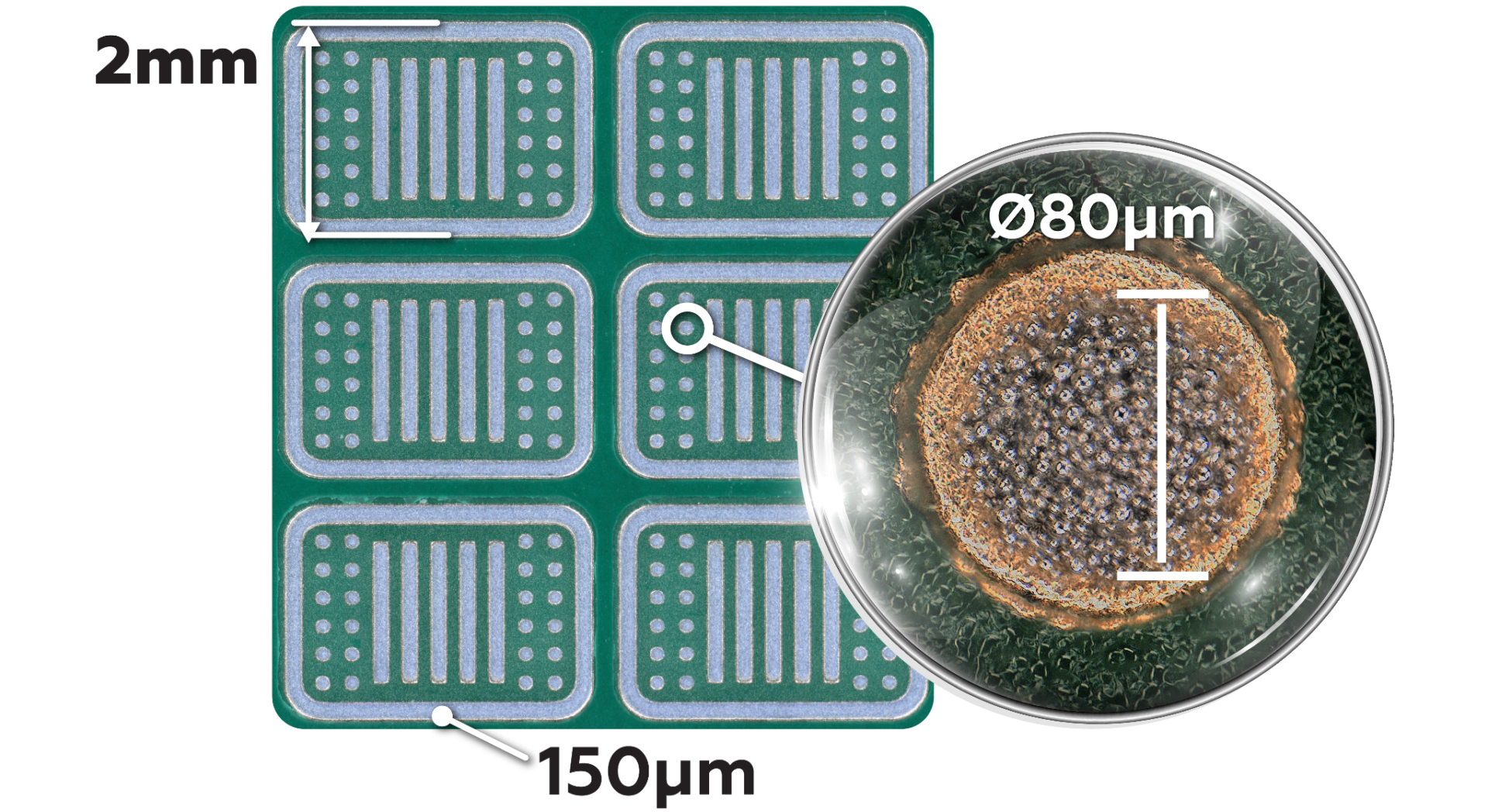 NSW's "Clog-Free" patent pending invention ensures customers' dispensing process remains hassle-free throughout long productions runtime, eliminating problems such as material choke, smashing and clogging.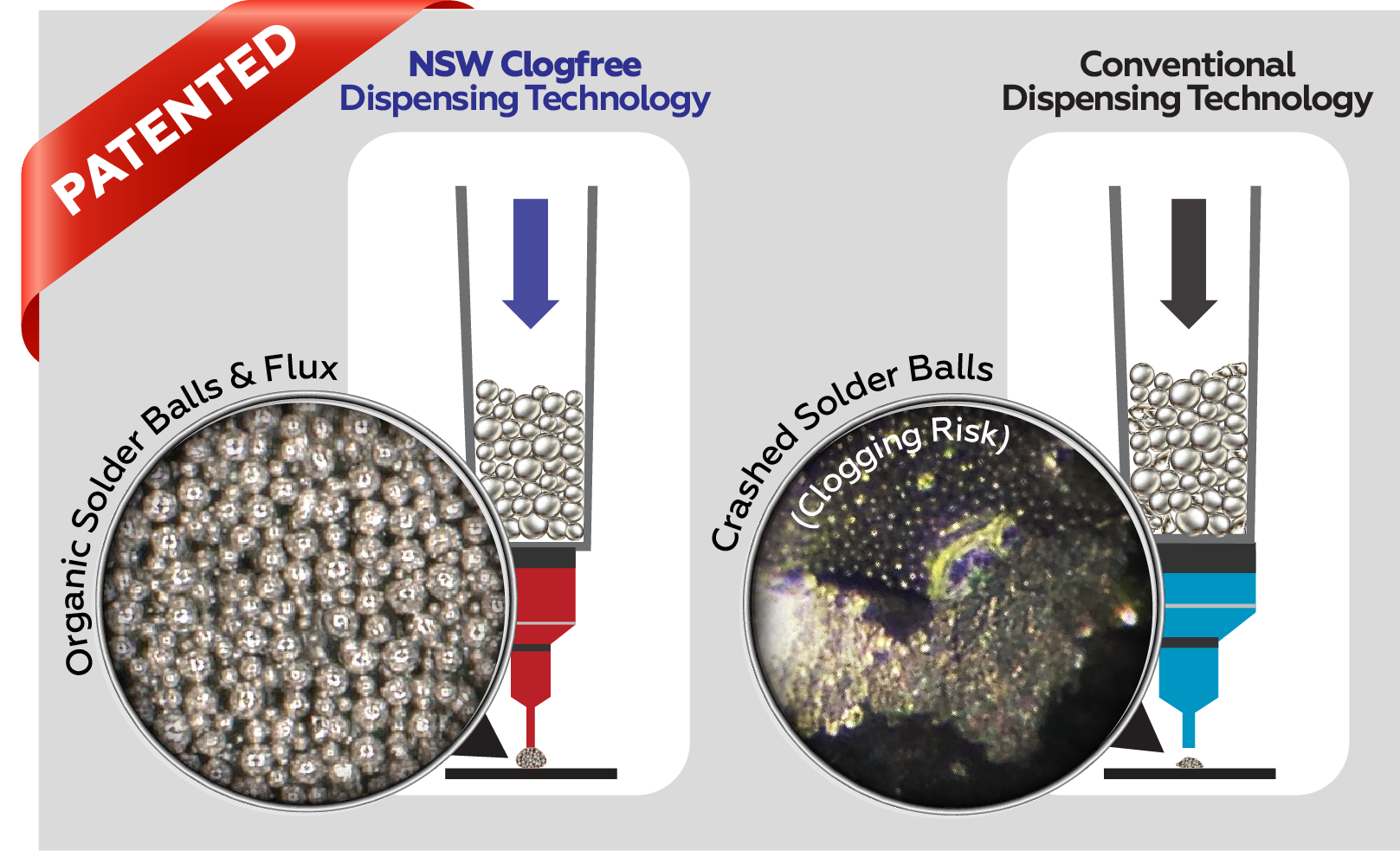 2. W12-2020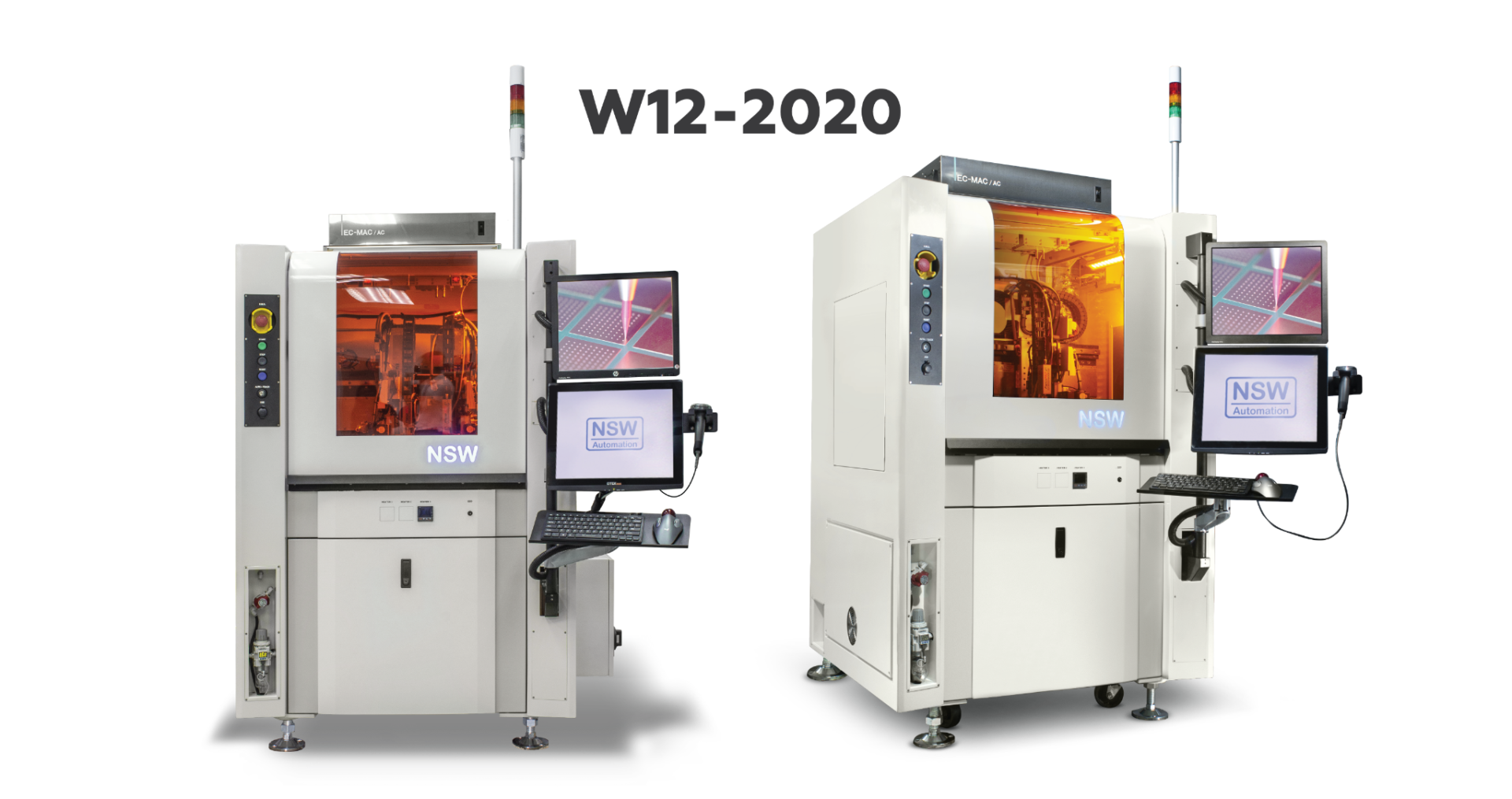 W12-2020 is an automated wafer-level precision liquid micro-dispenser. Featured with an easy-maintenance design, W12 is marketed for wafer-level applications and electronics miniaturization production. This equipment came with a 12-inch 360-degree wafer rotary workspace, high accuracy 4-axis linear/ servo motor drive system for XYZ movement and NSW's automatic closed-loop dynamic weight calibration system, allowing users to dispense preferred material with maximum flexibility.
W12 is also equipped with NSW's patent pending agitation system on its PistonPro4 Volumetric Pump. The technology that is used to suspend sedimentation of filler materials by programable rotation or inversion of material reservoir is able to improve the end result distribution by more than 3-fold, which directly improves the clients' yield from 50% to over 99%.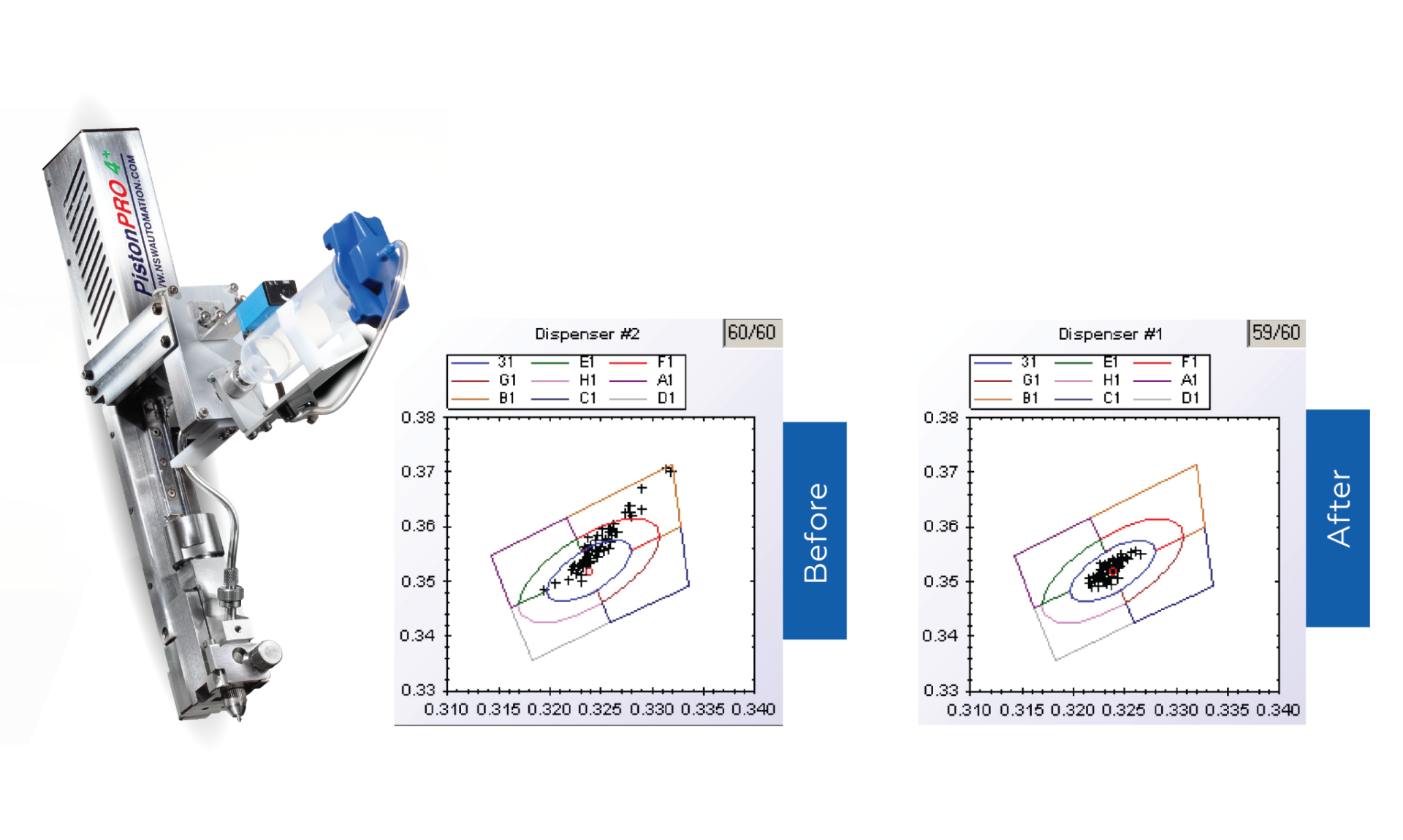 3. A300 Series – A301L, A302L, A304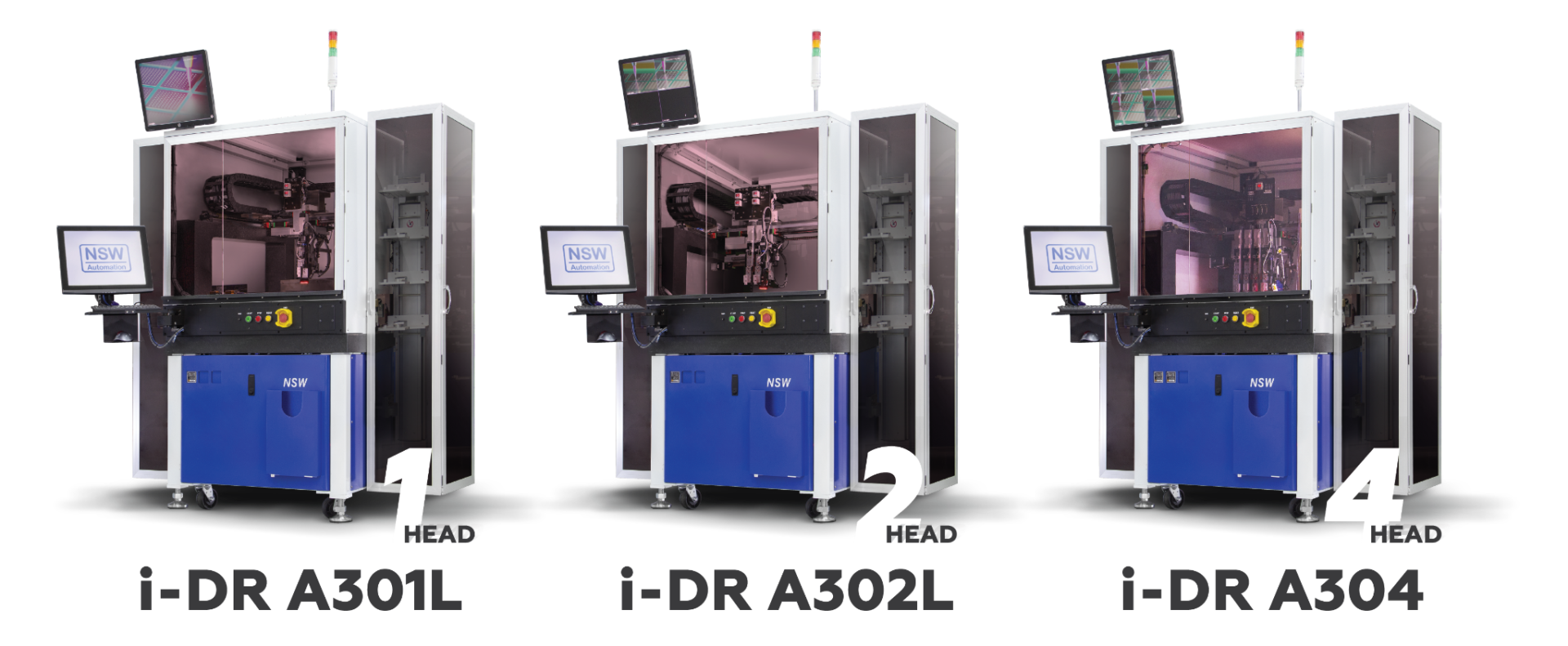 i-DR A301L is a single intelligent fluid dispensing handler pump system. Its lightness and agility ranked the best in accuracy and precision amongst the "A" series. It comes with customizable conveyor design and linear motor for the automated manufacturing of high-value products.
i-DR A302L is a dual fluid dispensing pump system for those who demanded for higher quality results and advanced rapid production throughputs. Armed with advanced linear motors, the A302 is perfect for mid- to low-value productions that need excellent precision.
i-DR A304 is a quadruple fluid dispensing pump system built for extreme swiftness. It is engineered to handle all types of large-scale semiconductor device packaging demands.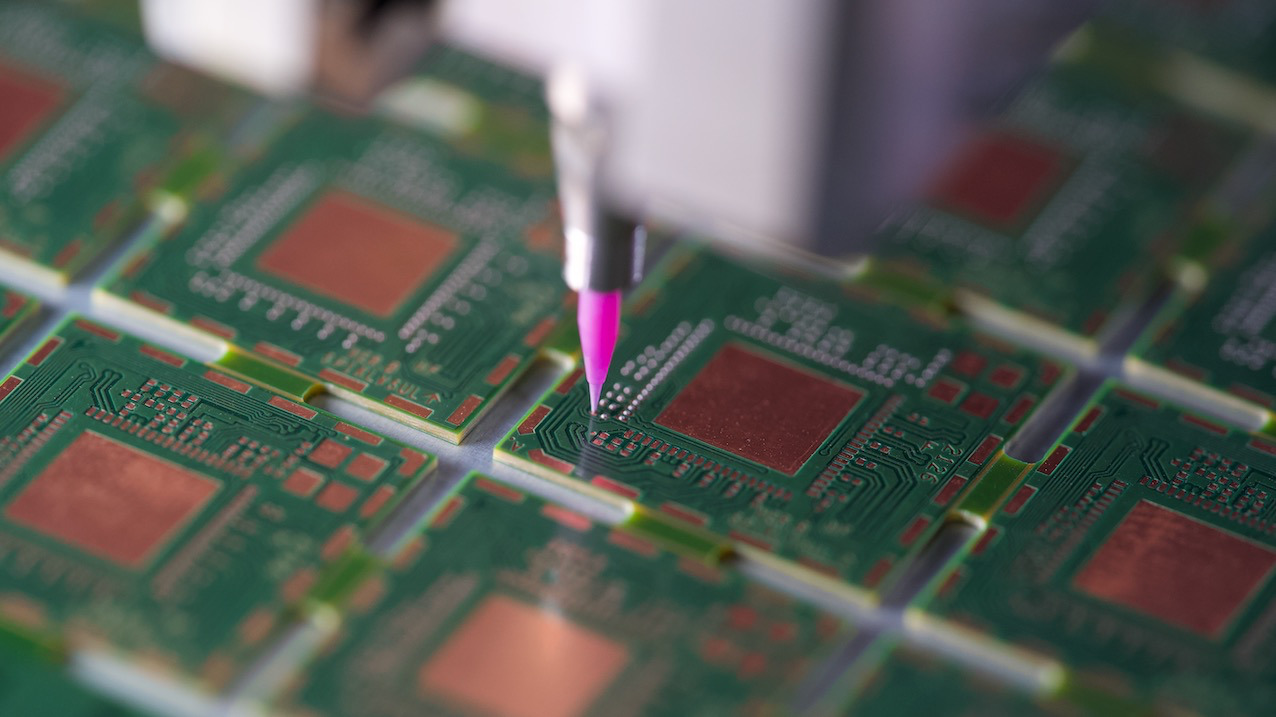 The system built is fully enclosed with a cover onto a solid granite base and gantry, which is a popular type of felsic intrusive igneous rock that is granular and phaneritic in texture and is used mainly in the construction industry. When compared to steel structures, granite delivers better performance in terms of stability, accuracy and speed.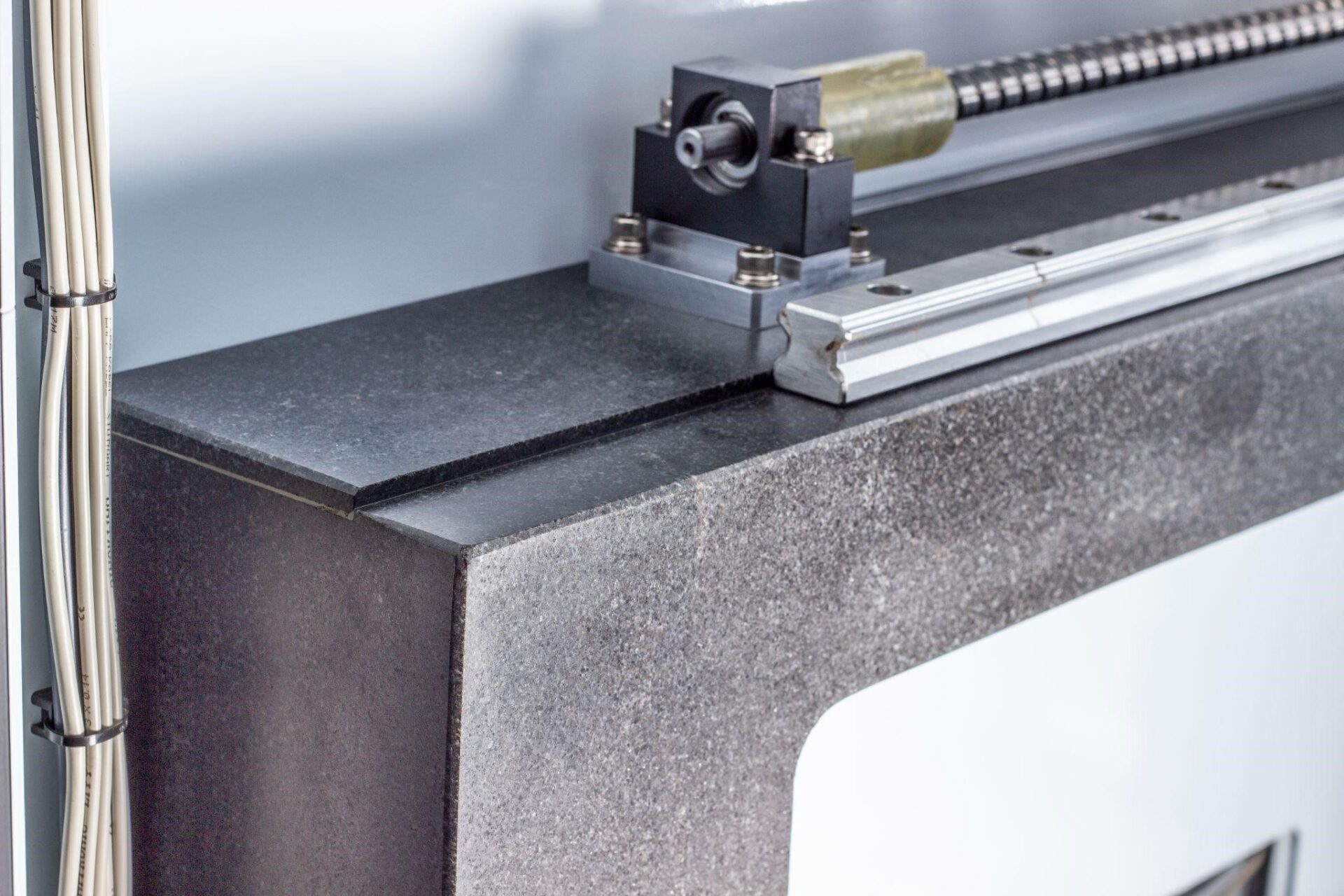 The latest Industrial Revolution focuses heavily on interconnectivity, automation, machine learning, and real-time data. NSW's dispensing systems are equipped with various types of sensors. It allows the machine learning technology to correspond with disparity and variations automatically. It can also smartly implement compensation of flaws and imprecisions on dispensing applications.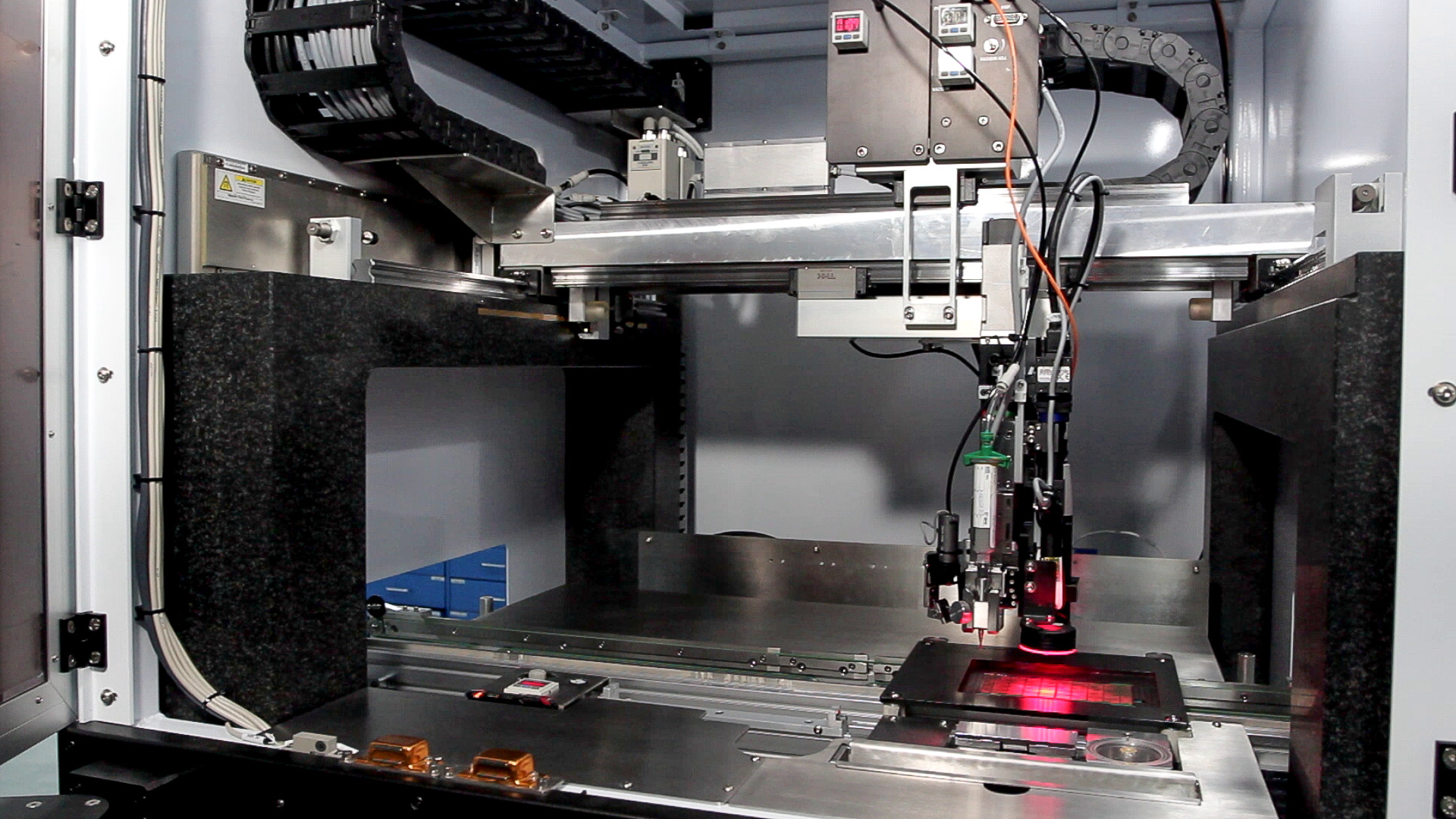 4. S400M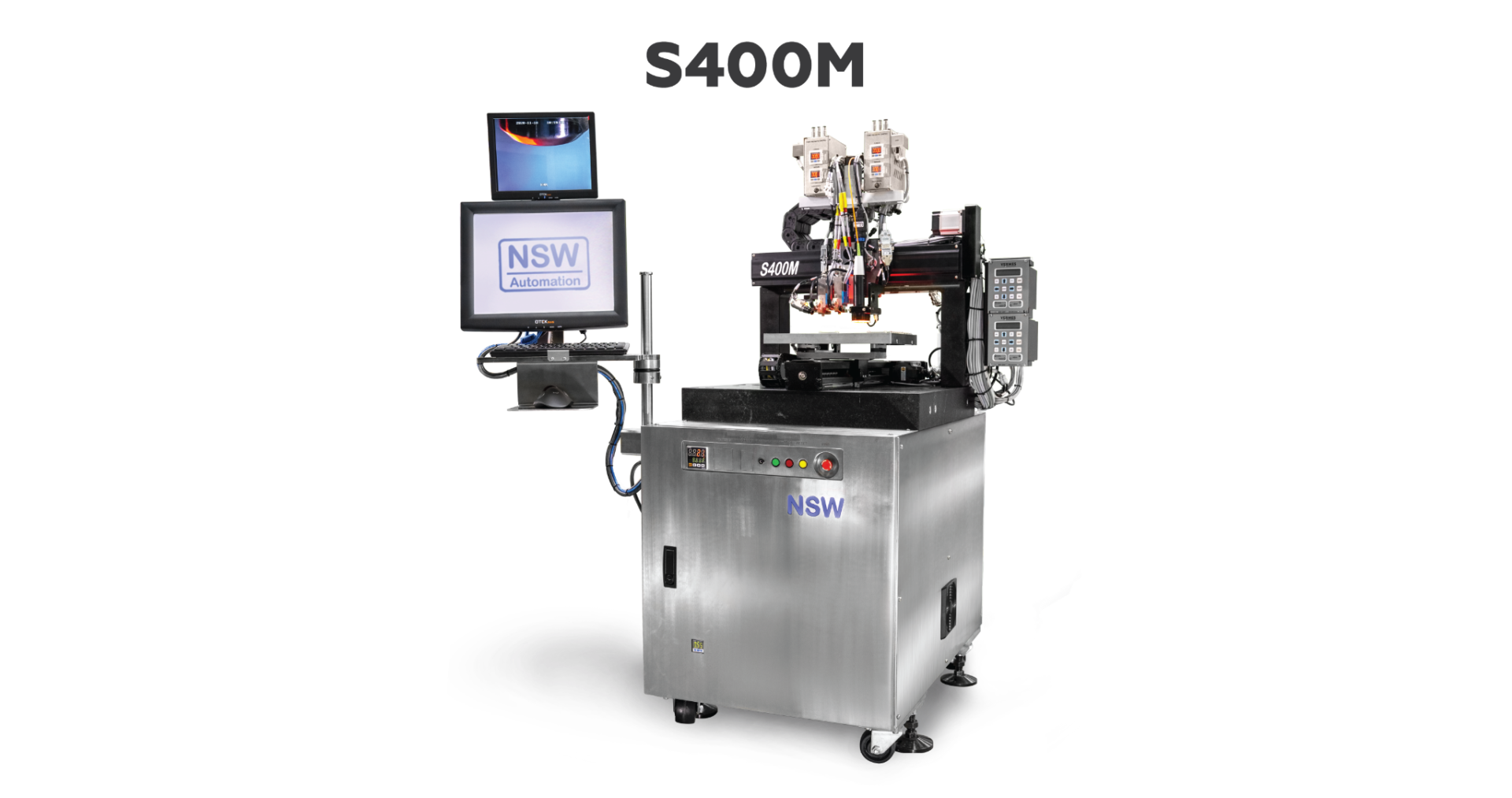 The S400M automated precision liquid dispenser is built for R&D lab environments with high-speed mappings, efficiency and jet repetitive precision. It comes with high flexible interchangeable pumps to suit different dispensing demand and situation. This series is suitable for small-scale dispensing productions with sharp precision on high-valued workpieces to match various types of miniaturized nanoelectronics devices' manufacturing needs.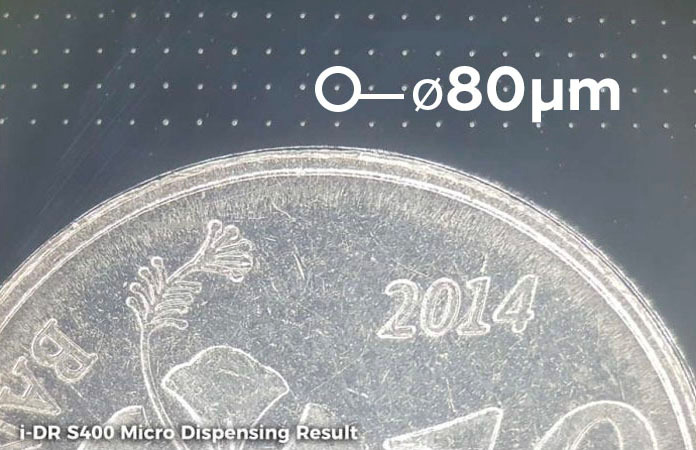 This series is designed for a cleanroom environment. It has interchangeable pump heads and larger dispensing working space as compared to other dispensers. This enables engineers to work on larger wafers, devices or workpieces. The system not only saves space, but is also flexible and convenient from utilizing any dispensing application dynamically.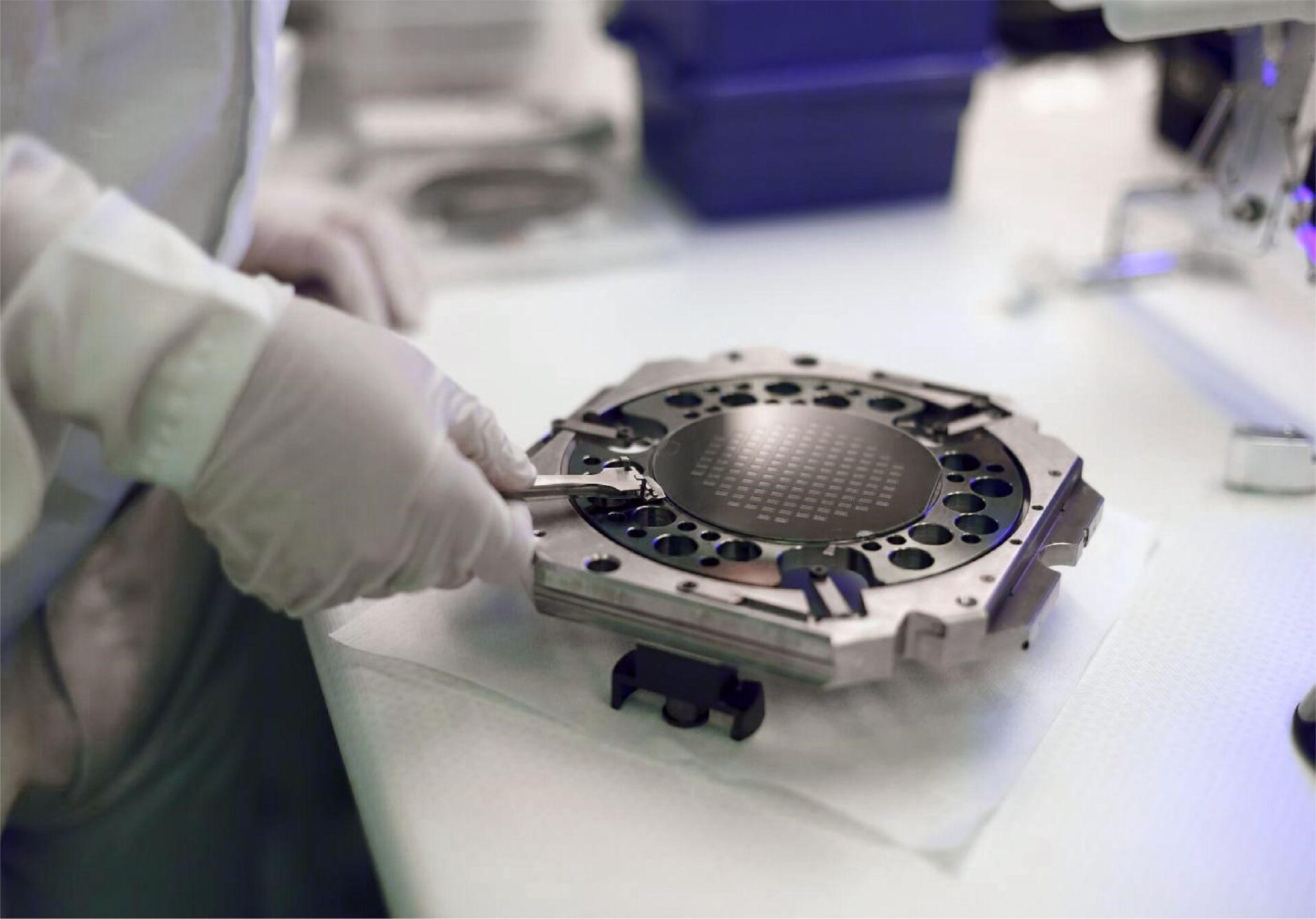 Future Plans
NSW has plans to gain market share in the precision fluid dispensing systems, which accounted for 7% of the global semiconductor equipment market. Holding on to that, NSW constantly assesses external opportunities to gain a lucrative market segment. Moving forward, NSW will continue its existing working models that yielded good results and head for greater heights. NSW will invest in the extension of market surveys and R&D to create additional products that address consumer needs.
Achievements & Awards
Written in Feb 2022
Disclaimer:
Every effort is made to provide accurate and complete information in this article. However, InvestPenang makes no claims, promises or guarantees about the accuracy, completeness, or adequacy of the contents and expressly disclaims liability for errors and omissions of this article.