At a Glance
Principal Activity(ies):
Electronics Manufacturing Services (EMS) provider
Location(s):
Perai, Penang, Malaysia
Number of Employees:
1,750
Manufacturing Floorspace:
585,000 sq. ft.
Revenue (2020):
RM566 million
Certificate(s):

ISO14001:2015
ISO9001:2015
AS9100:2016
ISO13485:2012
IATF16949:2016

Core Competency(ies):

High precision SMT (Surface Mount Technology)
High level assembly
Semiconductor process
High precision moulding
Advanced laboratory

Website:
http://www.nationgate.com.my/
Contact Person:
David Lim
Email: kblim@nationgate.com.my; corporate@nationgate.com.my
Introduction
NationGate Solution (M) Sdn. Bhd. is an Electronics Manufacturing Services (EMS) provider since 2010. The company offers electronics manufacturing services and technical support across industries of networking and communications, instrumentation, consumer products, medical devices and automotive. Services provided by NationGate include different types of high speed SMT (Surface Mount Technology), COB (Chip-on-Flex/ Board), final assembly (box build), precision plastic moulding and final testing.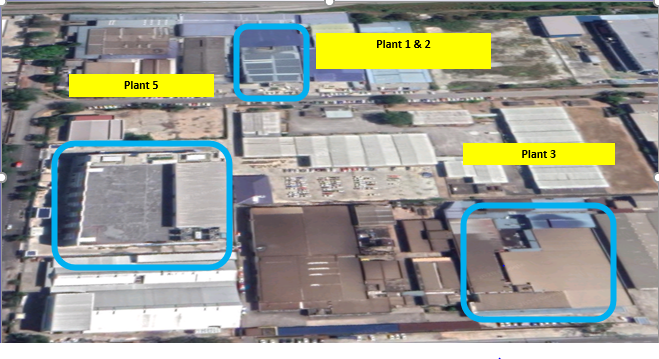 Factory locations in Prai Industrial Estate
Our Products and Services
High Precision SMT (Surface Mount Technology)
NationGate is equipped with the latest surface mount devices machines and equipment, which are able to perform placement process for the smallest dimension of 01005 (0.4mm x 0.2mm), at the average modular speed of 20,000 CPH (chips per hour). Fully automated lines with these machines lined in array to maximize the throughput and efficiency.Overall equipment efficiency (OEE) is measured in real time and analysed by machine specialists. Predictive and preventive maintenance are carried out before the occurrence of stoppage. Parameters and statistical control are monitored and data are collected, on a real time basis.
High Level Assembly
NationGate specialized in high volume assembly of all types of products, with key focus on fibre optic modules, electronic boards and final products. The company can cater to quick change of production lines for different products and models by downloading software and test parameters from storage servers. Each modular machines load the new programs "on the fly", offering high volume and high mixed production line capacity to its clients.Product characteristics are kept for future reference and big data analytic purposes, with the aim to enhance the company's product reliability and yield rates. Most process steps are predefined, enabling quick and easy routine which are important for quality consistency and process stability, these, in turn, generate high yields and reduce scrap costs.The assembly lines in NationGate have been set up with automated and semi-automated machines such as auto soldering stations, auto screw stations and auto glue dispensing stations. Aside from consistency, these assembly lines allow the company to operate 24/7.
Semi-Conductor Process
NationGate has the process and capability to perform die attachment, wire bonding and semiconductor testing, mainly serving customers who require COB (Chip On Board) process where semiconductor components are placed on PCB or Flex circuit and connections are performed using wire bonding machine. The conductive wire can either be gold or aluminium.
High Precision Moulding
NationGate provides high precision plastic moulding services for both standalone order and as part of the package for customers that require EMS / final assembly services. The company has more than 30 units of electric servo operated plastic moulding machines ranging from 50 tons to 350 tons. In addition, the company is also equipped with secondary processes like auto paint spray booths, tempo printers and ultrasonic welders.
Advanced Laboratory
NationGate has a laboratory centre to carry out various reliability tests for customers. The lab consists various types of equipment such as X-ray machine, EDX analyser (energy-dispersive X-ray) detector, XRF analyser (X-ray fluorescence) spectrometer, Nano Metallographic, SEM (Scanning Electronic Microscope), Temperature Cycling Chamber, Drop Test Machine for Box build products, Moisture Analyzer, Spectrometer, MFI (Melt Flow Indexer) Measuring Machine, Paper Abrasion Wear tester, among others.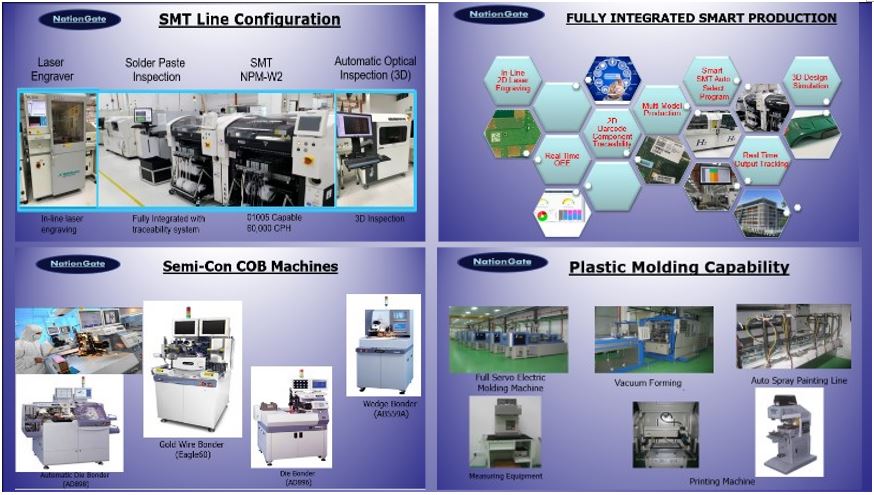 Achievements and Awards
Golden Bull Award by Business Media International (2007)
Awarded Top 10 Outstanding SMEs
Motorola Asia Supplier Award (2009)
HP HPMM Day-1 (2015)
Appreciation for new manufacturing facilities realization in record time
Future Plans
Underpinned by the anticipated continuous growth in the sectors of IoT, Big Data management and execution, EV, medical and networking & communications, NationGate will continue to develop and expand its existing core business areas for the next 3-5 years. Concurrently, the company is also upgrading the factories to be equipped with future-proof Industry 4.0 technologies, especially in the 9 main pillars, i.e. autonomous robots, simulation, system integration, industrial IoT, cybersecurity, additive manufacturing, augmented reality, big data analytics and 3D imaging, to enhance its competitive advantages.
In addition, NationGate's management emphasizes on developing human capital and nurturing future leaders. An initiative named JMP (Junior Managers Program) was introduced in 2018. To date, over 50 junior managers have completed the program, bringing a healthy pipeline of future leaders for NationGate.
Written in Oct 2021
Disclaimer:
Every effort is made to provide accurate and complete information in this article. However, InvestPenang makes no claims, promises or guarantees about the accuracy, completeness, or adequacy of the contents and expressly disclaims liability for errors and omissions of this article.