Dec 8 – Many companies — such as tech giant Apple and Tesla Motors — have successfully used the blue ocean strategy to create new markets for their products. While it helps companies stand out and improve profitability, it is not without challenges.
According to MMS Ventures Bhd (MMSV) co-founder and CEO Sia Teik Keat, while making customised equipment has helped boost the company's profit margins over the years, it finds it hard to scale up the business.
Founded in 1997, Penang-based MMSV is a semiconductor test equipment maker specialising in optoelectronics — in layman's terms, the light-emitting diode (LEDs) — as well as sensors, competing in a market with many players.
To differentiate itself in the market, MMSV is one of the very few equipment manufacturers that focused on customised products — well, until now. Sia says the group has decided to shift its strategy from blue ocean to red ocean — that is, joining other automated test equipment (ATE) peers that cater for the mass market with their standard testing equipment — in a move to gain market share.

"We want more customers to buy the same products from us. We want to expand our sales volume and grow our revenue. Instead of just relying on the blue ocean, we [realised the] need to have some exposure in the red ocean as well," he tells The Edge in a phone interview.
Going forward, the group will focus on selling more standard machines. Currently, standard machines contribute about 3% to 5% to MMSV's revenue, but their contribution is anticipated to increase to 20% in the next 12 to 18 months.
"We are working hard to turn some of our customised machines into standard platforms. We are engaging local agents in China and Taiwan to sell our standard machines. Hopefully, we will see some favourable outcomes in the coming years," he says.
Sia, 67, was appointed to the board of MMSV in 2005. He has more than 20 years of experience in the design and manufacture of automated manufacturing systems, with stints in the Penang units of US-based semiconductor manufacturers National Semiconductor Corp and Mono­lithic Memories Inc, as well as Dusan Equipment Corp in the US.
Notably, MMSV builds machines for LED and sensor makers such as Lumileds Holding BV, ams Osram and Cree. The group currently serves about 20 customers, of which seven are considered active customers.
Sia concedes that, in general, customised equipment commands better profit margins — about 5% to 10% higher than standard machines. In other words, MMSV has been concentrating on high-mix low-volume (HMLV) manufacturing.
"We design our equipment based on our customers' needs. Of course, from the perspective of costs, most customers would prefer to buy standard machines because they are relatively cheaper," he says.
"However, most standard machines would not be able to meet their new products' needs — as in certain specifications will be missing and all that. So, they have no choice but to buy customised machines," he says.
However, ATE manufacturers of customised machines have higher fixed overheads. "For example, for every design, we can sell only five units. In contrast, my competitors who make standard machines can sell 50 units," says Sia, who owns a 12.14% direct stake and a 10.87% indirect stake through Kesiago Systems Sdn Bhd in MMSV.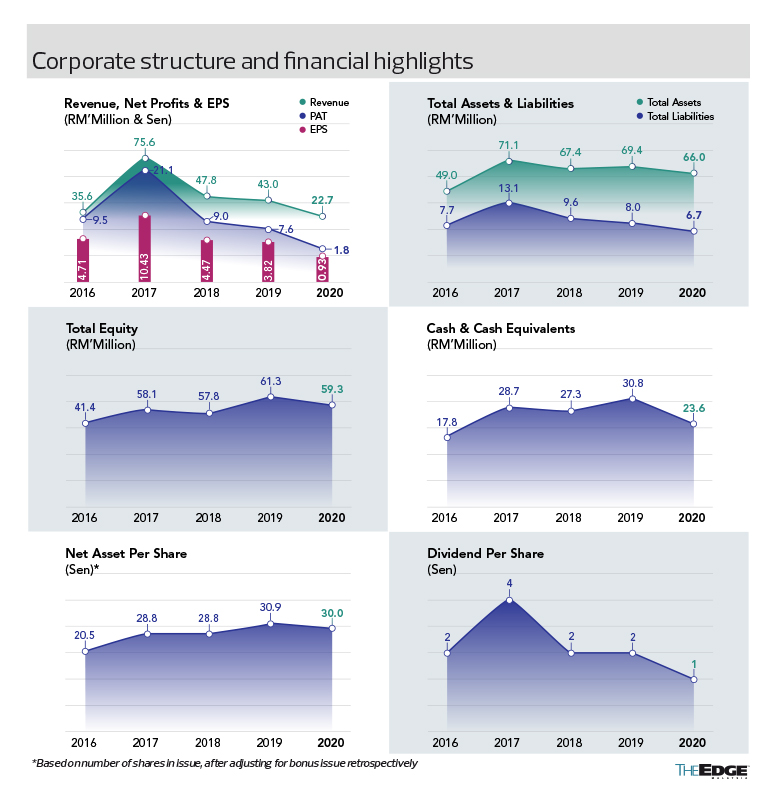 Pentamaster and Elsoft are direct peers
The key features of MMSV's machines are vision inspection and testing. It is learnt that when it comes to the testers' market, the group has two direct peers in Penang, namely Pentamaster Corp Bhd and Elsoft Research Bhd.
"Our business model is quite similar to Pentamaster, although they are serving a broader customer base. But when it comes to the LED and sensor markets, I would say Elsoft is our closest comparison, because both of us focus on serving similar customers," Sia says.
Today, LEDs and sensors account for 80% of MMSV's revenue, while the remaining 20% comes from other semiconductor devices and original equipment manufacturing (OEM).
It is worth noting that under MMSV's LED and sensor business division, the group breaks it down further to three main sub-segments, namely, smart devices, automotive and general lighting. Smart devices, including smartphones, smart watches and tablets, contribute about 50% to 60% of the group's revenue.
"Frankly, the general lighting market is very competitive, but we expect the automotive segment's contribution to increase from 10% to 15% currently to 20% by next year," Sia says.
"Obviously, many ATE companies are riding on the electric vehicle (EV) wave. I believe MMSV will benefit from this trend as well because EVs will definitely need more LEDs and sensors from the likes of Lumileds and ams Osram," he points out.
Is MMSV undervalued?
MMSV has seen its revenue and net profit fall in the past three years. Its revenue of RM75.6 million in the financial year ended Dec 31, 2017 (FY2017), dropped to RM47.8 million, RM43 million and RM22.7 million in FY2018, FY2019 and FY2020 respectively. Correspondingly, earnings fell from RM21.1 million in FY2017 to RM9 million in FY2018, RM7.6 million in FY2019 and RM1.8 million in FY2020.
But the worst seems to be over for MMSV, as the group reported a net profit of RM6.71 million in the cumulative nine months ended Sept 30, 2021 (9MFY2021) on revenue of RM30 million. The stronger financial results were attributed to higher sales of machines, improved gross margin and a decrease in administrative expenses.
"We expect our financial performance in 2HFY2021 to be 50% higher than our first half. Next year, we expect to see a very strong earnings performance in 1QFY2022, and hopefully we can achieve revenue growth and profit growth of at least 20% for the full year," Sia says.
Shares in the Main Market-listed MMSV have gained more than 45% over the past 12 months to close at RM1 last Friday, giving the company a market capitalisation of RM206.03 million. A check on AbsolutelyStocks shows that the counter is currently trading at a historical price-earnings ratio (PER) of 30 times. As at end-September, its net cash position stood at RM39.5 million.
"It's not up to me to say how much our shares should be worth, but I would like to think that [they] are being undervalued at the moment," Sia says.
He adds that some locally listed ATE firms have seen their stock prices soaring in recent years, partly due to their low free floats as their major shareholders control as much as a 70% stake in these companies. "But if you look at MMSV, the major shareholders only own a [roughly] 50% stake in the company; the rest is out there for the investors to invest and trade. Our shares are more liquid."
Source: Edge Weekly