At a Glance
Principal Activity(ies):

Integrated test equipment
Automated Visual Inspection (AVI) solutions
Custom designs
Build-To-Print (OEM/ODM)

Location(s):
Bayan Lepas, Penang, Malaysia
Number of Employees:
120
Revenue (2020):
RM23 million
Certification(s):
Core Competency(ies):

Vision system technology
Mechanical design engineering
Software programming technology
Control engineering & technology
Lumeresoft LED tester software
Project management

Website:
www.mmsis.com
Contact Person:
Valerie
Email: valerie_lok@mmsis.com/ info@mmsis.com
Introduction
MMS Venture ("MMS") was incorporated in 1997. Today, MMS has more than 120 employees, located in Penang, Malaysia. The company focuses on designing and building customized automation solutions for LED, semiconductor, automotive and smart devices industries around the globe. MMS' mechanical, control system and software engineering teams, its international procurement and logistics arrangement, in-house fabrication of parts and quality control, coupled with the ability to provide installation and training world-wide, has enabled the company to be a one-stop automation solution provider. In addition, MMS also provides build-to-print (OEM) service which helps customers to save costs, manage demand swings and focus on their core businesses.
The MMSV group, with its 100% subsidiaries MMS and Evolusys, is a public company listed on Bursa Malaysia.
­­Key Products and Services
MMS has 3 key products, namely, Vision Inspection System, Integrated Test Handler and Material Handler.
Vision Inspection System
Wafer Inspection Machine
Wafer Inspection Machine is designed to deliver utmost flexibility to support top vision inspection for fabricated components on wafer such as lens, LED & IC packages from 4" tiles to 8" wafer. With unique blend of flexibility and high performance, it makes an ideal inspection solution for automation industry. It is equipped with Confocal displacement sensor for warpage detection with height compensation up to 2mm. Inspection criteria including marking, surface cosmetic, contamination, chipping, cracked, foreign material, scratches, wire bond etc.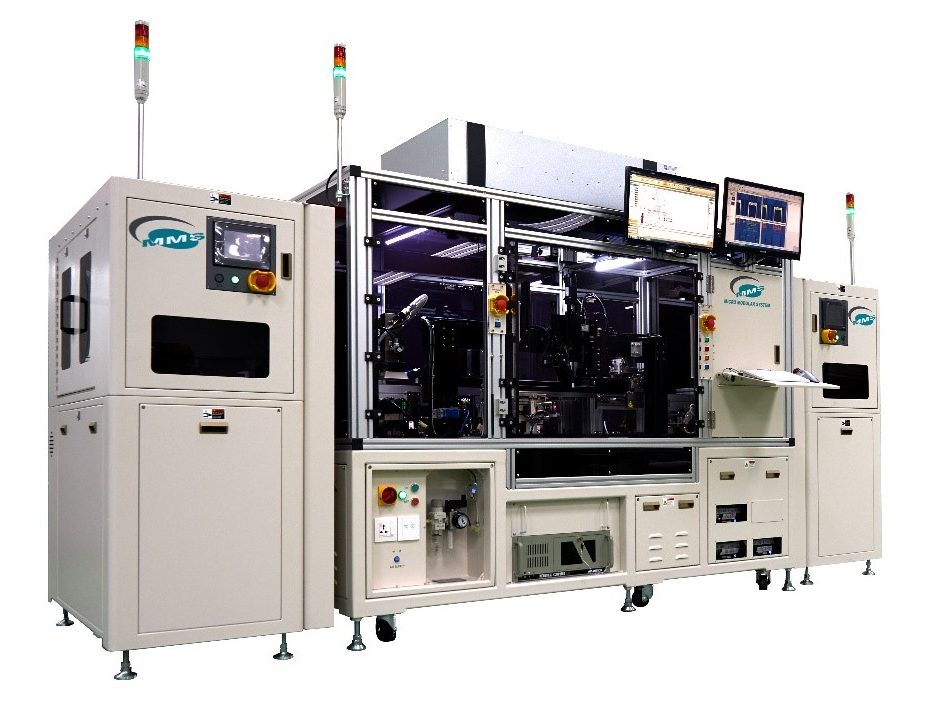 MMS' Wafer Inspection Machine
Lens Inspection Machine
A high speed fully automated inspection system, MMS' Lens Inspection System machine is designed to provide automatic defect inspection for transparent/semi-transparent lens. It is applicable for 2D inspection of cosmetic and molding defects for 6 sides. Detectable defects inclusive of dents, scratches, holder short mold, fresnel short mold, foreign material, contamination, black dot, bubbles, burr and many more. It also consists of optional NAS system for expanding image storage.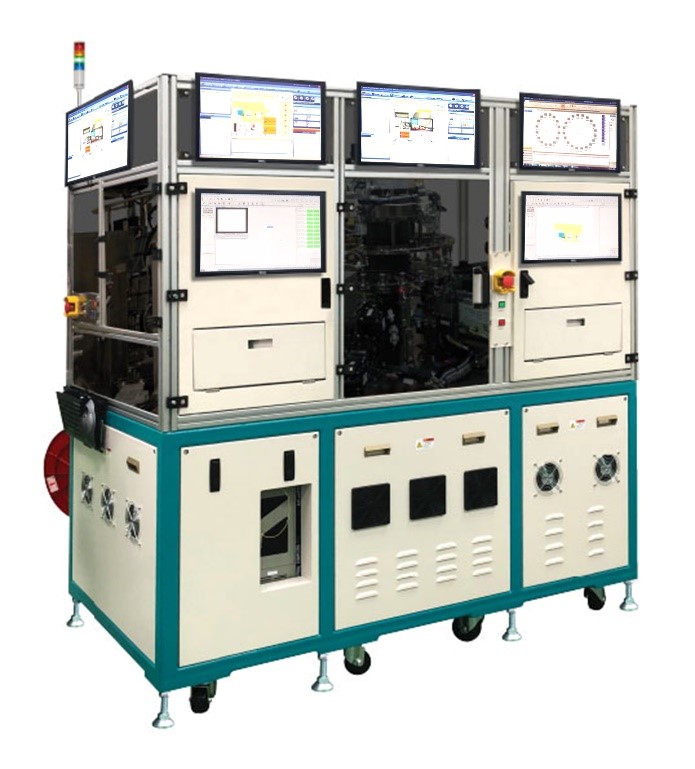 MMS' Lens Inspection Machine
Flash Module Inspection Machine
In line with MMS' high standards of quality, the Flash Module Inspection Machine is built to equip with the combination of high-speed, accuracy, and reliability with low cost of ownership as well as flexibility of design. It provides inspection for dents, scratches, holder short mold, fresnel short mold, foreign material, contamination, black dot, bubbles, burr, chip off, crack, ejector pin flash, deformation, 2D measurement, identification for absent/present/wrong/mix parts.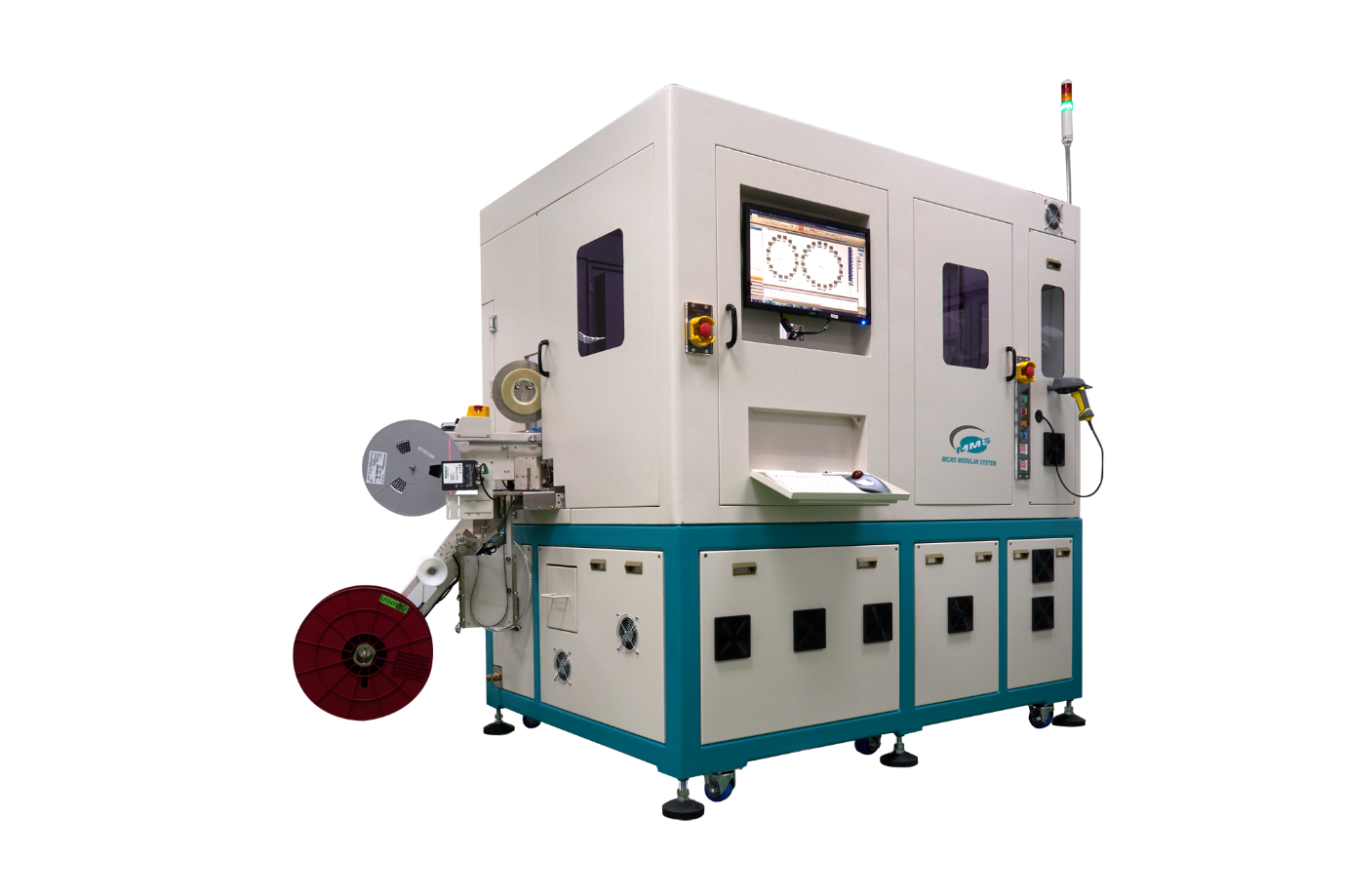 MMS' Flash Module Inspection Machine
Integrated Test Handler
IC Test Handler
MMS' IC test handlers are based on a modular concept. Options include multiple 2D/3D vision systems, bowl or tube inputs, multiple tape or tube outputs and laser marking stations. With 20 or 24 arms, these economical test handlers can handle most standard IC package forms available with up to 30k UPH and are easily converted for product changes.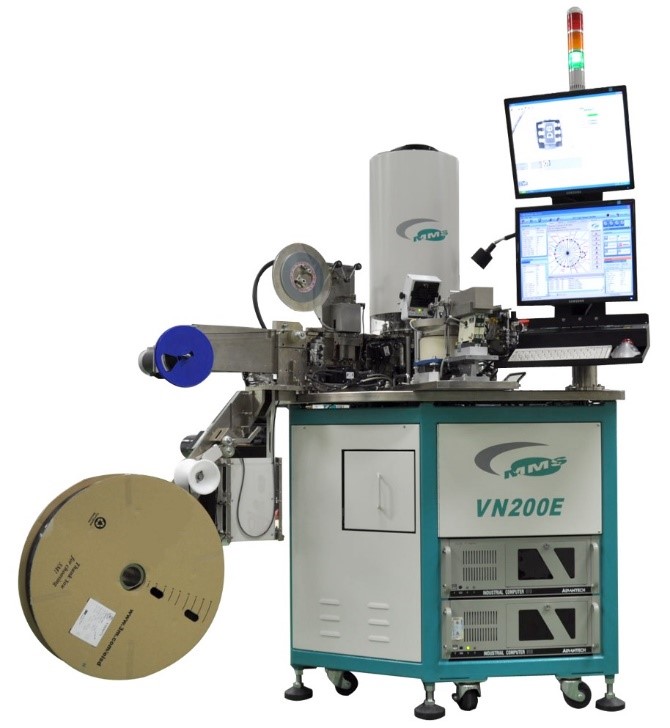 MMS' IC Test Handler
Automotive LED Bulb Test Handler
MMS' capabilities in the design of smart automation enable the company to offer machines designed specifically for the customers' production processes. MMS also designs custom solutions for light bulbs testing for automobiles. Demand for LED bulbs used in headlamps, turn signals, brake lamps, auxiliary lamps or interior lighting is increasing due to the heighten reliability and durability requirements. MMS' LED bulb test handler can perform 2D cosmetic visual inspection, optical and electrical test, laser marking and 3D inspection.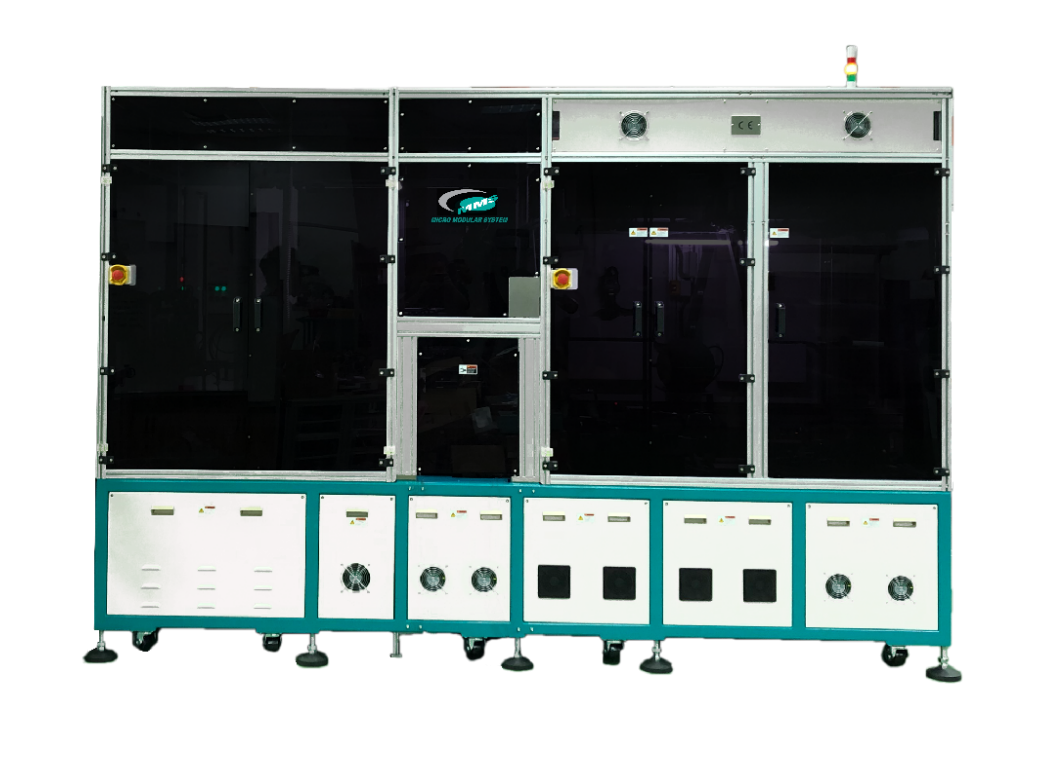 MMS' Automotive LED Bulb Test Handler
High Power LED Test Handler
MMS provides test solutions for R&D and production of high-power array LEDs (COB) or for LED end-products. All systems are easily convertible. Optional are conveyor or magazine inputs, a solution as stand-alone machines or as integrated production lines compliant to SMEMA (Surface Mount Equipment Manufacturing Association) standard. The test handlers also consist of automatic magazine orientation and jamming detection and substrate-orientation and ID check. It can perform high-temperature test between 25°C and 100°C.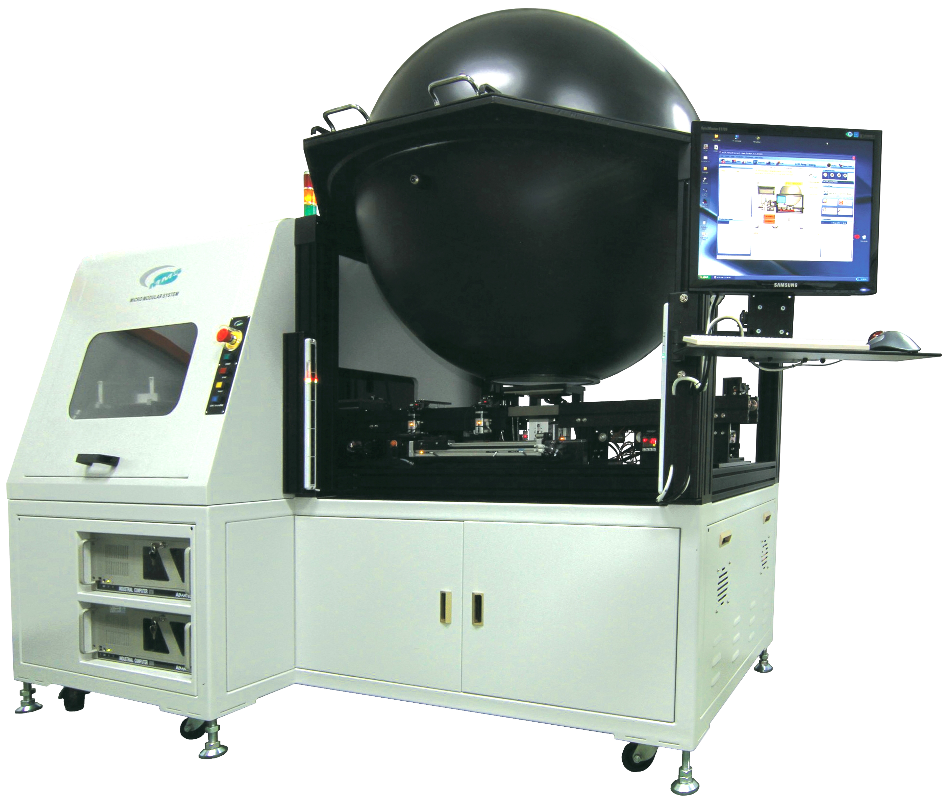 MMS' High Power LED Test Handler
Material Handler
Magazine Loader Unloader
MMS Loader and Unloaders provide part handling, minimizing operator intervention. Fully programmable, they are adaptable to many types of process carriers. Loader is designed to load parts, substrates or leadframes from magazines into in-line process systems whereas the Unloader is similarly designed to index the parts, substrates or leadframes out into magazines. They are compatible with SMEMA standards.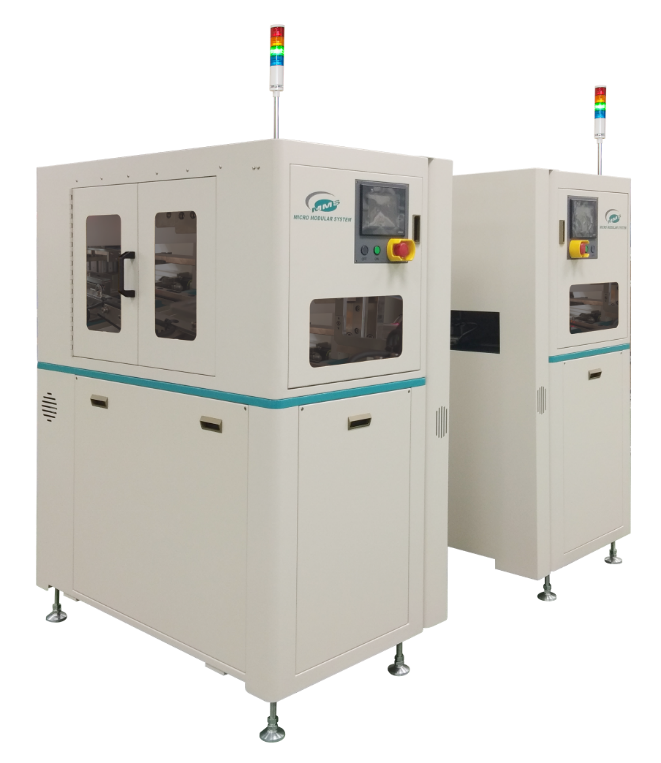 MMS' Magazine Loader Unloader
Written in Aug 2021
Disclaimer:
Every effort is made to provide accurate and complete information in this article. However, InvestPenang makes no claims, promises or guarantees about the accuracy, completeness, or adequacy of the contents and expressly disclaims liability for errors and omissions of this article.