Penang, Malaysia – April 14, 2022 – Lumileds has fully transitioned to 100% renewable electricity at its two manufacturing locations in Penang as of March 18th, 2022. With this transition to renewable electricity, the company will reduce emissions by more than 40,000 tons of CO2 equivalent every year.
For Lumileds, this is a significant step forward towards fulfilling its strategic initiative to completely transition to electricity from renewable energy sources while at the same time contributing to Malaysia's national vision to accelerate the development of renewable energy.
This action has been made possible by the Green Electricity Tariff (GET) program, launched by the Ministry of Energy and Natural Resources (KeTSA) in partnership with TNBX Sdn Bhd, a subsidiary of Tenaga Nasional Berhad, in November 2021.
"Lumileds is committed to taking urgent action to combat climate change by developing energy-efficient LED lighting solutions and our ongoing commitment to reduce greenhouse gas (GHG) emissions in our operations," said Matt Roney, CEO. "Adopting the Green Electricity Tariff for our manufacturing sites in Penang is an important milestone on our sustainability journey and corresponds to a greater than 40% reduction of our carbon footprint from our worldwide operations."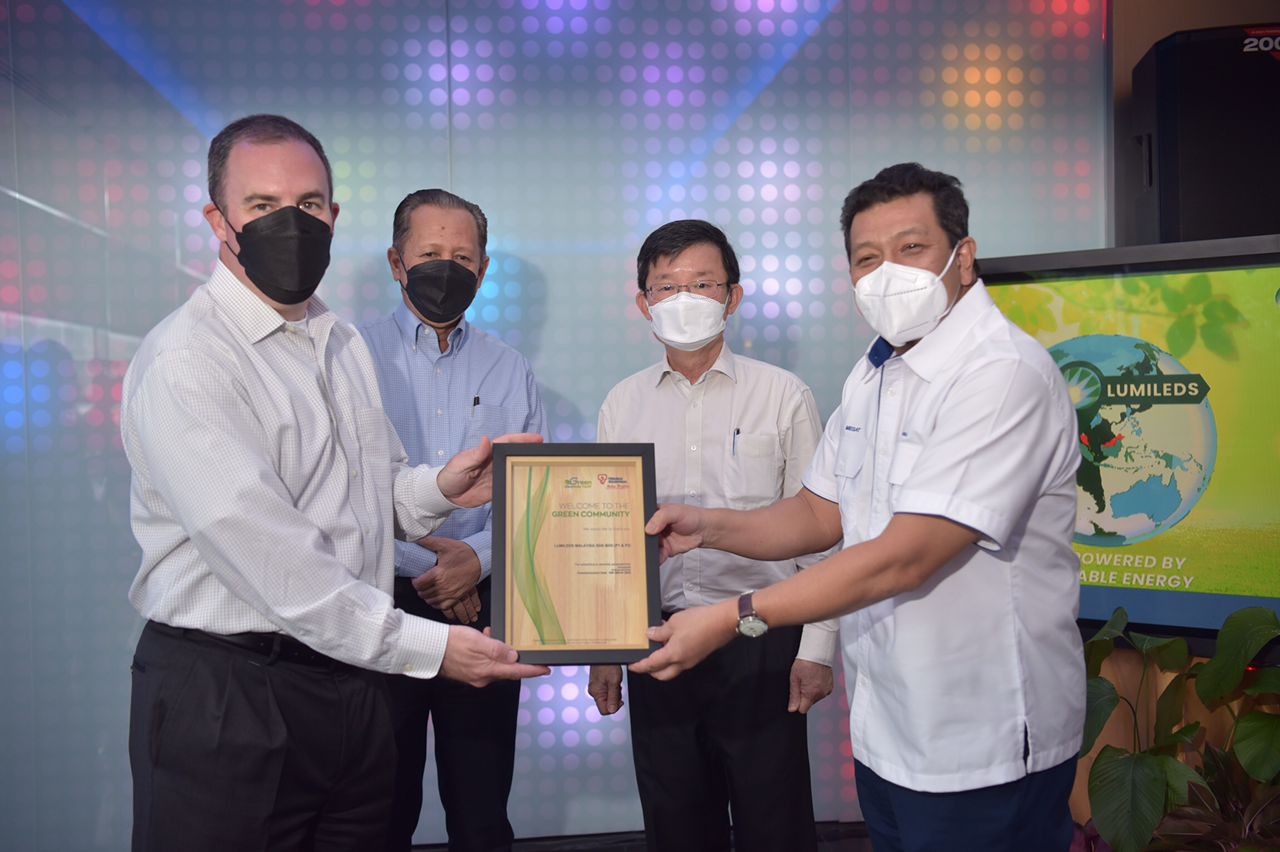 Right Honourable Mr. Chow Kon Yeow, Chief Minister of Penang applauded Lumileds for taking proactive approaches in the company's green agenda. "Sustainability has always been the State's utmost priority and we are making palpable inroads along the journey. In the face of climate change, the adoption of renewable energy is a critical component in reducing greenhouse gas emissions and the race towards zero-emission. Lumileds' complete adoption of renewable energy in both its manufacturing plants not only exemplifies its outstanding corporate citizenship in leading the way on sustainable practices, but also concurs with the State's aim in building a resilient and sustainable ecosystem."
This initiative is part of Lumileds mission of making the world safer, more sustainable, and beautiful with light. Combatting climate change is one of the strategic areas Lumileds has defined in contributing to the achievement of the United Nations Sustainable Development Goals (SDGs).
Details of Lumileds sustainability efforts can be found at https://Lumileds.com/sustainability.
End
About Lumileds
Lumileds is a global leader in OEM and aftermarket automotive lighting and accessories, camera flash for mobile devices, MicroLED, and light sources for general illumination, horticulture, and human-centric lighting. Our approximately 7,000 employees operate in over 30 countries and partner with our customers to deliver never before possible solutions for lighting, safety, and well-being. To learn more about our company and solution portfolios, please visit https://lumileds.com.
About InvestPenang 
InvestPenang is the Penang State Government's principal agency for promotion of investment. Its objectives are to develop and sustain Penang's economy by enhancing and continuously supporting business activities in the State through foreign and local investments, including spawning viable new growth centres. To realize its objectives, InvestPenang also runs initiatives like the SMART Penang Centre (providing assistance to SMEs), Penang CAT Centre (for talent attraction and retention) and i4.0 seed fund (a catalyst for the start-up ecosystem). For more information, please visit https://investpenang.gov.my/
Do follow us on InvestPenang's social media channels: Facebook ; LinkedIn
For further information, please contact:
Steve Landau
Director Marketing Communications 408-710-4090
Lumileds