Main Market-listed Elsoft Research Bhd has been a laggard among Bursa Malaysia-listed automated test equipment (ATE) manufacturers, both in terms of share price gains and financial performance.
Over the past five years, Elsoft's share price has risen only 58%, whereas its bigger peers Pentamaster Corp Bhd and ViTrox Corp Bhd have seen gains of 18 and 10 times respectively. Meanwhile, Greatech Technology Bhd and MI Technovation Bhd have seen their share price increase by 17 and three times respectively since their listing.
Elsoft executive director and CEO Tan Cheik Eaik acknowledges that the group is an underperformer compared with its ATE peers, whose earnings continue to grow.
"Obviously, most ATE companies have been performing very well. If you look at ViTrox, Pentamaster, MI Technovation and Greatech, they are much bigger in terms of market capitalisation, top line and bottom line," he tells The Edge in a phone interview.
"Then there are laggards like us. We certainly hope Elsoft can shine, but how bright we can shine is another question. Our market cap nearly hit RM1 billion a few years ago. I believe if we continue to do well and improve further, we may have a chance to do it again."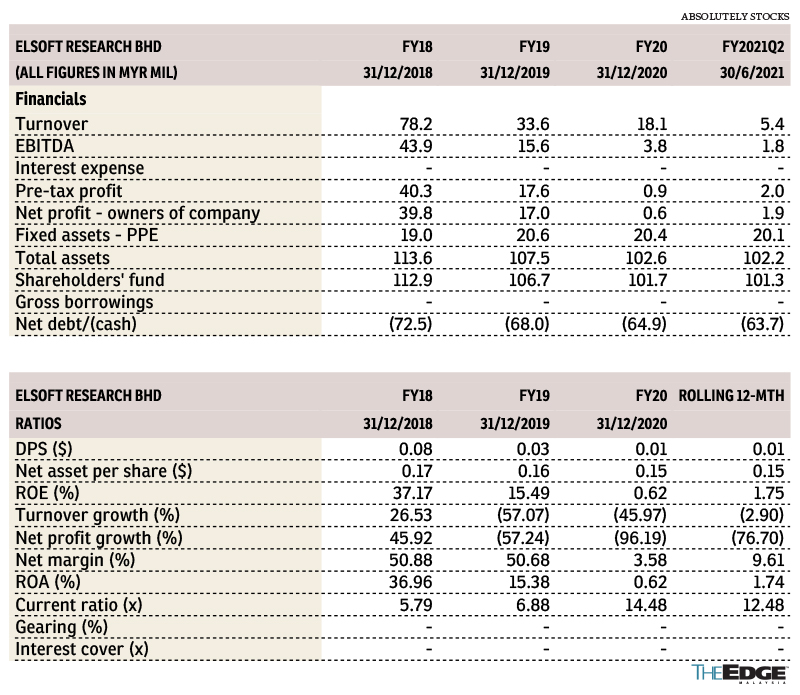 Over the past 12 months, Elsoft's share price had gained about 39% to close at 86 sen last Wednesday, giving the company a market capitalisation of RM577.02 million. The counter closed at a 52-week high of 99 sen on Jan 18 during the tech rally amid the worsening global chip shortage.
The group achieved a record year in the financial year ended Dec 31, 2018 (FY2018), by registering a close to 50% jump in its net profit to RM39.8 million. However, it went downhill from there, as the group's profit halved to RM17 million in FY2019, before dropping further to RM694,000 million in FY2020. According to AbsolutelyStocks, Elsoft's net cash position stood at RM63.7 million as at June 30.
Tan points out that the main reason for Elsoft's weaker financial performance was that certain customers had placed huge orders for its equipment for the smartphone segment in FY2018 as they anticipated strong demand from their clients.
"But in hindsight, they overbought our equipment. As a result, our performance in the subsequent years was affected because they bought less. Meanwhile, some of our customers have been searching for alternative equipment vendors because they intend to diversify their supplier base. This essentially means stiffer market competition for us," he explains.
Fortunately, Elsoft started to see light at the end of the tunnel in 1HFY2021 ended June 30, with the group reporting a net profit of RM2.388 million, says Tan. "Our orders in hand are very healthy. So, our financial results in FY2021 should be quite good if we can deliver these orders within a year," he elaborates.
"The wave of Covid-19 cases affected the supply chain in Penang. Due to the movement restrictions, a lot of metal fabricators, who are our suppliers, faced operation disruptions, which subsequently caused delays to automation and testing companies such as ourselves.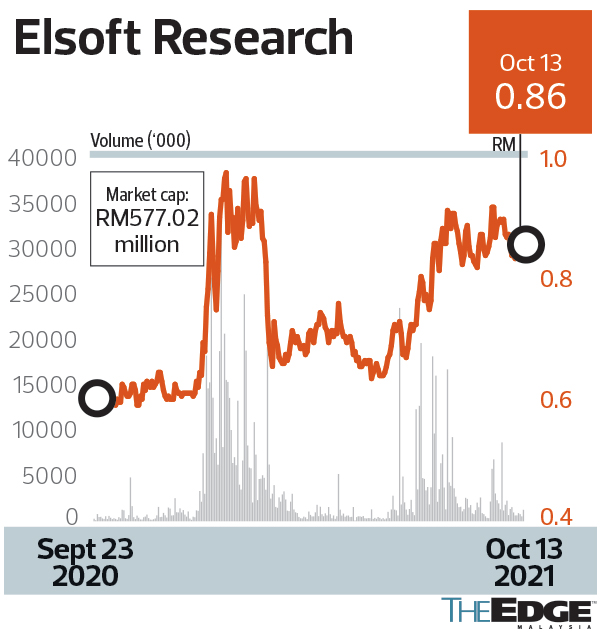 "But the situation has improved lately. Now, we just need to work harder in 4QFY2021 to fulfil the orders and meet our customers' deadline."
Tan, 56, graduated with a bachelor's degree in electrical engineering from the University of Malaya in 1990. After graduating, he joined Hewlett-Packard (M) Sdn Bhd as a design engineer. In 1992, due to the sudden death of his brother-in-law, he left HP to start his entrepreneurial journey, taking over his late brother-in-law's electrical wiring business, Siang Electronics Technology, which later became Siangtronics Technology Sdn Bhd, a wholly-owned subsidiary of Elsoft.
Tan was appointed to the board of Elsoft in June 2003. His brother Tan Ah Lek and sister Tan Ai Jiew sit on the board as non-executive directors while his other brother Tan Cheik Kooi is the finance and administration manager. The siblings collectively control about 53% of the company.
It is worth noting that Tan is also the independent non-executive chairman of FoundPac Group Bhd, a Main Market-listed precision engineering firm that serves the semiconductor industry.

As an engineer, Tan is experienced and specialises in the areas of test metrology and embedded application system design. Under his leadership, the Bayan Lepas-headquartered Elsoft started to build up a strong internal R&D capability and developed a series of ATE systems for semiconductor and optoelectronic applications.
Diversifying customer base
Tan admits that Elsoft has learnt its lessons in FY2019 and FY2020. The group has been trying to reduce the high customer concentration risk by diversifying its clientele base. He recalls that at one time, until FY2018, Elsoft had a single customer — a light-emitting diode (LED) and automotive lighting company — contributing about 70% to its revenue. But in FY2020, that customer's revenue contribution fell to less than 50%.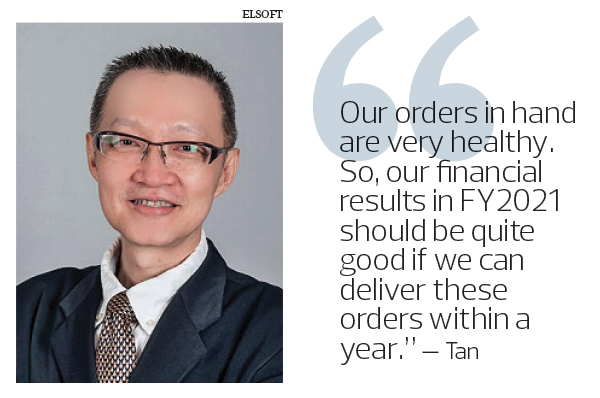 "Today, Elsoft is taking a more proactive approach to getting more orders from customers outside Penang. We are talking to customers from Melaka, Singapore and other countries. Previously, we had about 10 active customers, including one big client. Now, we have about 50 customers, including 13 to 15 active ones," says Tan.
As Elsoft continues to diversify its customer base, the group prefers to maintain a certain level of concentration to serve its customers effectively. "In the equipment business, we need to provide service and support. It's hard to provide good after-sales service if we are serving too many customers at the same time. Of course, it would be good if we could identify another potential big client, but we are quite happy with our customer portfolio as it is," Tan says.
He opines that MMS Ventures Bhd (MMSV) is Elsoft's closest peer as they are both equipment players that serve LED customers. "Meanwhile, we are competing in certain areas with Pentamaster and Aemulus Holdings Bhd.
"But I believe the market is big enough to accommodate all the equipment players. If you look at Pentamaster, it is much bigger and it is serving other industries as well.
"Today, Elsoft is still relatively small. So, we will focus on what we are good at, which is the LED testing market."
The next big thing for the group is the expansion of its product range to include front-end testing equipment. "It's still related to the LED market, but it's more in the upstream process. What we have been doing is back-end testing equipment for the LED market. But now, we are venturing into wafer-level test and inspection equipment," Tan says, adding that Elsoft diversified into this area late last year and saw some repeat orders in 2QFY2021.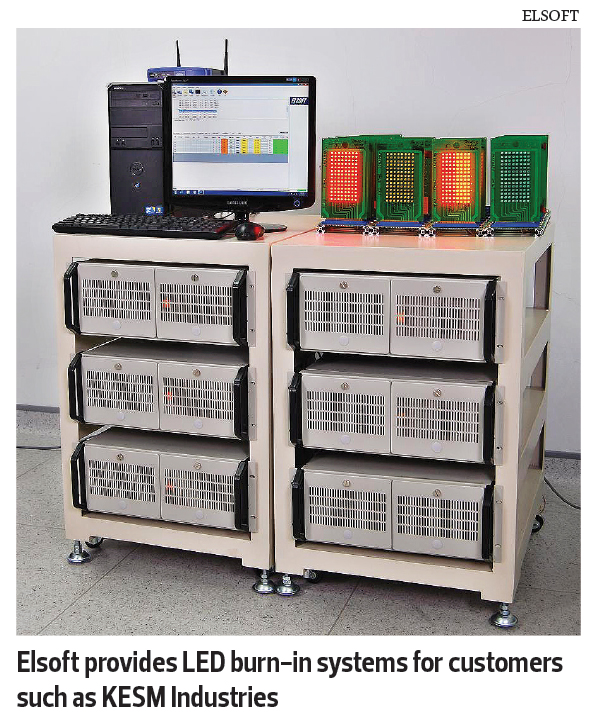 "It's a good start for us and we are quite excited about this new growth area. We hope to deliver these orders by next month."
For perspective, wafer level is level zero, whereas component level is level one, while substrate level is level 0.5, Tan explains. "Then we have level two — downstream automotive lighting players such as JHM Consolidation Bhd, which is one of our customers. Today, Elsoft is very strong at the component level and we are also involved at the substrate level. But going forward, we hope to penetrate further up into wafer-level testing equipment."
Notably, Elsoft also provides LED burn-in systems for customers such as KESM Industries Bhd, a LED burn-in and test service provider.
"KESM's burn-in equipment is actually consigned by its customer. In other words, both KESM and us are serving the same LED and automotive lighting MNC, which is our direct customer. The equipment will be purchased by the MNC, but Elsoft will send the equipment straight to KESM's facility for them to do their work for the MNC, and KESM will bill that MNC accordingly," Tan says.
Meanwhile, Elsoft provides after-sales service for KESM, which absorbs the maintenance cost for the MNC. Ultimately, its equipment makes sure that the LED and lighting products function reliably and consistently.
Interestingly, Elsoft is also involved in integrated circuit (IC) testing, albeit not in a big way. "Every year, our clients probably order three to four IC testers, and these cost RM400,000 to RM500,000 each. Overall, we focus more on LED, not IC and other semiconductors," says Tan.
He goes on to say that Elsoft sees opportunities in the automotive industry as there will be more applications than ever in new cars. "We will see more LED headlamps, daytime running lamps and internal ambient lighting that can affect your mood. Generally, exterior lights require higher power. That means more burn-in services are needed to ensure their reliability."
Source: Edge Weekly