At a Glance
Principal Activity(ies):
Design, development and manufacture of automation system, machinery and equipment for manufacturing industry.
Location(s):
Manufacturing facilities in Bayan Lepas & Batu Kawan, Penang, Malaysia
Number of Employees:
897
Manufacturing Floorspace:
Over 700,000 sq. ft.
Revenue (2021):
RM 401 million
Certification(s):

ISO 9001:2005
ISO13485:2016

Core Competency(ies):

Assembly & Processing Technology
Test Technology
High Speed Accuracy Pick & Place
Material & Robotic Handling
Vision Inspection System
Clean Room Environment Automation
Build To Print
Internet of Thing (IoT)
Process and Software Validation
In-House Fabrication

Website:
http://www.greatech-group.com
Email:
info@greatech-group.com
Introduction
Founded in 1997 and headquartered in Penang, Greatech Integration (M) Sdn Bhd, a wholly owned subsidiary of Greatech Technology Berhad, is an industrial automation company with representative offices in Asia and Europe. Serving multinational companies' operations across China, Vietnam, Singapore, the United States of America, United Kingdom, Thailand and a few European Union countries, Greatech's customers are mainly from the solar, e-mobility, life science, semiconductor and consumer electronics industries.
Listed on the Main Market of Bursa Securities, Greatech's business activities include design, development and production of system, machinery and equipment that are marketed under the company's brand. In addition, Greatech offers a variety of service products from conceptualisation, engineering development, prototyping, system integration to installation and commissioning as well as customer training, after-sale service, parts, retrofits and equipment relocation.
Products & Services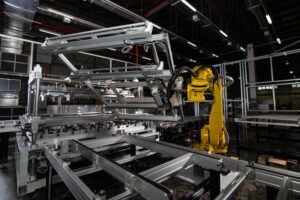 Material Handling & Assembly Equipment
Greatech provides coordinated intelligent software and hardware, tailored training as well as exceptional field service to the solar players. Its equipment includes automated rail mounting system auto framing line, interlayer pairing system, cover glass pairing system, auto labelling system, leakage current inspection, patch apply and remove system, glass loading and handling, anti-reflection coating curing machine, storage and accumulator system and conveyor system.
Greatech specialized in the integration of key technologies in EV battery module assembly line, such as robotic and conveyor system, smart vision system, battery cell test and module test, AGV system for smart manufacturing, adhesive dispensing system and laser welding system; and EV battery pack assembly line, such as are robotic and conveyor system, smart vision system, pack leak test, pack electrical test, AGV system for smart manufacturing, adhesive dispensing system and servo screwing system.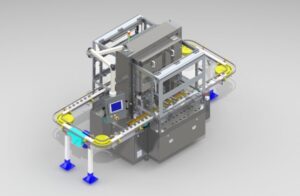 Greatech's Modular Work Cell
Complying with GAMP5 procedures and documentation (21 CFR Part 11) for traceability as well as using the V-model software validation system, Greatech offers a broad range of expertise in pharmaceutical and medical devices. These include drug delivery system, injection system assembly, material handling system, vial inspection system, cannula assembly, fluid dispenser system and IV catheter assembly system.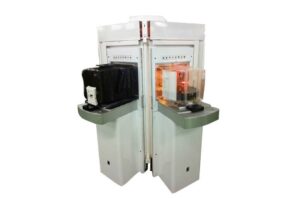 Material Handling Equipment
Greatech integrates high precision modules such as vision, cylindrical precision and robotic arms into automation to provide high precision on handling the semiconductor units. Its equipment is involved in front end module, loader/unloader and wafer handler, among others.
Following the trends of increasing device complexity, miniaturization and customization, Greatech has developed innovative solutions to address the needs for handling miniature fasteners on screwing process, checking on cover glass, menu button and improved yields due to reduced aesthetic damage and standard processes to enable regionalized manufacturing. Greatech's capabilities include loader/unloader, component attached, auto screw, vibration test, laser weld and inspection.
Machine vision is key technology for automation to realize improved process, product quality and system performance. Greatech Vision Software (GVS) is the company's proprietary software to support customers' needs across different industries. The features of machine vision cover recipe management system, activity/data log system, user rights control, versatile metrology, configurable defects categorization and arbitrarily shaped region of interest (ROI).
Greatech technical expertise for vision involves high resolution and high speed vision system, line scan and 3D laser profiler vision and SWIR vision. The vision inspection capabilities include presence or absence and orientation checking, alignment and positioning for high precision pick and place, marking, barcode and data matrix reading, non-visible or colour inspection, cosmetic and defect detection and dimension measurement and tolerance monitoring.
Greatech Industrial Internet of Thing (IoT) Dashboard enabled users to have digital transformation, capturing real time data from machines, flexible communicate with various types of operational technology/system/machine, improve overall equipment effectiveness based on data capturing from machines by leveraging on Operation Technology (OT), Information Technology (IT) and Communication Technology (CT).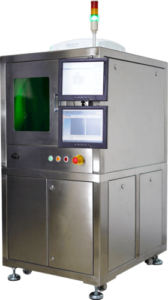 Sub-Micron Material Handling Equipment
Greatech machines offer the solution for processes that require high accuracy, high precision and high repeatability of positioning on tiny components with powerful software tool. The software tool provides the feature of Error Mapping which further enhances the machine accuracy performance.
The machines come with motion control functions that employ the controlling of multi-axis and real-time controllers for fast interpolation control function. Tasks such as pick-and-place that is actively or passively aligned are integrated in the machines, providing an accurate and precise positioning (down to sub-micron level and sub-arc second accuracy). All the motion controls are performed using Greatech's programming software, Greatech's Integration Platform.
Greatech's expertise in laser processing technology covers the process for drilling, ablation, micro-machining, cutting and marking. Greatech's standard industrial laser platform include mechanical frame for stabilized motion, high precision motion controls, class 1 laser safety enclosure, ergonomic user interface with touchscreen, easy access for routine maintenance, powerful turn-key software solution, high throughput and costs saving solution without compromising quality.
Greatech also provides parts and services, such as spare kits for its equipment, plates and other fabricated metal parts, customer training, filed service engineer, upgrading or retrofitting on existing equipment and provision of engineering services on equipment relocation.
Achievements & Awards
Golden Eagle Award organised by Nanyang Siang Pau
2019: 2nd position winner of the Eminent Eagles
2018: 1st position winner of the Excellent Eagles
2017: 5th position winner of the Excellent Eagles
Business Excellence Award organised by SinChew Daily
Winner of the Product Excellence Award under Business Excellence Awards 2018.
Written in April 2022
Disclaimer:
Every effort is made to provide accurate and complete information in this article. However, InvestPenang makes no claims, promises or guarantees about the accuracy, completeness, or adequacy of the contents and expressly disclaims liability for errors and omissions of this art