At a Glance
Principal Activities:
Industrial packaging solution provider
Location(s):
·       Furniture Industrial Estate, Sg. Bakap, Penang, Malaysia
·       Kawasan Perusahaan PKNK, Kulim, Kedah, Malaysia
·       Kawasan Perindustrian Indahpura, Kulai, Johor, Malaysia
·       Bau Bang Industrial Park, Binh Duong, Ho Chi Minh, Vietnam
Number of employees:
400
Manufacturing Floorspace:
378,222 sq. ft.
Core Competency(ies):
·       Design, testing and manufacturing capabilities
·       In-depth knowledge in different raw materials
·       Expert in using different alternative materials
·       Warehouse capacity to buffer stock by 3x
·       Able to fulfil requirements for export – Compliance with international standards
Revenue
RM150.50 mil (2022)
Certification (s):
ISO 9001:2015 QMS
MS 1513 Wooden Crate for Transport of Dangerous Goods
Website:
https://berjayapak.com
Contact Person:
Low Heng Lye
Email: henglye.low@berjayapak.com

Jordan Lim
Email: jordan.lim@berjayapak.com
Introduction
Berjayapak Sdn. Bhd. is an integrated industrial packaging solutions provider focusing on integral parts of supply chain management that enable optimal use of industrial packaging products. Berjayapak specialises in cost-effective and efficient movement of goods throughout the supply chain, inventory management and space usage.
In line with the environment aspect of supply chain management, Berjayapak utilises recyclable materials and recycles industrial packaging products. Dedicated to effective supply chain management, Berjayapak enhances the value and profitability of supply chain participants including suppliers, manufacturers, logistic service providers, distributors and retailers.
The company's integrated industrial packaging solutions comprise the following:
Design and manufacturing of wooden industrial packaging products: Industrial packaging is specialised in customisable packaging that provides protection to the products packaged during storage and transportation. Berjayapak involves in the design and manufacturing of wooden industrial packaging products comprising boxes, crates and pallets. All the boxes and crates are customised products, while the pallets can be customised or sold as standard products with standard dimensions. The company's design and manufacturing take into consideration all factors including cost, safety and environmental concerns of the industrial packaging.
Provision of packing services: Berjayapak provides packing services as value-added services when supplying boxes and crates to customers by packing customers' goods into boxes and crates at the customers' premises. The goods that are packed into boxes and crates are generally high value, sensitive and large products such as machinery and equipment, which require enhanced protection against impact due to movement. Berjayapak has a team of skilled personnel that offers packing services in-house to pack customers' products into the boxes and crates. The team of skilled personnel is trained to lift and maneuver high value, sensitive and large items.
Provision of circular supply services: Circular supply chain is a system aims to minimise waste and continual use of resources whereby used or end-of-life materials are repaired or repurposed, and resold to customers. In line with the emphasis on environmentally sustainable practises in the company's business and the increased adoption of sustainable supply chain management by customers, especially amongst the MNCs, Berjayapak's circular supply services are able to meet the company's sustainability goals.
Trading as value added services: Berjayapak sources and supplies related products and raw materials as value-added services. Examples of products traded are plastic pallets, wood materials and packaging accessories.
Customer's profile / industry: Berjayapak's key customers are from various industries such as renewable energy (solar), electronics/semiconductor, medical, pharmaceutical, food, automotive, logistics, packaging and many others.
Products & Services
Berjayapak's products: The company's industrial packaging products comprise boxes, crates and pallets. These industrial packaging products are reusable and recyclable, allowing the life of the industrial packaging products to be extended and be more environmentally friendly, reducing environmental impact and costs. They are also affordable, composed in variety of sizes and easy to disassemble, allowing parts to be easily replaced or repaired.

Details of Berjayapak's products are as follows: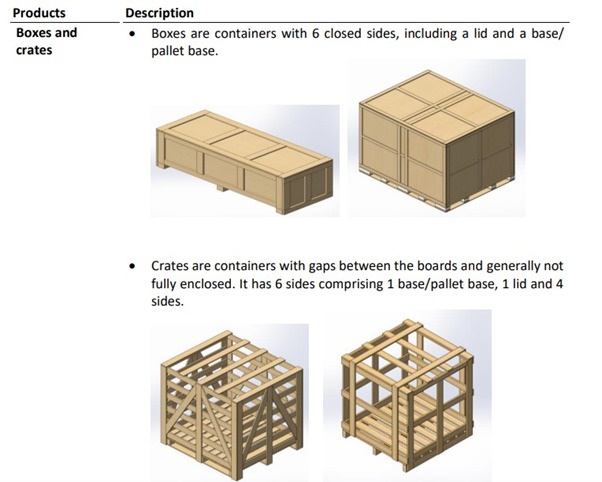 The examples of pallets that are designed and manufactured by Berjayapak, are as follows:2. Berjayapak's competitive strengths: The company offers integrated and end-to-end industrial packaging solutions that complement their customers' supply chain management requirements and goals. Berjayapak has 39 years of experience in the industrial packaging industry, with in depth technical product and manufacturing expertise. Their industrial packaging products meet international standards, giving their customers the confidence and assurance to use industrial packaging products in their customers' global supply chain needs.Berjayapak has established longstanding relationships with their major customers comprising notable MNCs and a customer base covering various manufacturing industries. Besides that, they have also established relationships with their wood material suppliers, securing sufficient supply of wood materials that meets their manufacturing requirements.
Achievements & Awards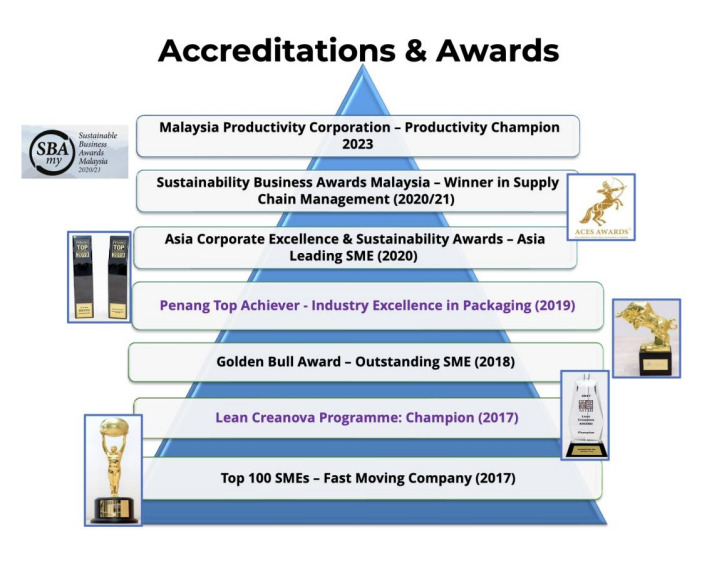 Future Plan
Berjayapak plans to expand their geographical presence domestically to the Klang Valley and regionally to Singapore. In addition, they are looking to expand their circular supply services to offer a more comprehensive circular supply chain solution to their customers.
Written in September 2023
Disclaimer:
Every effort is made to provide accurate and complete information in this article. However, InvestPenang makes no claims, promises or guarantees about the accuracy, completeness, or adequacy of the contents and expressly disclaims liability for errors and omissions of this article.