Penang, 7 March, 2022 – The Penang state government is pleased to announce that ams OSRAM, a global leader in optical solutions, is expanding its presence in Penang. ams OSRAM (formerly known as OSRAM) is a pioneer multinational company that set foot in Penang since 1972. The company has selected a 60-acre site at Penang International Technology Park (PITP), Batu Kawan for its expansion. Construction of the campus is expected to begin in the second quarter of 2022 and targeted to complete in end-2023.
During the joint press conference that was held in Penang Development Corporation (PDC) for this investment announcement, Mr. Glen Brownlie, Vice President of ams OSRAM said, "Along with several other ambitious corporations, we were the pioneers who saw Penang for what it could be in 1972 and have helped lead the charge of industrialization in Penang for the last 50 years. Wholeheartedly following the state's slogan of '50 Years of Excellence and Beyond' for this milestone year, we are looking 'beyond' but only beyond the strait that unites both parts of Penang," Brownlie said.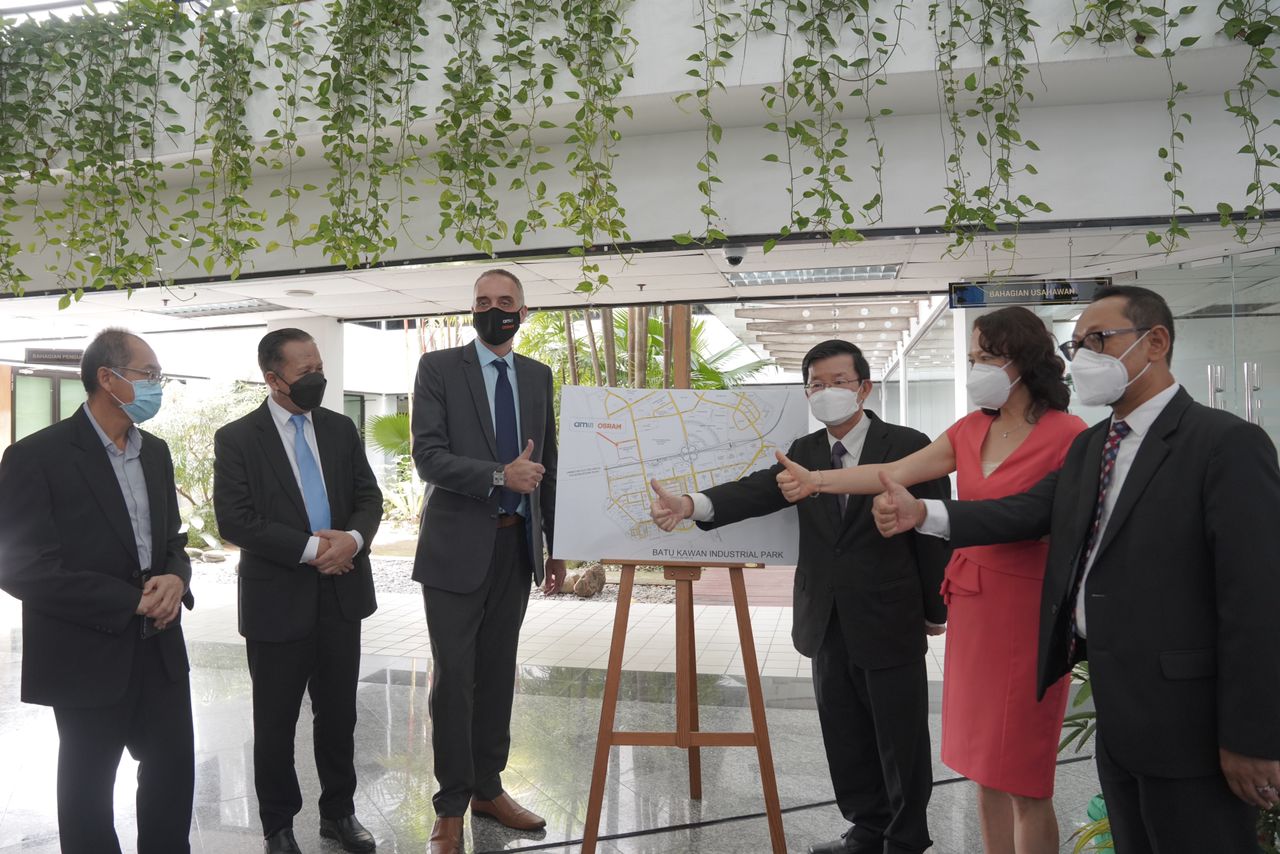 He added that significant capital and commitment were pledged to this new venture, which would add to the RM5billion that the company had so far invested in Penang since opening its doors here. "Our campus will be green and clean, and a flagship facility visible to those arriving in Penang state through Batu Kawan. More details of the actual investment levels will be available later in the year as we finalize our detailed plan." Brownlie said.
"With ams OSRAM's 50 years of presence here, this expansion plan is indeed a strong testimonial for Penang, being a sustainable location for high quality investments. Specifically, I am glad that the merger between ams and OSRAM in March 2021 has rendered us with great opportunities to further cement Penang's position in the global optical solutions market," said Right Honourable Mr. Chow Kon Yew, Chief Minister of Penang.
"In an increasingly connected world, sensing and light innovations are critical in closing the gap between physical and digital experiences, and transforming product applications in the consumer, automotive, healthcare and industrial sectors" Chow said. "With this latest investment, Penang is poised to grow the talent pool that specializes in light sensing technologies, where ams is a pioneer and leader, and concurrently, deepen its engineering expertise in the field of emitting light, where OSRAM is a globally renowned player," he added.
The Penang Chief Minister also shared that ams OSRAM's expansion plan is aligned with the state government's direction in utilizing the resources to their fullest potential. "Repurposing our existing assets is one of the state's multi-pronged, long-term strategies to create positive and sustainable impact to the industry development, high-value job creation and talent attraction," Chow added.
The event was also attended by Dato' Haji Abdul Halim bin Haji Hussain, State Exco for Trade, Industry & Entrepreneur Development, Dato' Seri Lee Kah Choon, Special Investment Advisor to the Chief Minister of Penang, Mr. Aziz Bakar, CEO of PDC, Dato' Loo Lee Lian, CEO of InvestPenang and Mr. Muhammad Ghaddaffi bin Sardar Mohamed, Director of MIDA Penang.
END
About InvestPenang
InvestPenang is the Penang State Government's principal agency for promotion of investment. Its objectives are to develop and sustain Penang's economy by enhancing and continuously supporting business activities in the State through foreign and local investments, including spawning viable new growth centres. To realize its objectives, InvestPenang also runs initiatives like the SMART Penang Centre (providing assistance to SMEs), Penang CAT Centre (for talent attraction and retention) and i4.0 seed fund (a catalyst for the startup ecosystem).
About Penang Development Corporation
The Penang Development Corporation (PDC) was established in 1969 as the leading development agency for the Penang State Government. PDC has been tasked to spearhead the socio-economic growth, create employment opportunities and improve the quality of life in Penang. PDC's main activities include the development of industrial parks, townships and affordable housing. Since its inception, PDC's strategies in industrial and housing development have enabled Penang to position itself as a leading industrial, tourism and services hub in the region.
About ams OSRAM
The ams OSRAM Group (SIX: AMS) is a global leader in optical solutions. By adding intelligence to light and passion to innovation, we enrich people's lives. This is what we mean by Sensing is Life. With over 110 years of combined history, our core is defined by imagination, deep engineering expertise and the ability to provide global industrial capacity in sensor and light technologies. We create exciting innovations that enable our customers in the consumer, automotive, healthcare and industrial sectors maintain their competitive edge and drive innovation that meaningfully improves the quality of life in terms of health, safety and convenience, while reducing impact on the environment.
Our around 26,000 employees worldwide focus on innovation across sensing, illumination and visualization to make journeys safer, medical diagnosis more accurate and daily moments in communication a richer experience. Our work creates technology for breakthrough applications, which is reflected in over 15,000 patents granted and applied. Headquartered in Premstaetten/Graz (Austria) with a co-headquarters in Munich (Germany), the group achieved well over USD 5 billion combined revenues in 2020 (pro-forma) and is listed as ams-OSRAM AG on the SIX Swiss Exchange (ISIN: AT0000A18XM4).
Find out more about us on https://ams-osram.com
ams is a registered trademark of ams-OSRAM AG. In addition, many of our products and services are registered or filed trademarks of ams OSRAM Group. All other company or product names mentioned herein may be trademarks or registered trademarks of their respective owners. Information provided in this press release is accurate at time of publication and is subject to change without advance notice.
Join ams OSRAM social media channels: >Twitter  >LinkedIn  >Facebook  >YouTube
For media enquiries, please contact:
Yeoh Bit Kun/ Ooi Phei Wen
bitkun@investpenang.gov.my/ pheiwen@investpenang.gov.my
InvestPenang
Audrey Cheah
Audrey-Gaik-Lean.Cheah@ams-osram.com
Ams OSRAM Group (Malaysia)