At a Glance
Principal Activity(ies):
Integrated engineering service provider providing module to full turnkey assembly manufacturing automated test equipment, ranging from semiconductor to life-science industry
Location(s):
Manufacturing facilities in Batu Kawan, Penang & Taiping, Perak, Malaysia
Number of Employees:
1,031
Manufacturing Floorspace:
540,144 sq. ft.
Revenue (2021):
RM285 million
Certificate(s):

ISO 9001:2015
ISO 14001:2015
ISO 13485:2016

Core Competency(ies):

Mechanical engineering design
Full turnkey manufacturing
One-stop solution (sheet metal fabrication, precision machining, full assembly, high-level assembly, box build)
System integration/automation test equipment
Project management

Website:
www.uwcberhad.com.my
Contact Person:
Matin Ng
Email: matin.ngcl@uwcberhad.com.my
Introduction
In 1990, UWC was first incorporated as a trading company selling wire cut machines. Over the past three decades, the company diversifies its business activities and it has now emerged as a one-stop solution centre for high-quality precision CNC machining, sheet metal fabrication, certified welding, advanced assembly and finishing of parts as well as automated weldments and assemblies. In 2019, UWC went public and listed on the main market of Bursa Malaysia.
Delivering its products to clientele globally, UWC's focus are mainly in the industries of semiconductor, life science, telecommunication and automation. Aside from extensive experience in design, quick-turn phototyping, product verification, volume production and logistics, UWC is also equipped with advanced equipment and engineering systems to enable the handling of both small and large production runs.
Key Services
UWC has been assisting OEM customers around the world by providing value-added contract manufacturing and assembly solutions. Its key services include: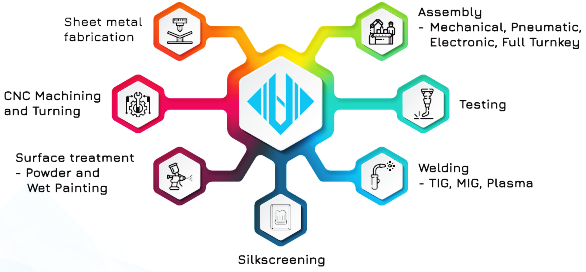 Laser
UWC houses 8 units of CNC laser and Combi machines that are equipped with automated material handler which enhance the operational efficiency.

Bending & Folding
UWC houses 24 units of CNC bending machines with various bending features, aside from the ability to bend parts up to 4 meters long.


Welding
UWC has more than 90 welders that are capable to support welding from 1G to 6G position. The availability of robot welding on site also ensures better capacity and improved efficiency.


Machining
UWC is equipped with up to 180 CNC milling and turning machines which can support up to 4+1 axis for milling and 7 axis for small turning. In order to cater for different parts design, UWC's CNC milling is able to support up to 6.5-meter-length parts and has further enhanced with the adoption of robotic pick and place line.

Painting
As a one-stop solution centre, UWC is equipped with in-house wet painting and powder painting line. UWC has 2 robotic powder painting booths to support high volume parts. On top of that, UWC also has 2 conveyor powder painting lines and 3 wet painting booths.

Silkscreen


Assembly
UWC's assembly line provides support for module assembly, mechanical assembly and full turnkey assembly.

Assembly for HLA Products

Cleanroom
UWC has class 10K cleanroom to cater for front-end semiconductor equipment high level assembly.

Research Lab
UWC has in-house research lab filled with necessary equipment needed for design of experiments (DOE) and analysis to better support its customers.

Metrology
UWC has a full range of metrology equipment to support all necessary measurement, from small to large parts.

Future Plan
UWC remains bent on pursuing more value for its stakeholders by expanding its capabilities in test systems, test developments in automation, robotics, customized process flows, and further enhancing its ability to support clients across different regions and industries.
Being financially healthy, UWC has the ability to invest in high technology manufacturing capacity to support clients' growth at a timely manner and reasonable cost. Going forward, UWC has formulated 3C strategy to remain competitive, i.e. doubling the Group's capacity in 3 years, capitalized on the Group's upstream and downstream processes via vertical integration to enhance capabilities as well as enlarging the Group's customer pool.
Achievements & Awards
Asia's Best Under a Billion – Forbes
Listed in Forbes' Asia's Best Under a Billion in year 2020.
Strategic Partner Award – Manpower Department, Ministry of Human Resources Malaysia
Awarded the strategic partner award from Manpower Department, Ministry of Human Resources Malaysia in year 2018.
Recognition for Outstanding Commitment & Support of New Product – Teradyne
Received recognition for outstanding commitment and support of new product introduction from Teradyne in year 2017.
Golden Eagle Award – Nanyang Business Daily
Awarded Golden Eagle Award under the Excellent Eagles category from Nanyang Business Daily in year 2016.
Sin Chew Business Excellence Award
Awarded Sin Chew Business Excellence Award 2015 under the category of Product and Service Excellence.
Supplier Recognition Award – Agilent
Awarded supplier recognition award from Agilent Technologies Inc in year 2014.
Supplier Recognition Award – Teradyne
Awarded supplier recognition award from Teradyne Inc in year 2012.
Best-on-time Supplier Recognition Award – Harmer & Simmons
Awarded Best-on-time supplier recognition award from Harmer & Simmons Ltd in year 2008.
Top 50 Enterprise Award Malaysia – Malaysia Entrepreneurs' Development Association
Awarded the Top 50 Enterprise Awards Malaysia under the category of Golden Award from Malaysia Entrepreneurs' Development Association in year 2007.
Written in Oct 2021
Disclaimer:
Every effort is made to provide accurate and complete information in this article. However, InvestPenang makes no claims, promises or guarantees about the accuracy, completeness, or adequacy of the contents and expressly disclaims liability for errors and omissions of this article.