By NG Bee Bee, President
SEMI Southeast Asia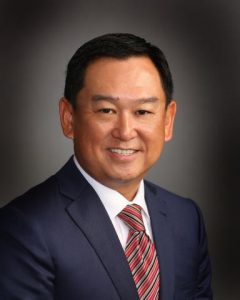 Interview with
Andrew Goh, Vice President & General Manager
South East Asia at Lam Research
Question: Thank you for taking the time to sit down with SEMI Southeast Asia. Before we delve into details, could you share with our readers a quick introduction to Lam Research SEA?
Answer: Thank you for having us.
As you know, Lam Research is a leading supplier of wafer fabrication equipment and services to the global semiconductor industry. Since we were established in 1980, Lam has played a key role in contributing to the extraordinary pace of innovation in the semiconductor industry for four decades. We have always developed innovative solutions that help our customers build smaller, faster, more powerful, and more power-efficient electronic devices – the kind that are driving the proliferation of technology into our everyday lives.
Further to this, we established Lam Research South East Asia in 1992 to better serve our customers in this region. We have about 260 employees, from both Malaysia and Singapore, with more than two-thirds of them in engineering or technical roles.
Question: Early this year, Lam Research announced a new advanced technology production facility in Malaysia, could you tell us about it?
Answer: Yes, Lam Research and Malaysian Investment Development Authority jointly announced on Feb 2020 that Lam has selected Batu Kawan Industrial Park in Penang, Malaysia as the location for a new advanced technology production facility.
Our state-of-the-art new manufacturing site in Penang's Batu Kawan will open in May 2021 and be the largest in our network. The current plan envisions a 700,000-square-foot facility with expansions already anticipated to serve current and future customers.
Construction has started in May 2020, and we aim to have our first shipment by 2021. We are currently at our temporary site in Bayan Lepas. 
Question: As Lam's manufacturing site, what role does it play for the organisation?
Answer: Well, the semiconductor industry is expanding and so are we, thus, to help our customers move the world forward, we need a dynamic, energized team with initiative and focus to help establish our footprint in Malaysia. 
This has led to the expansion of our existing global production footprint with locations in the United States, South Korea, and Austria. 
As the industry moves forward, we at Lam Manufacturing Malaysia will work on the entire portfolio of our leading-edge products, collaborating closely with customers to create some of the world's most sophisticated processes and fabrication equipment. We chose Penang for its talented workforce with experience in aerospace, health sciences manufacturing and other high-tech fields. 
We are currently hiring now for our site in Penang. Your readers can send their resumes and enquire for details @ www.MakeAtLamPenang.com
Question: Seeing as to how the world is now thrown into an unprecedented situation, Do you expect any delay in the construction schedule?
Answer: We have been very fortunate as despite the situation, construction has begun in May 2020. We still expect to make our first shipment from the Batu Kawan factory around mid of 2021, in line with our initial estimates. Close cooperation with and timely support from MIDA and Invest Penang have allowed us to stay on track.
Question: Has Lam done anything by way of COVID-19 relief or recovery efforts during this pandemic?
Answer: Well, just like any other business, this pandemic indeed is a trying time for all around the world. We announced on April 08, 2020 that we are dedicating $25 million for the global COVID-19 relief and recovery efforts, which includes the relief funds to employees, employee benefit resources, and additional support for the areas in which we operate, including supplies for hospitals; both short-term and long-term community assistance as well as our 2-for-1 gift matching for eligible COVID-19 relief programmes.
In addition to the fund, we have also donated our surplus inventory of masks for immediate relief to local hospitals, and at the same time, our innovative engineers and others with 3D printers at home have begun developing prototypes and printing protective face shields.
Consistent with current guidance from the US as well as the region's respective Centers for Disease Control (CDC) and World Health Organization (WHO), we have activated our business continuity plan (BCP) to safeguard the health and well-being of our employees and their families, as well as to mitigate and minimize business disruption to our customers. These include strict social distancing, quarantine measures as well as travel restriction policies.
It is great to hear about Lam Research's COVID-19 relief and recovery efforts. 
Thank you, Andrew Goh for sharing news at Lam Research and we look forward to reconnect with you during SEMICON Southeast Asia 2020.