At a Glance
Parent Company:
Globaltech Formation Bhd
Principal Activity(ies):

High precision machining & assembly of RF microwave parts & modules, surgical instruments implants, laboratory automation & photonics components
Design & production of customized integrated automation equipment
Design & manufacturing of precision semiconductor moulds & die sets

Location(s):
2 Manufacturing facilities in Bayan Lepas & Bukit Minyak, Penang, Malaysia
Built Up Area:
110,000 sq. ft.
Number of Employees:
265
Revenue (2020):
RM53 million
Certification(s):

ISO 9001:2015
ISO 13485: 2016
RoHS Compliant
REACH Compliant

Core Competency(ies):

Design & manufacturing services
Project transfer & management
CNC milling & turning of complex parts
Metrology
Mechanical assembly

Website:
www.psb.com.my
Contact person:
CS Khor

Email: cs_khor@psb.com.my
Introduction
Prodelcon was founded in 1985 to support the local semiconductor companies with precision tooling and moulds. Since then, Prodelcon has grown its business portfolio to include moulds, die sets, auto-moulding systems, Trim Form machines and change kits for IC test handlers. After being publicly listed under Jotech Holdings in 2000, Prodelcon ventured into mass production of CNC machining and assembly of precision parts for RF Microwave, Life Science, Photonics and Surgical instruments.
In 2012, Jotech and two other public listed companies merged to form Globaltec Formation Berhad, which is a diversified holding company with interests in integrated manufacturing services, automotive and natural resource businesses. In its quest for quality and product excellence, Prodelcon continues to expand, with collaborations and recognitions from both local and international customers.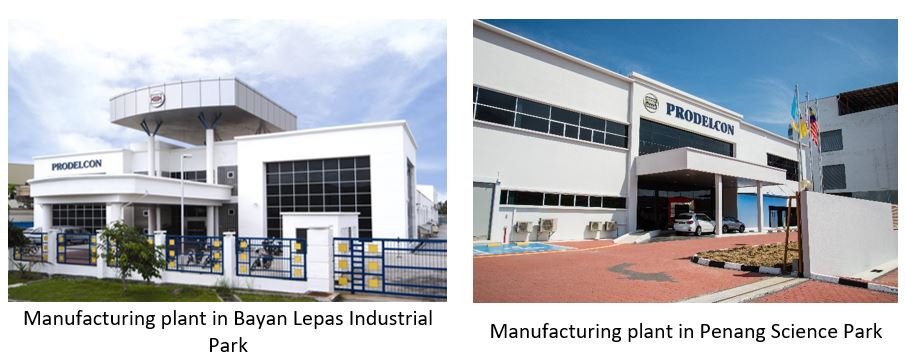 Key Products & Services
Prodelcon has 5 pillars of products and services, namely, Precision Tooling, Integrated Automation projects, Medical Devices, High Precision Machining and Assembly services.
Precision Tooling
Prodelcon designs and builds precision tooling like die sets, moulds and change kits for auto moulding systems and test handlers. These equipment and tooling are mainly used in the semiconductor companies to manufacture integrated circuit like QFN, BGA, CSP, SOIC packages.

Integrated Automation Projects
Prodelcon also designs and manufactures customized automation equipment for the backend semiconductor assembly and test industry. The equipment are built according to customers' stringent requirements to process their unique products. They include Auto Trim & Form machines, Auto Moulding machines, Laser Marking handlers and Load/ Unload machines.

Medical Devices
Prodelcon is also an OEM manufacturer of surgical instruments and implants for customers in the medical device space. The company's forte is in precision machining and have deployed its skilled machinists and process knowledge to manufacture surgical instruments and implants in a cost effective and efficient manner.

High Precision Machining Services
Specialized in high mix low volume high precision machines parts, Prodelcon made significant investments in machinery, technology and manpower to build the products at a competitive pricing for customers. The company had also developed robotic handling that enable unmanned operations for its ultra-precision CNC machines that are capable with +/- 2 microns accuracy. Its robust engineering process ensures that all parts made are consistently meeting customers' quality expectations. With over 80 CNC machines installed, it can easily respond to customers' volume ramp.

Assembly of Mechanical Parts and Connectors
Apart from providing machined parts, Prodelcon also provides sub-assembly service. Using its latest inert solder reflow furnace, the assembled RF Microwave packages are also tested for hermeticity and reliability.

Achievements & Awards

Top 10 in Enterprise 50 Awards in 1999
Best Vendor of Hi-Tech Penang in 2002
Best Global Supplier Award from New Focus in 2005
Strategic Partnership Award from Agilent Technologies in 2014
Strategic Partnership Award from Keysight Technologies in 2019
Written in Sep 2021
Disclaimer:
Every effort is made to provide accurate and complete information in this article. However, InvestPenang makes no claims, promises or guarantees about the accuracy, completeness, or adequacy of the contents and expressly disclaims liability for errors and omissions of this article.