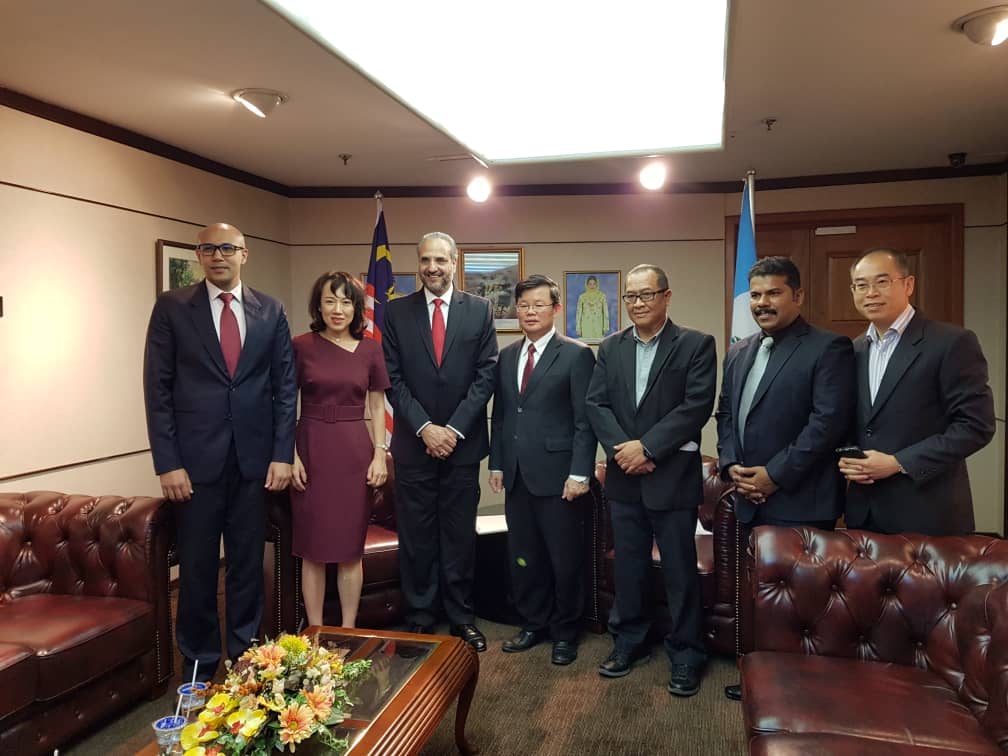 PENANG, Malaysia, Nov. 30, 2018 – The Penang government today announced that Micron Technology, Inc. – an industry leader in memory and storage solutions – is to build a new center of excellence for SSD Assembly and Test in the state's Batu Kawan Industrial Park. It is expected to add 1,000 local jobs in the state.
As part of the investment announcement ceremony, Penang Chief Minister Chow Kon Yeow met with Micron Technology Backend Operations Senior Vice President Gursharan Singh and Micron Technology Singapore Legal Director Amrinder Sidhu to discuss Micron's increased Malaysia presence and planned investment of 1.5 billion Malaysian Ringgit (US$357 million) over five years. According to the company's roadmap, Micron aims to break ground for the new facility in the first half of calendar 2019 and achieve full ramp-up within two years.
"Micron's expansion in Malaysia supports our strategy to build a scalable, agile and well-positioned global capacity model," said Micron Technology Backend Operations Senior Vice President Gursharan Singh.
"The new greenfield location in Penang for SSD manufacturing will enhance our NAND Center of Excellence in Southeast Asia, building on our existing presence in Malaysia and Singapore, while ensuring a continued focus on better servicing customers and attracting and retaining the highest-quality talent."
Recognized as a center of excellence for semiconductor and storage products, Penang offers numerous advantages, including a high-quality supply chain for the electronics industry; logistics, sustainable manufacturing infrastructure; a conducive business environment; access to talent; and strong government support. The new location will benefit from its close proximity to Micron's Singapore NAND Center of Excellence, whose team will help accelerate and support the facility ramp-up in Penang.
"We welcome Micron, a Fortune 500 company, to our family in Penang," said Penang Chief Minister Chow.
"This further reinforces the position of Penang as the Silicon Island of Asia. As a family member, we assure Micron of the State's support and commitment to assist in its continued growth in Penang, where many E&E MNCs have successfully celebrated their 45th anniversaries."
Micron's investment in Penang will serve to enhance local education through collaboration with universities for research and development in the areas of science, technology, engineering and mathematics, while sparking a passion in the next generation of scientists and engineers. Such activities will also contribute to advancing skills and capabilities in applying new technologies, industrial skills and professional know-how.
The announcement made by the Chief Minister of Penang, YAB Tuan Chow Kon Yeow, also saw the presence of Penang State EXCO members, Dato' Seri Lee Kah Choon (Special Investment Advisor to Chief Minister of Penang and Director of investPenang), Dato' Rosli Jaafar (General Manager of Penang Development Corporation), Dato' Loo Lee Lian (CEO of investPenang) and the team from Micron Technology Inc. comprising of Mr Gursharan Singh (Senior Vice President of Micron Technology Backend Operations), Mr Amrinder Singh (Director of Singapore Legal) and Mr Moorthy A/L Murugiah (Director of Malaysia Country HR).
ABOUT MICRON
Micron is an industry leader in innovative memory and storage solutions. Through its global brands — Micron®, Crucial® and Ballistix® — its broad portfolio of high-performance memory and storage technologies, including DRAM, NAND, NOR Flash and 3D XPoint™ memory, is transforming how the world uses information to enrich life. Backed by 40 years of technology leadership, Micron's memory and storage solutions enable disruptive trends, including artificial intelligence, machine learning and autonomous vehicles, in key market segments like cloud, data center, networking, mobile and automotive. Micron's common stock is traded on the NASDAQ under the MU symbol. More information about Micron is available at www.micron.com