At a Glance
Principal Activity(ies):

Automated test equipment
Medical automation solutions
Factory automation solutions
Warehouse automation solutions

Location(s):

Manufacturing facilities: Bayan Lepas & Batu Kawan, Penang, Malaysia
Offices for Sales & Technical Support: US, China, Singapore, Taiwan & Japan

Number of Employees:
650
Revenue (2020):
RM418 million
Certification(s):
Core Competency(ies):

Mechanical engineering design
Software programming technology
Control engineering & technology
Vision imaging & optics design technology
Electronic & instrumentation design
Project management

Website:
www.pentamaster.com.my
Contact Person:
Ann Gan
Email: ann.gan@pentamaster.com.my
Introduction
Established in 1991, Penang-headquartered Pentamaster Group (Pentamaster) started off with Vision Inspection Solution and has evolved into a leading global provider of advanced automation systems and services since then. Besides the production plants in Penang's Bayan Lepas Free Trade Zone and Batu Kawan Industrial Park, Pentamaster strategically setting up sales and technical support offices in the US, China, Singapore, Taiwan and Japan to serve customers all around the world in various industries.
2021 marks the company's 30th anniversary since inception, 18th anniversary of listing on Bursa Malaysia (formerly known as Kuala Lumpur Stock Exchange) and 3rd anniversary of listing on Hong Kong Stock Exchange.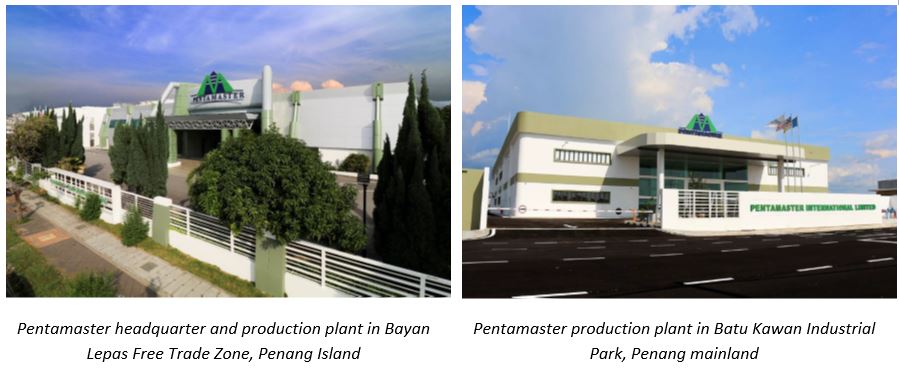 Key Products and Services
Pentamaster has 4 business solutions, namely, Automated Test Equipment, Medical Automation Solutions, Factory Automation Solutions and Warehouse Automation Solutions.
1. Automated Test/Assembly Equipment
Semiconductor IC & Sensors
Pentamaster's semiconductor Automated Test Equipment (ATE) solutions serve a wide range of end product applications, ranging from automotive, home appliances, smartphones to medical devices.
The company's solutions are designed to meet the needs of semiconductor component manufacturers, including IGBT (insulated-gate bipolar transistor) power devices, optic sensors, magnetic sensors and motion MEMS.
For years, Pentamaster has been focusing on custom designed ATE, with solutions ranging from device characterization, electrical functional test, acoustic test, magnetic sensing to motion sensing test.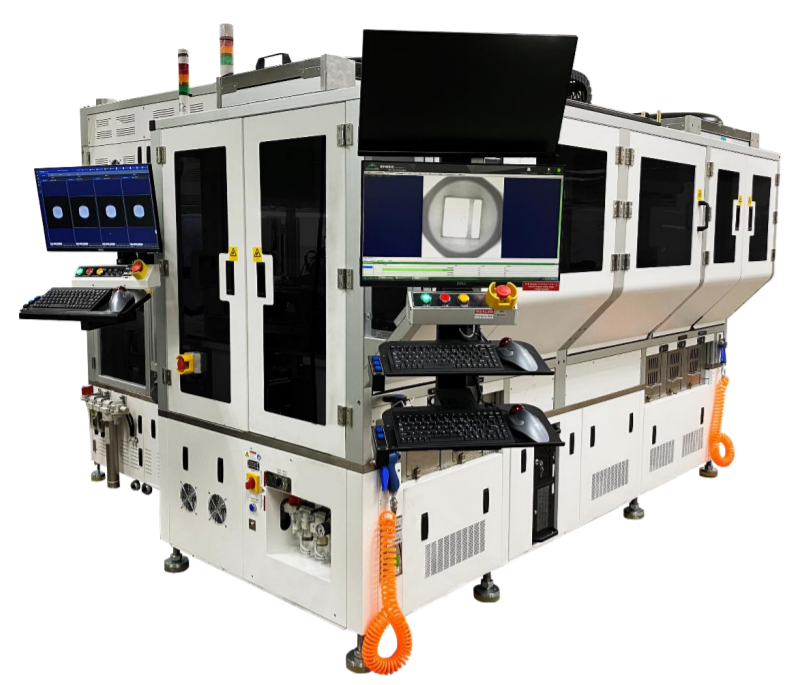 Pentamaster's Automated Test Equipment solutions for semiconductor component manufacturers.
Electro-Opto Smart Sensors
Pentamaster also focuses on sensor-driven technologies, which encompass of smartphones' facial recognitions for biometric authentications, autonomous vehicles' light detection and ranging (LiDAR), among others.
Pentamaster offers full turnkey solutions, covering all aspects and processes in wafer-level testing, active alignment assembling and final product testing for electro-opto smart sensors, such as 3D structured light, 3D time of flight and LiDAR.
The company provides everything from standard testing to customized solutions, and with the ability to determine the operating characteristics of every component as well as the performance of all sensors.
On the Electrical Vehicles (EV) front, Pentamaster offers end-to-end solutions for IGBT power devices, which required high customization and configuration to suit different requirements.
The solutions provided cover nearly every aspect of the manufacturing process for these power devices ranging from component assembly to final inspection and test. 
Pentamaster provides full turnkey LED burn-in & test solutions to perform complex parametric tests on different LED products.
These solutions are designed to meet the diversified requirements of various industries, including smartphones, automotive lighting and LCD backlight. Pentamaster's burn-in testers place the LEDs under supervised conditions such as high temperature, high humidity or high voltage and keep them working for a pre-set burn-in period to determine the tested LED's reliability.
2. Medical Automation Solutions
As a turnkey solution provider, Pentamaster designs and manufactured custom automated equipment for assembly and validation processes for the medical/ pharmaceutical industries worldwide. Pentamaster's experiences are also inclusive of the complete assembly of needle free injection devices, surgical instruments and catheters.
Pentamaster provides custom automation in-line or stand-alone systems that are versatile, modular, adaptable to future needs and suitable for used in clean rooms.

Designed & built custom automated assembly equipment for the medical/ pharmaceutical industry worldwide. 
3. Factory Automation Solutions, i-ARMS
Pentamaster has vast experience and technical know-how on automating processes and production lines across various manufacturing industries through intelligent-Automated Robotics Manufacturing System (i-ARMS).
i-ARMS is a one-stop factory automation solutions designed to optimize the performance of production for manufacturing industries by eliminating the reliance on human labours and providing real-time production monitoring system, which, in turn, result in higher productivity and enhance products' quality consistency.
The system consists of different technologies which are combined into one automation solution. Technological innovations incorporated into i-ARMS include Material Handling Conveyor System, RFID, MES, Robotic System Services and Vision Inspection & Guidance system.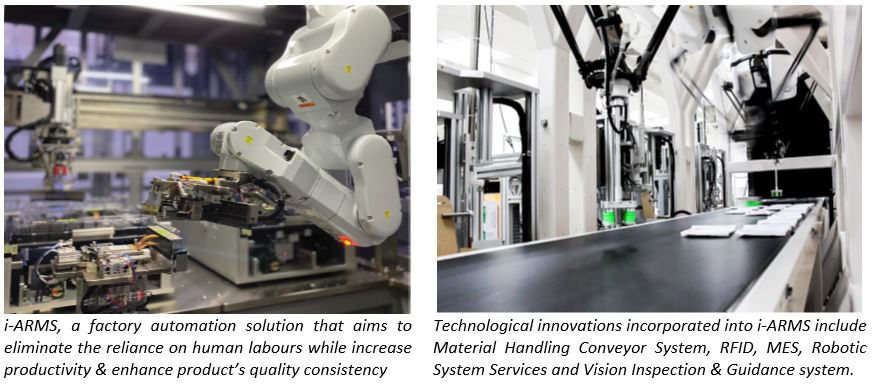 4. Warehouse Automation Solutions, i-Hub
Pentamaster's warehouse automation system is adaptable for new and existing warehouses. It is valued for its accuracy, security, utilize time saving and space usage optimization.
Scalable Cube Racking System (i-Hub)
i-Hub is an automated scalable cube storage & retrieval system with no aisle and walkway – redefining space efficiency of warehouse operations by delivering 3x storage capacity of traditional warehouse racking system, on the same footprint.
Fully utilizing every inch of space by turning wasteful areas into storage spaces, a warehouse's inventory capacity can be doubled, tripled or even quadrupled, without the need to move to a new building.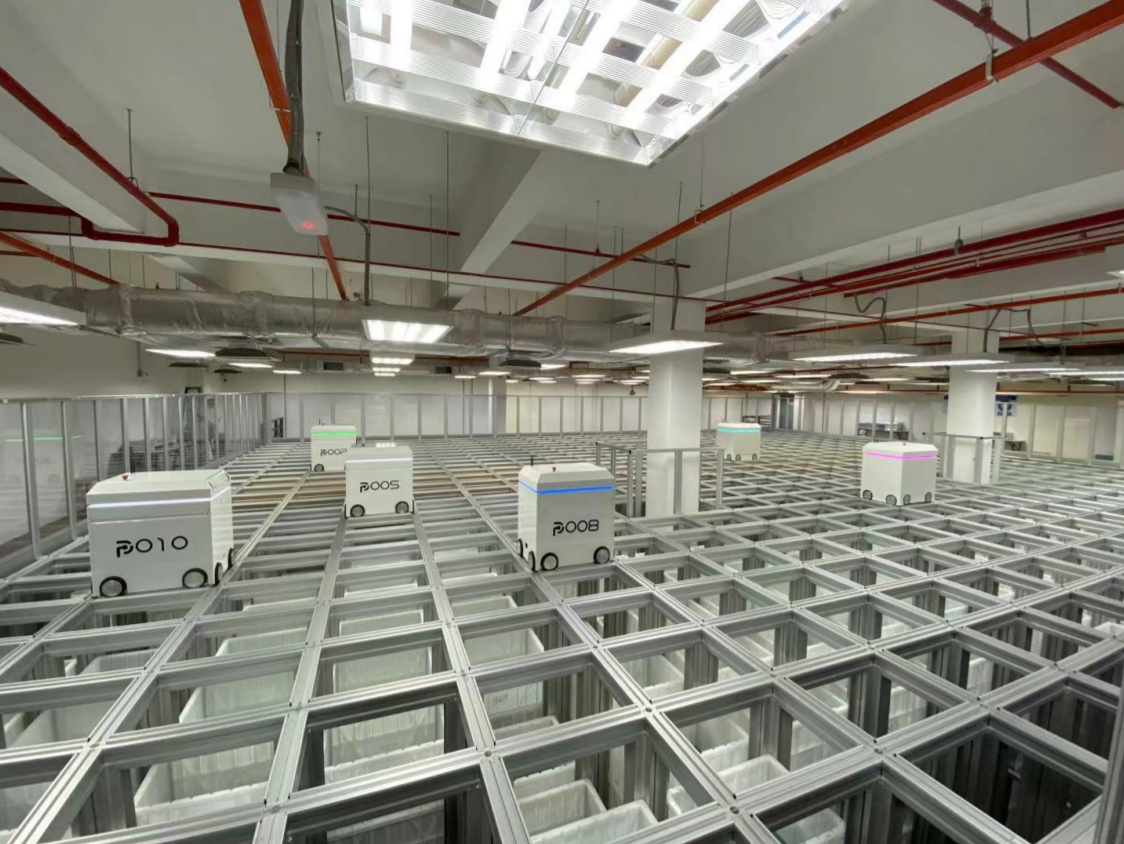 Redefine space efficiency via i-Hub.
Automated Packaging System
Pentamaster provides highly customizable and configurable automated packaging solutions that enable companies to streamline packaging operations, improve throughput counts and reduce the total cost of ownership.
The company able to install and integrate automated systems for any packaging application as well as any type and size of the products.
Efficient Supply Chain Management via Penang Automation Cluster (PAC)
Through a joint venture with Vitrox Corporation and Walta Group, Pentamaster has established Penang Automation Cluster (PAC), with the objectives to effectively manage the trio's supply chain ecosystem as well as to uplift the local SME capabilities within the ATE industry.
Essentially, PAC is a one-stop metal component supply chain hub that specializes in the area of design, development and manufacture of high precision metal fabrication components, modules and systems for the industries of semiconductor, electronics, automotive, aerospace, among others.
Achievements & Awards
Financial Times, Nikkei Inc. and Statista – Asia-Pacific High-Growth Companies 2021
Top 500 High-Growth Companies in Asia-Pacific in 2021
The Star – Malaysia's Growth Champion 2021
Ranked 7th in Malaysia's Growth Champion 2021
Forbes – Asia's Best Under a Billion
Listed in Forbes' Asia's Best Under a Billion for the fourth consecutive year in 2020
The Edge – Billion Ringgit Club
Awarded The Edge Billion Ringgit Club award in 2019 and 2020, under the category of Technology Sector.
Focus Malaysia – Malaysia's Best Under a Billion
Focus Malaysia's Best Under a Billion in 2018 for the Best Revenue Growth, Best Enterprise Value Growth and Overall Winner category. Awarded Best Return on Assets in 2017.
Written in June 2021
Disclaimer:
Every effort is made to provide accurate and complete information in this article. However, InvestPenang makes no claims, promises or guarantees about the accuracy, completeness, or adequacy of the contents and expressly disclaims liability for errors and omissions of this article.