PRESS RELEASE
Embargo until 17 Dec 2021, 10:05 MYT
Penang, Dec 17, 2021 – Intel Corporation's (Intel) groundbreaking ceremony today marks the construction of its new production facility at Free Trade Zone Phase 3, Bayan Lepas Industrial Park, Penang as part of its US$7 billion (RM30 billion) expansion project. The ceremony is officiated by the Chief Minister of Penang, Right Honorable Mr. Chow Kon Yeow. This multi-phased expansion project consists of several buildings and is expected to begin production in early 2024.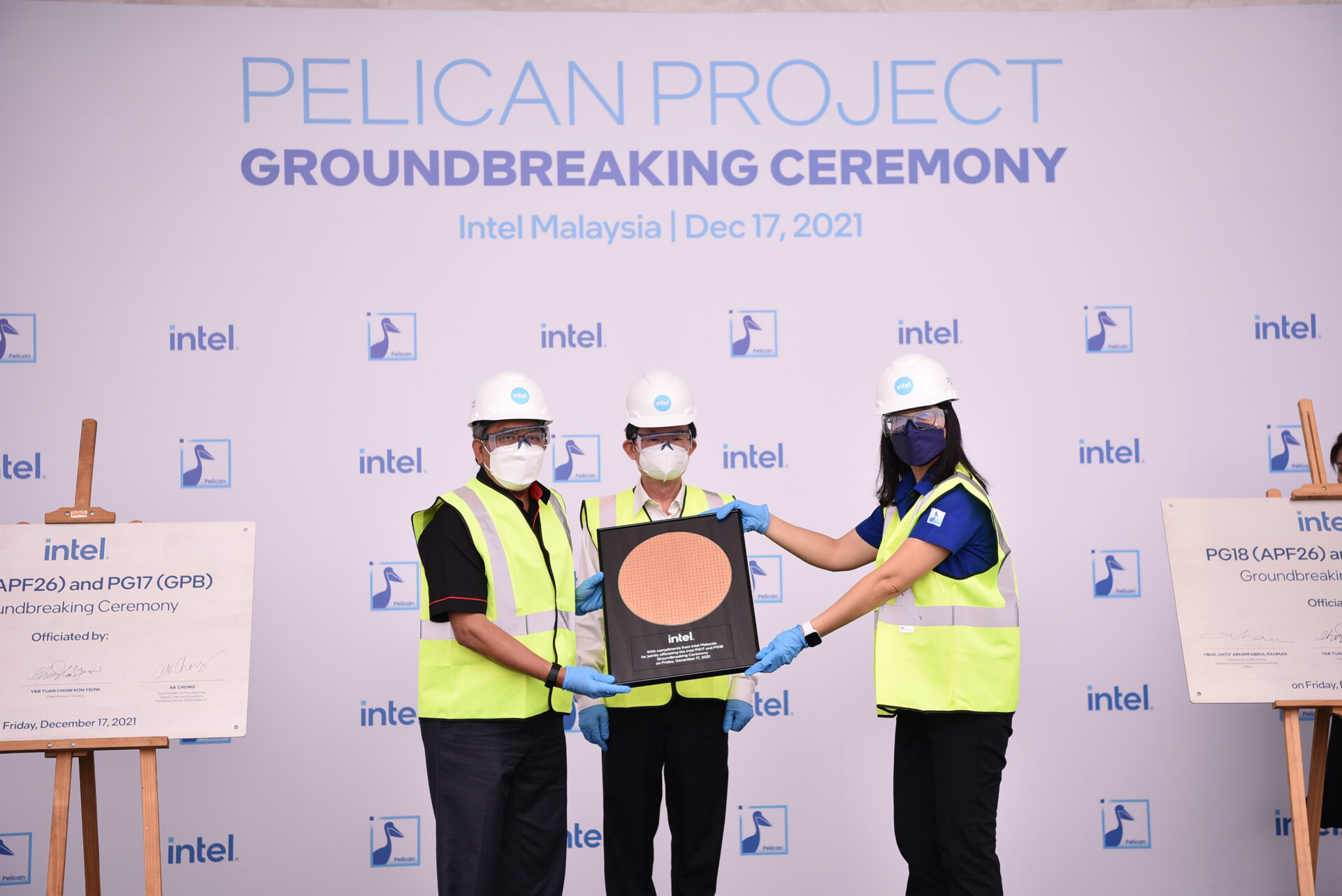 Started off with a US$1.6 million investment and 100 employees in 1972, Penang is the first offshore assembly plant for Intel. With a presence that spans nearly half a century in the State, Intel Penang has grown into a high-tech campus, including an assembly and test facility, Malaysia's largest product design and development centre and one of the only two Intel shared services hubs that support HR, Finance, Procurement, IT and Supply Chain operations globally.
Intel's decision to deepen its roots in Penang throughout the 5 decades are testaments to the State's robust industrial ecosystem, well-developed infrastructure, availability of skilled workforce as well as liveability stature that upholds Penang as a natural talent magnet.
Chow said: "The State has recorded two years of outstanding investment performances in a row, which include 2019's all-time-high achievement of RM17 billion, and the second highest in 2020 with RM14 billion. With the addition of Intel's reinvestment decision, the State's investment performance in 2021 will greatly outweigh the past records, driving us to the next level."
Intel's exemplary corporate citizenship
Chow also commended Intel's dedication in moving the needle to elevate the State's stance on the environmental, social and governance (ESG) agenda. "Intel Malaysia has committed over RM5 million for Covid-19 relief and helped vaccinate over 17,000 people, from its own workforce, neighbouring companies, and their respective supplier companies. Aside from that, Penang is proud to house Intel's largest solar farm outside of the US. According to 2021 Randstad Malaysia Employer Brand Research, Intel is the top three most attractive employers in Malaysia, underpinned by its good reputation, financial health and career progression," Chow elaborated.
"With InvestPenang as the facilitator, the state government will ensure smooth implementation of Intel's expansion, via unwavering support from the state machinery. We have been working closely with Intel's local leadership team and will continue to maintain this long-standing relationship in years to come," he said.
50-year industrialization journey paves the way for limitless potential
Penang will be stepping into the 50th anniversary of its industrialization journey in 2022, a significant milestone that testifies the State's conducive environment in captivating sustained interests from investors.
The 5 decades of manufacturing excellence have laid the groundworks for Penang to unlock limitless potential. Leveraging on that as a springboard, the State will stay committed to forging ahead with all stakeholders and propel Penang to greater heights for the next 50 years and beyond.
END
About InvestPenang
InvestPenang is the Penang State Government's principal agency for promotion of investment. Its objectives are to develop and sustain Penang's economy by enhancing and continuously supporting business activities in the State through foreign and local investments, including spawning viable new growth centres. To realize its objectives, InvestPenang also runs initiatives like the SMART Penang Centre (providing assistance to SMEs), Penang CAT Centre (for talent attraction and retention) and i4.0 seed fund (a catalyst for the startup ecosystem).
For media enquiries, please contact:
Yeoh Bit Kun/ Ooi Phei Wen
bitkun@investpenang.gov.my/ pheiwen@investpenang.gov.my
InvestPenang