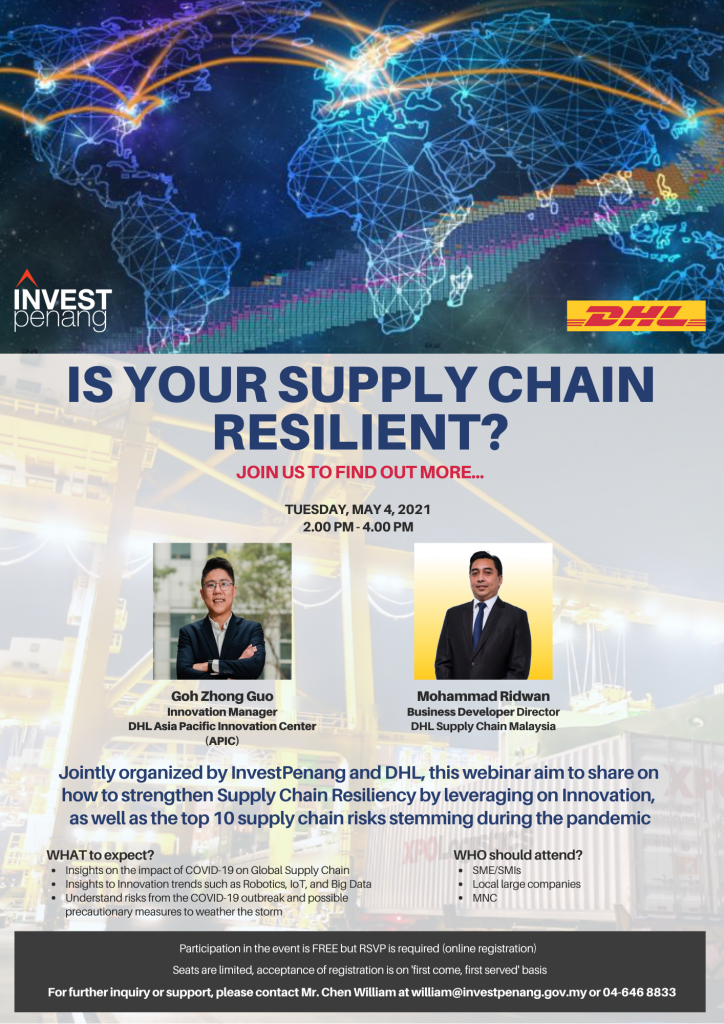 Title: Is your supply chain resilient?
Featured Speaker: DHL Malaysia
Date : May 4, 2021 @ 1400-1600
Background
The COVID-19 pandemic has hit the business world on an unprecedented scale and speed. It has caused closures of business, stoppage of factory outputs, disruption to global manufacturing industries and their supply networks. The COVID-19 crisis also underlines the importance of resilience as it has generated both supply and demand shocks within a short time because of the international fragmentation of production along global supply chains. The question is, "is your supply chain resilient?".
This webinar is jointly organized by InvestPenang and DHL which aim to share how to strengthen Supply Chain Resiliency by leveraging on Innovation as well as the top 10 supply chain risks stemming during the pandemic. The speakers will be sharing the following key takeaways and also case studies on technology trends for supply chain resilience.
Key Takeaways
Participants will be able to understand and benefits from the following key takeaways: –
why innovation is crucial in times of COVID-19 and how to focus on innovation trends
the ability of a supply chain to both resist disruptions and recover operational capabilities after disruptions occur
highlights risk and resilience, examines the risk impacts from COVID-19
how companies will rebuild while also creating a better, stronger supply chain for the future.
Featured Speakers
Goh Zhong Guo,

Innovation Manager, DHL Asia Pacific Innovation Center (APIC)

Mohammad Ridwan,

Business Developer

Director,

DHL Supply Chain Malaysia
For RSVP, please click HERE
Register
Participation in the event is FREE but RSVP is required (online registration).
The registration shall close on May 2, 2021, 5pm.
For further inquiry or support, please contact Mr. Chen William at william@investpenang.gov.my or 04-646 8833