SEMICON Southeast Asia 2016
26-28 April, 2016
SPICE Arena
Penang, Malaysia
www.semiconsea.org
Showcase Your Brand Among the World's Best at SEMICON Southeast Asia!
With 90 percent of exhibit space already sold, SEMICON Southeast Asia is headed towards another sell-out year. Don't miss your chance to showcase your company among the world's leading innovators in microelectronics manufacturing and connect to buyers from across Southeast Asia–book your exhibit space now before it's too late!
Check out the current SEMICON Southeast Asia 2016 floor plan and list of exhibitors online!
SEMICON Southeast Asia: The Premier Showcase for Microelectronics Innovation
From A to Z and everything in between, SEMICON Southeast Asia is the region's number-one marketplace for microelectronics manufacturing technology. More than a trade show, SEMICON Southeast Asia provides a complete platform for engaging customers, suppliers, engineers, and decision-makers from across the industry. In addition to exhibiting, companies have access to a wide range of opportunities including speaking/presenting at our forums and technical sessions, as well as sponsorship and advertising opportunities that put your brand and your products in front of more than 7,000 expected attendees, including hosted delegations from Vietnam, India, Thailand, and more!
For more information about the exciting opportunities available at SEMICON Southeast Asia 2016, contact Ms. Shannen Koh at skoh@semi.org.
Call for Papers–Closes January 31
Highlight your innovation leadership by presenting at and/or sponsoring one or more of the technical forums offered at SEMICON Southeast Asia. The official program call for papers is now open. Please review the Technical and Business Forum page online for information about the available technical programs:
Market Trends Briefing
Assembly and Packaging Forum
Product & System Test Forum
LED Technology Forum
Technology Innovation Forum
Sustainable Manufacturing Forum
Automation for High Tech Industry
IC Failure Analysis and Testing
Supply Chain in High Tech Industry
Check out the complete view of the growing SEMICON Southeast Asia 2016 agenda online.
Don't miss your chance to engage your customers and showcase your technology leadership. Plan now to be a part of SEMICON Southeast Asia 2016 in Penang!
Industry Strategy Symposium (ISS US) 2016 (Half Moon Bay, California) — Jan 10-13
European 3D Summit 2016 (Grenoble, France) — January 18-20
SEMICON Korea 2016 (Seoul, Korea) — January 27-29
2016 Flexible & Printed Electronics Conference & Exhibition (Monterey, CA) — February 29-March 3
ISS Europe 2016 (Nice, France) — March 6-8
Supporting Partners:

Sponsors: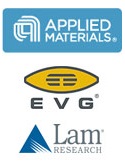 Copyright © 2016 SEMI. All rights reserved.
Click here to unsubscribe from this list only.
Click here to manage your SEMI email preferences.
SEMI is headquartered at 3081 Zanker Road, San Jose, CA 95134
Tel: 1.408.943.6900, Fax: 1.408.428.9600, Web site: www.semi.org