At a Glance
Principal Activity(ies):
Metal stamping, mechanical assemblies, sheet metal fabrication
Location (s)
Perai, Penang, Malaysia
Manufacturing Floorspace:
120,000 sq. ft
Number of Employees:
150
Revenue (2022):
RM33 million
Certification(s):

ISO 9001:2015
ISO 14001:2015
IATF 16949:2016

Core competency(ies):

Metal Stamping
Mechanical Assemblies
Sheet Metal Fabrication
Dies Fabrication (Progressive and Single tool)

Website:
https://www.cbliss.com.my
Contact Person(s):
Alex Lee – Managing Director
Email: alexlee@cbliss.com.my

Elizabeth Guan – Senior Business Development Manager
Email: elizabeth@cbliss.com.my
Introduction
Creative Bliss, commonly known as Cbliss, was founded in 1994 in Penang, Malaysia. Having more than 25 years of experience in Malaysia's metal stamping industry, Cbliss' customer base has grown to include not only local companies across different states in Malaysia, but also countries such as America, Australia, China, Thailand and more.
As an ISO 9001, ISO 14001 and IATF 16949 certified manufacturer, Cbliss is a one-stop solution provider to various industries including automotive, medical devices, electricals and electronics, audio, printers and consumers.
Key Products and Services
Cbliss is a one-stop solution provider to customers for the following manufacturing activities:
1. Metal Stamping
53 units of Power Press Machine, ranging from 35ton to 300ton.
Support various metal materials such as Alu 5052, Alu 1100, SPCC-SD, SECC, Stainless Steel, Brass, C1100, SPTE and more.
Blank Fed and Coil-feeding abilities.
In-house production equipped with Riveting Machine, Tapping Machine, Spot Welding Machine, Heat Treatment Chamber Furnace, Silkscreen printing and Clinching Machine.
2.Mechanical Assemblies
Cbliss offers value-added services of assembly. By fully utilizing its capabilities, the company is able to proceed with kitting where it builds and supplies the required parts to meet customers' delivery time and subsequently allows the customers to build their final products. This has saved the time and expense for customers.
Cbliss has been providing the mechanical assemblies' services for printer parts, automotive and audio parts. The company also has the in-house capability to fabricate jig fixtures in supporting the assembly process.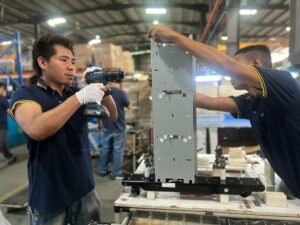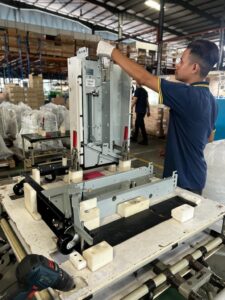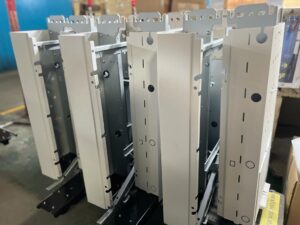 3.Sheet Metal Fabrication
Cbliss' engineering team can fabricate prototype parts by leveraging on its combined sheet metal fabrication and soft tooling techniques. CAM & CNC machines are well equipped in the sheet metal division which can contribute to all stages of projects.
Designing & programming.
CNC 2K & 3K Laser Cut Machine with min tolerance of 0.1mm.
Smart Press Brake Machine (Bending Machine) – 80tons with min tolerance of 0.3mm.
Capable to cater for parts sizes of 300mm and below.
Ability to produce sheet metal parts from different types of materials such as Stainless Steel, Aluminium, Copper, Brass and Cold Roll Steel.
\
4. Dies/Tool Fabrication
Experienced in the precision engineering industry with specialisation in the designing and fabrication of metal stamping and dies, Cbliss provides different types of dies and the relevant services:
Progressive dies, deep drawing dies, manual/ single dies.
Able to rapidly design tooling by fully utilizing die design software: 30-40 dies per project.
Experienced designers in tooling design and fabrication, ensuring that each output meets strict guidelines and customer requirements.
Provide on-site maintaining and repairing services for tooling.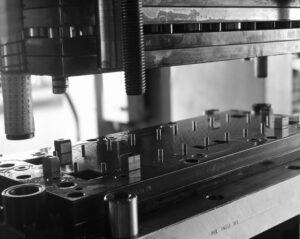 Future Plan
Moving forward, Cbliss will go for ISO 13485 certification for medical devices, with the aim to expand into medical industries. Simultaneously, Cbliss will diversify into high-speed precision stamping and die casting to enhance the company's capabilities, production ranges and operational efficiencies as a one-stop solution provider to customers.
Written in Feb 2023
Disclaimer:
Every effort is made to provide accurate and complete information in this article. However, InvestPenang makes no claims, promises or guarantees about the accuracy, completeness, or adequacy of the contents and expressly disclaims liability for errors and omissions of this article.