At a Glance
Principal Activit(ies):
Specialises in robotic process automation and system integration for various industries from food and beverage to machining, automotive, electrical and electronic, semiconductor and aviation industry.
Location:
Bayan Lepas, Penang, Malaysia
Number of employees:
9
Manufacturing Floorspace:
2,400 sq. ft.
Core Competency(ies):

5 Axis Robotic Soldering Machine
Cobot (TM & Elite)
Nachi Robot
Automation Equipment
Automated Robot Optical Advance Inspection
Auto Dosing System
System Solutions Provider

Website:
www.chintech.com.my
Contact Person:
CC Low
Contact: cclow@chintech.com.my or 6012-4822372
Introduction
Established since 2005 in Penang, Malaysia, Chin Tech EC Sdn Bhd (Chin Tech) is the industrial robotic process automation and system integration solutions provider. Being an enabler in the technology evolution, the company provides robotic solutions, automation equipment and advance robot inspection systems for customers to ride on the Industry 4.0 bandwagon.
Notably, Chin Tech conducts design, research and development on automation solutions for process improvements across various sectors including semiconductor assembly, aerospace engineering, plastics, metalworks, medicals, hard disk drive, automotive, smart devices and electronics industries.
Products and Services
Among the products and services offered by Chin Tech include, 5-axis robotic soldering machine, collaborative robots and other supporting systems.
5-Axis Robotic Soldering Machine
This machine is mainly used to replace manual soldering process and helps to improve the consistency of soldering quality and production yield. The machine is equipped with windows software that able to do unlimited programming and data storage, on top of the ability to perform auto solder angle adjustment based on software setting and hot air with laser temperature sensor. Built in with close loop system, it also enables the preheat of printed circuit board (PCB) and at the same time monitors the temperature and performs auto solder once the PCB temperature met the setting point.
Additionally, it comes with optional features that include the vision for fiducial teaching, vision for iron tip positioning calibration, as well as CCTV Camera install at the iron tip to ease the monitoring and programming teaching.
| | |
| --- | --- |
| | |
| Soldering Result | Hot Air with Temperature Sensor |
| | | |
| --- | --- | --- |
| | | |
| Fiducial Camera | Auto Solder Angle | Auto Solder Wire Feeder |
Cobot & Robot Integration
Chin Tech provides collaborative robot (cobot) integration under the brand of Techman and Elite with customers' existing equipment to improve product efficiency and consistency of quality and throughput.
Cobot AI Inspection helps in improving the inspection quality and optimising the performance of production for manufacturing industries by eliminating the reliance on human labours and providing real-time production monitoring system. This, in turns, resulted in higher productivity and enhance products' quality consistencies.
| | |
| --- | --- |
| | |
| Robot Pick & Place | RAM Modules Testing System |
| | |
| Moulding Machine Handling System | Intelligent AI Modules Inspection System |
Other supporting systems 
Aside from customising system integration with the cobots, Chin Tech also provides various supporting systems based on customers' needs. The company offers brands like DF Automation for automated guided vehicle (AGV); HITOP, HIWIN, OnRobot and ROBOTIQ for robotic end effectors; HITOP, SICK and Basler for other accessories.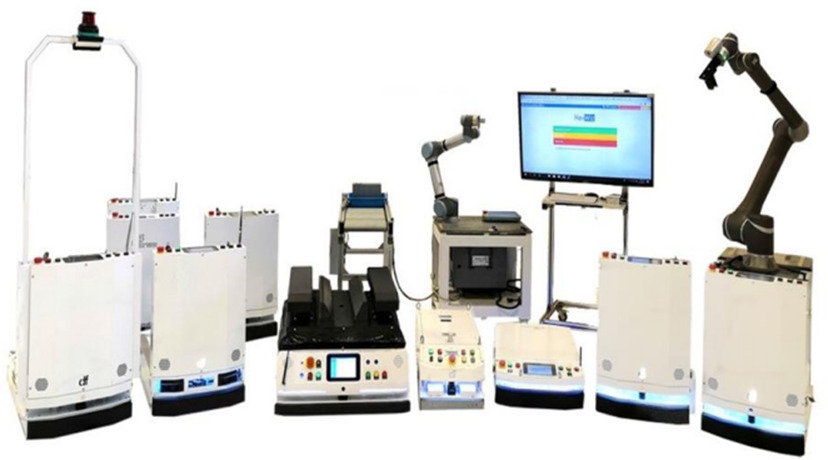 Automated Guided Vehicle
Future Plan
Chin Tech will continue enhancing its solutions capabilities and strengthening its existing core business areas to become one of the leading robotic integral and automation solutions providers in the region. The team is committed in developing high value-added products to meet the market's future requirements. Simultaneously, Chin Tech will be diversifying and expanding its business in the robot system solution by venturing into robots with vision inspection system due to the heightened demand from customers on data solutions, as observed by the company.
Written in April 2023
Disclaimer:
Every effort is made to provide accurate and complete information in this article. However, InvestPenang makes no claims, promises or guarantees about the accuracy, completeness, or adequacy of the contents and expressly disclaims liability for errors and omissions of this article.